Update 8.3.2019: This bike has SOLD! Congratulations to buyer and seller! -dc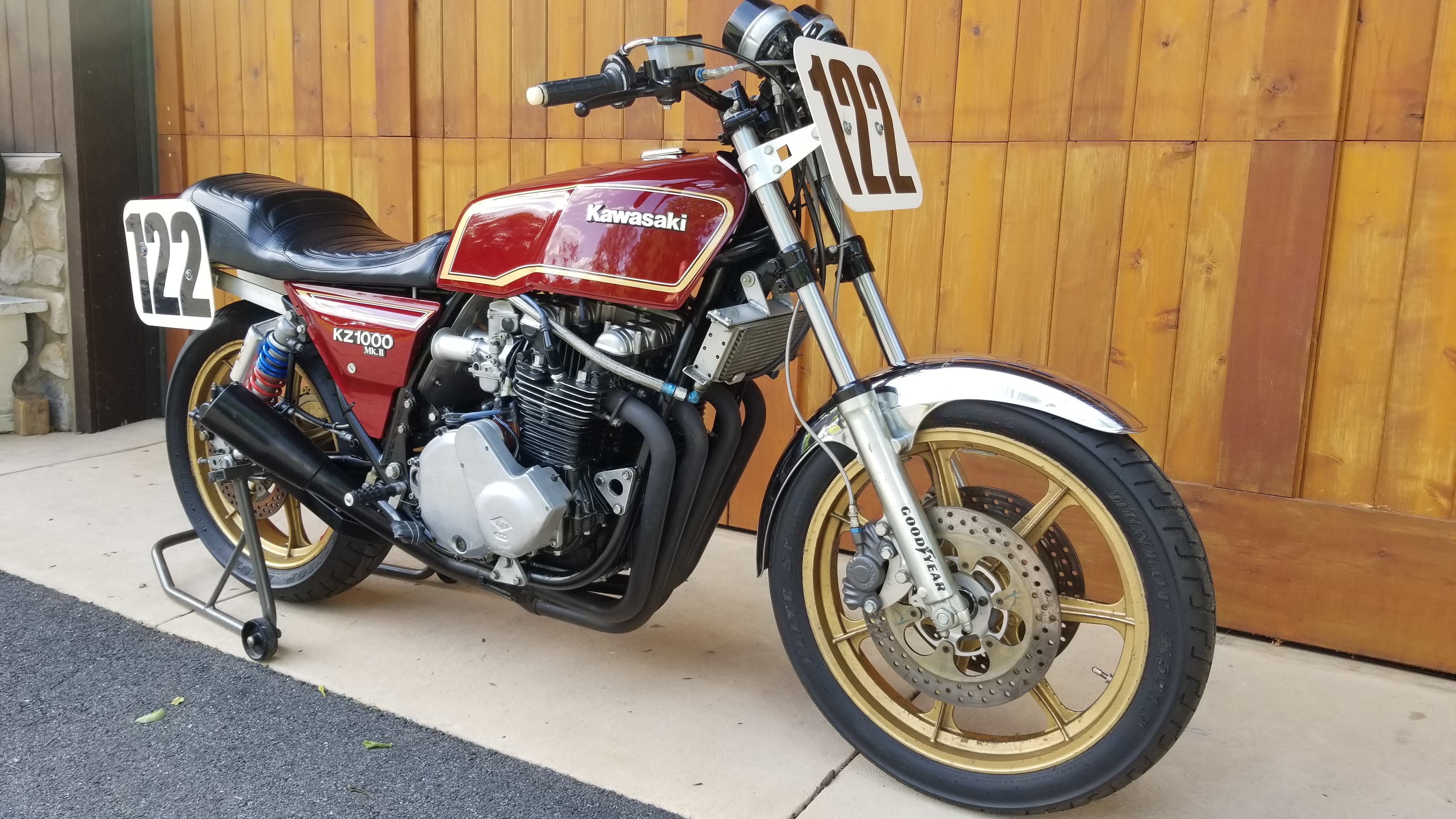 RSBFS is pretty strict when it comes to what makes it on the site. And while we generally shy away from race-prepped bikes, this one got the attention of the entire RSBFS staff. It spoke to us, and we believe that it will speak to our readers in the same way. Because this 1980 KZ1000 AMA Superbike is a terrific specimen of the way things were. In the days when going professional racing in the US meant starting wtih a street-based machine, the KZ1000 was about as high-tech as you were likely to find. From there you did what you could to
address the flexi-frame geometry, the teeny-tiny brakes, and the limitation of the air-cooled, two valve motor. Aerodynamics for motorcycles was a new art and really didn't exist for the masses, save for the occasional bikini fairing. The "standard" was as close to a sporting motorcycle as most manufacturers offered, even though they were a far cry from the race-bike-with-lights that you can find at your dealership today. And if you like the way your Kawyamhonzuki GSXCBR1ZX carves corners today – just like a race bike – you can look back at dinosaurs like this and be very, very thankful that competition improves the breed.
Featured Listing: 1980 Kawasaki KZ1000 Mk II AMA Superbike
Starting life out as a 1980 Kawasaki KZ1000 – before being prepped for a life on the track – this example has few ties back to the original bike that spawned the silhouette. Both the frame and the braced swing arm are modified right out of the Yoshimura heyday. Suspension has been updated to better handle the rigors of racing, including a pair of trick Fox "piggyback" shocks. The engine and electrics have been converted over to race bike usage, which means that there may be some mystery in terms of exactly what was done. The charging system appears to be total loss, with magnetos feeding the spark and no need for a large battery thanks to the lighting delete. Note the slimmed-down profile of the crankcase ends; removal of the end-mounted components (such as alternator) and custom aluminum plates narrow this critical dimension, allowing for greater lean angle before hard parts touch down. The smoothbore carbs with awesome looking velocity stacks complete the transformation from streetable standard to no holds barred racer. Neat custom touches abound, including the oil cooler installation mount (with braided steel lines, naturally), the aforementioned crank end plates, and the rear caliper bracket. The exhaust is another Yosh product, and tucks the pipes high and tight for maximum cornering clearance. The cockpit remains relatively stock looking, if you ignore the doctored speedo.
From the seller:
1980 Kawasaki KZ1000 Mk II AMA Superbike as it rolled off the track in 1990

This example defines the word "untouched". Formerly raced by the late Dr. David Kieffer racer #122 of "Roughstock Racing" in AMA Superbike. What you see here is current photos of it's unrestored condition including original paint and complete bike is as it rolled off the race track for the last time at Steamboat Springs Colorado Vintage races in 1990.
Features include:

-Race Prepared by Roughstock Racing
-Pops Yoshimura Frame and Braced Swingarm- No VIN# being race only frame
-Engine to frame bracing through Countershaft
-ARD Magneto ignition
-EPM Mags- unrestored 18" Rear & 19" front-typical surface marks
-29mm Mikuni Smoothbore Carbs
-Yoshimura 4/1 header with Velasco end section
-AP Lockheed front Calipers
-Grimeca rear Caliper
-Fox Racing Shocks and Koni set in spares
-Spare wheels with original rain tires- Sun USA front 19" x 2.75" DID rear 18" x 3.5"
-Small assortment of electrical spares
-Full gearing assortment
-Spare front rotors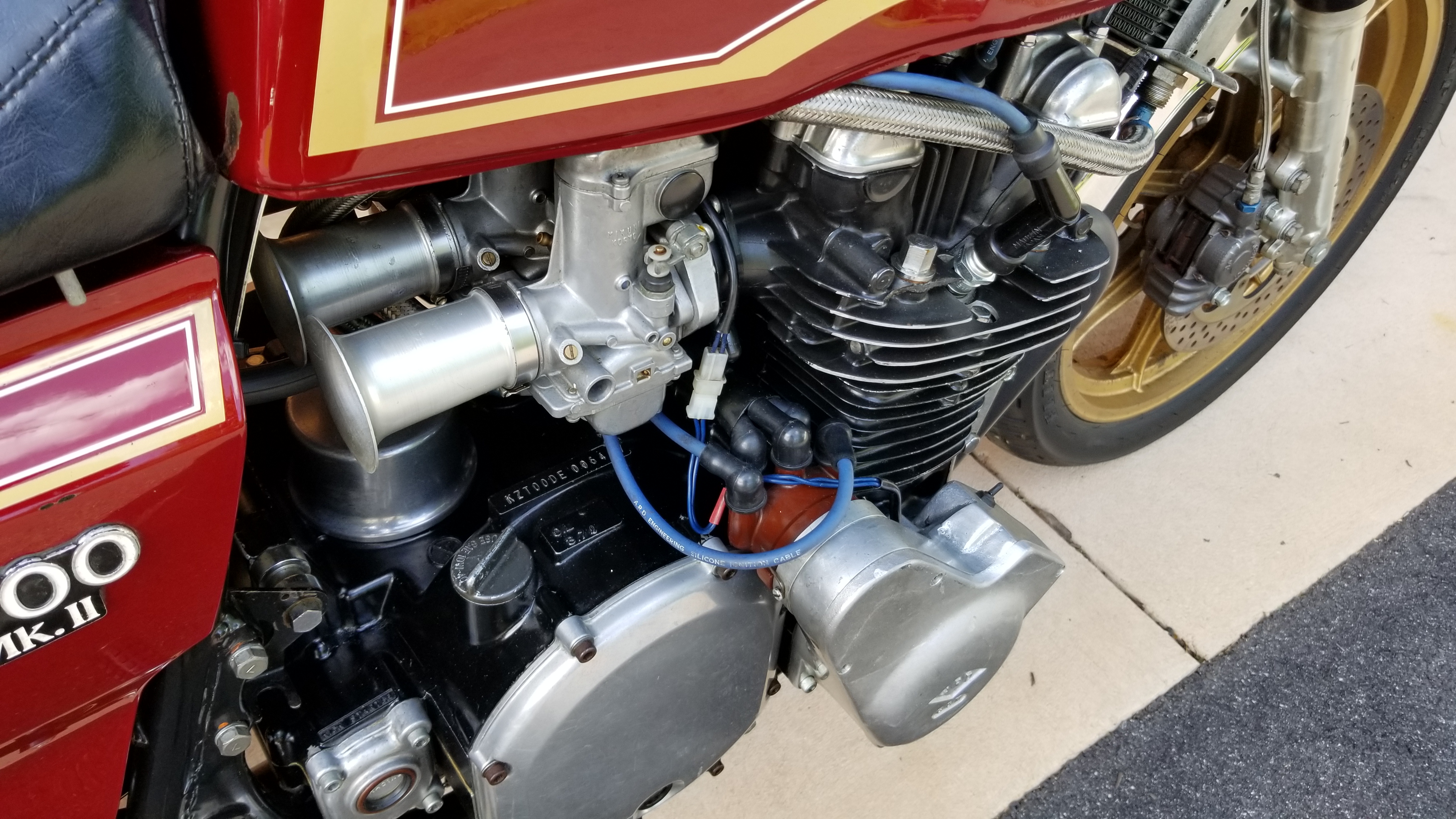 More from the seller:
Engine fires up easy and sounds good. It is believed to be a big bore with a close ratio transmission but I cannot verify details. Any plans to use it for other than display and firing up should be preceded by a full teardown. Bike was in dry storage for many years after last race and was gone through for inspection of cams, carbs and basic components before being fired up again in 2015 and has been fired on occasion.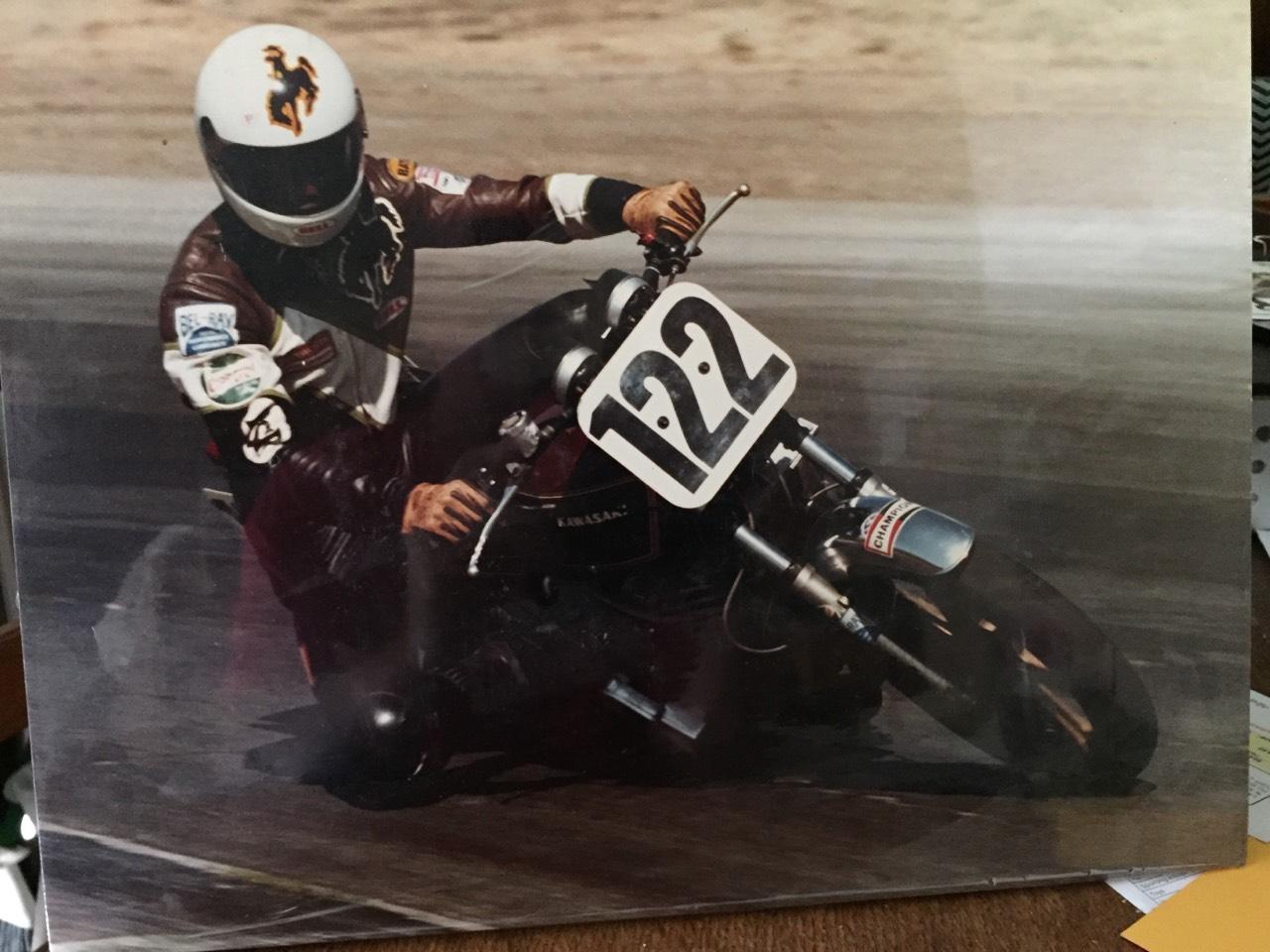 More from the seller:
Bike is located in Allentown, PA

Price: $25,000

Proceeds from the sale of this bike will go towards the Quarterley Racing / On Track Development program that supports four Moto America Junior Cup riders in Kawasaki Ninja 400's. The team is headed by Dale Quarterley, former AMA Superbike Kawasaki rider. Look us up on Facebook.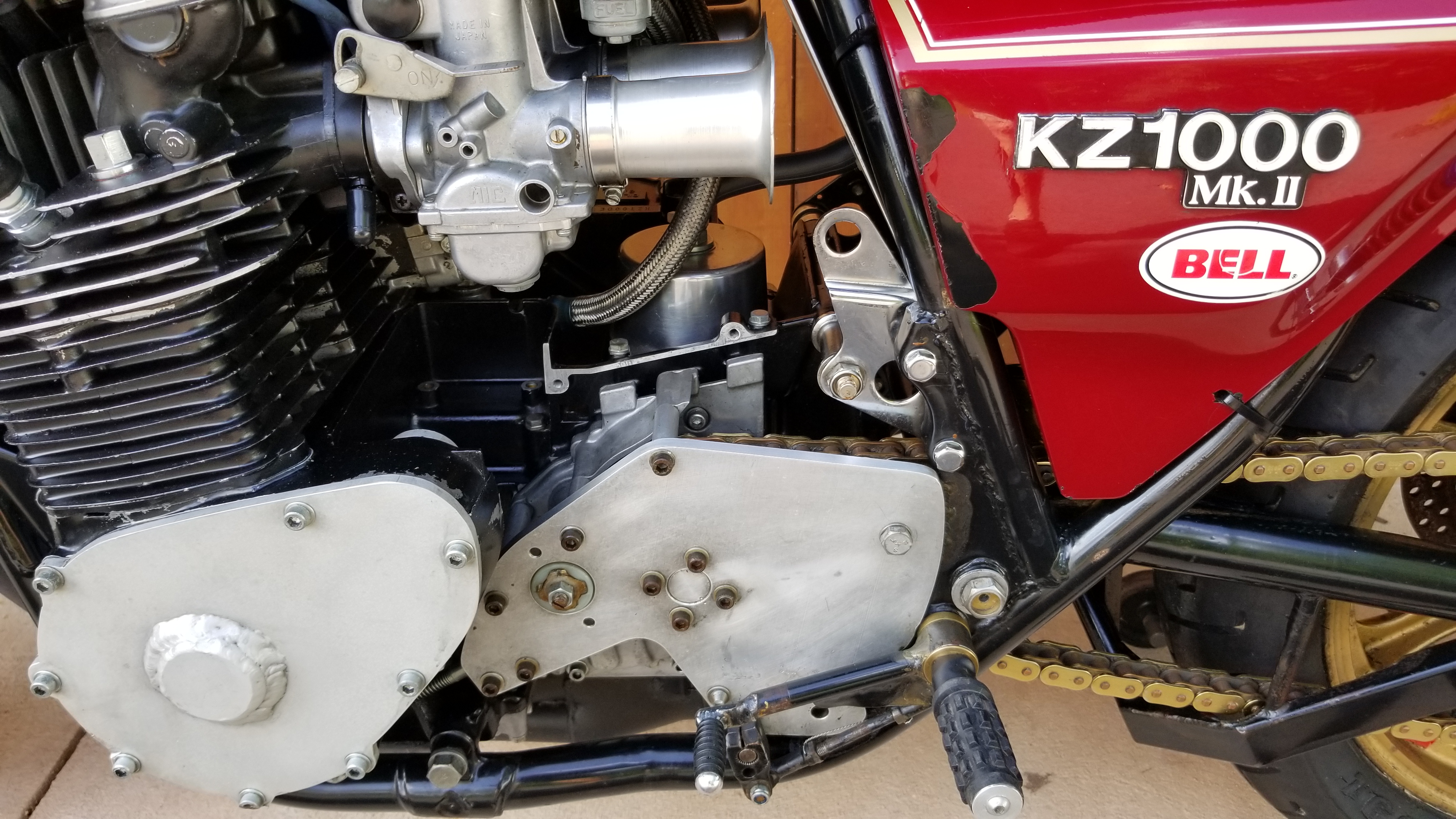 The history on this bike is certainly interesting, and entertaining. The late Dr. David Kieffer – the former owner and racer of the bike – was a board certified orthopedic surgeon, but also a also a motorcycling enthusiast. He amassed an impressive collection of bikes during his lifetime, and actively raced as an AMA Pro in the Superbike class as well as the Colorado-based Motorcycle Roadracing Association (MRA). Lest you think this man was simply a rich doctor playing motorcycle racer, Dr. Kieffer was a fierce competitor and actually raced an RC30 in endurance events prior to it being officially homologated for AMA racing (at which time he entered the bike in Superbike events). That shows impressive commitment, but it was his off track activities that make him an inspirational figure. Being an orthopedic surgeon immersed in a sport where physical trauma is common, the good doctor not only raced against the competition but he also performed surgery on them (Fred Merkel, Scott Russell, Aaron Yates and Ricky Johnson, to name a few). According to some sources, Dr. Kieffer would provide medical aid to competitors who could not otherwise afford treatment (i.e. no insurance). As a result, he was nominated to be the AMA Sportsman of The Year in 1986.
Dr. Kieffer went on to contribute to medicine in motorsports in varying ways through his association with the AMA and FIM (including acting as Chief Medical Officer for FIM events such as MotoGP), and he left behind an impressive legacy of good. He also left behind an sizeable collection of machines – including this very period correct Kawasaki KZ1000 Superbike. The history is moving and significant. But Dr. Kieffer's good works did not end with his passing. Proceeds of the sale of this bike will aid in young rider development under the guidance of road racing superstar Dale Quarterly, improving US talent into Moto America with the goal of feeding riders into the international scene. This is an amazing opportunity to acquire a rare and significant racer with history, and contribute to road racing in America at the same time. Check out the cool historic pics as well as all the recent shots. Then give Bob and call and strike a deal. Good Luck!!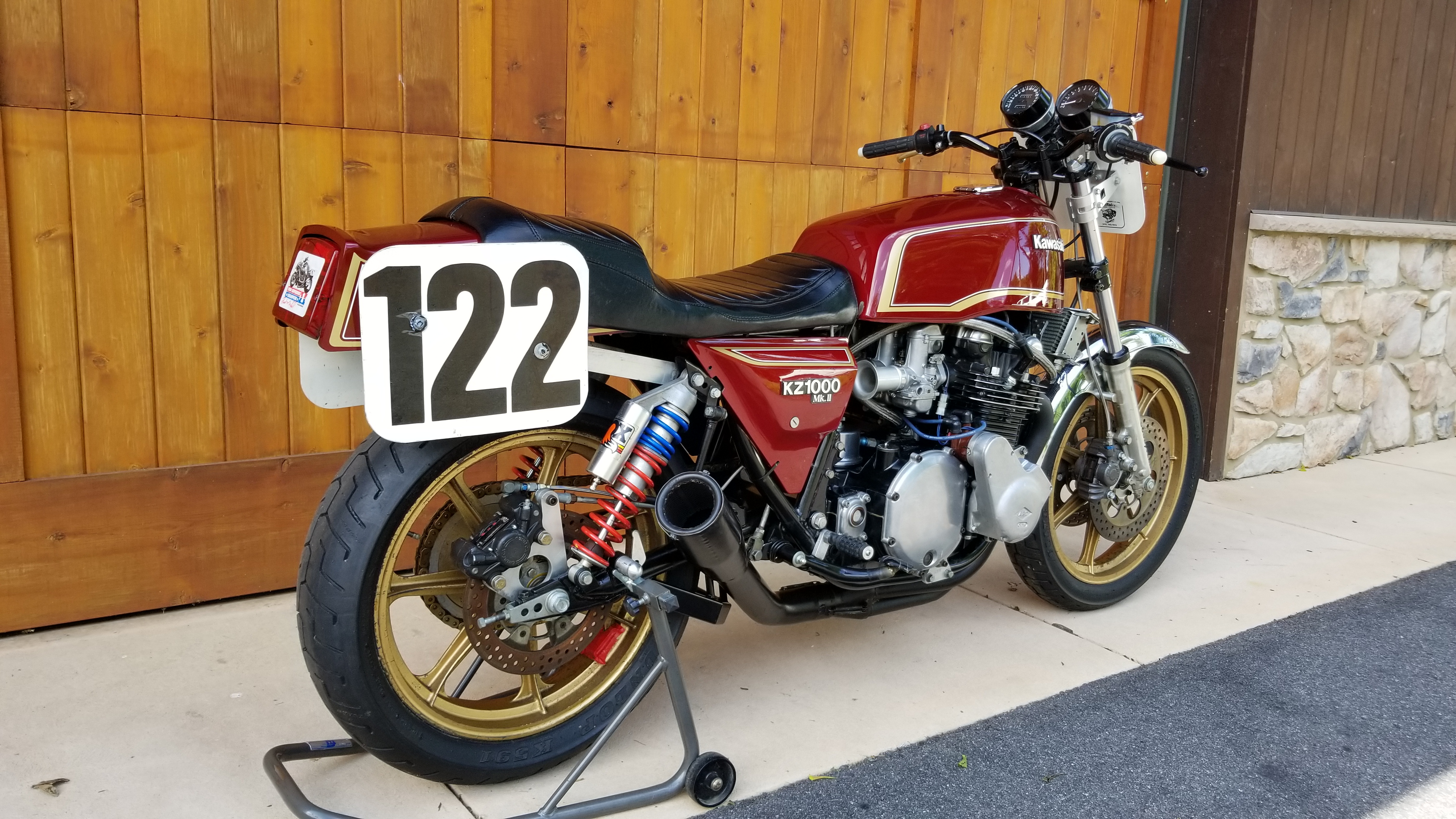 MI