Location: Ely, Iowa
Mileage: 13,800
Price: Auction, $4,000 BIN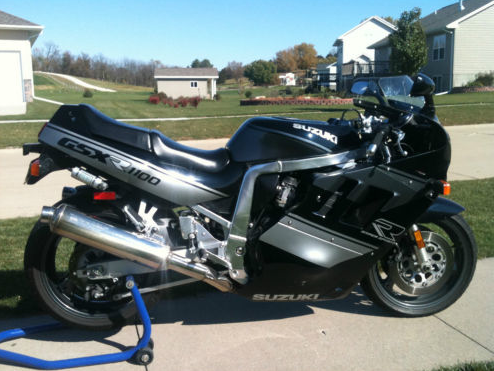 Here we have another mostly stock, clean, early Suzuki GSX-R 1100. Good clean versions of these bikes don't survive intact over the years. Most met their fate by being dropped, wrecked, raced or modded out of existence. The air and oil cooled motor in these machines are bulletproof and an upgraded front suspension helped address issues of the engine overwhelming the chassis in the first gen models. I also think it's best looking GSX-R out there.
Here's some more pics-
The breakdown from the seller-
I am thre third owner of this nearly mint 1100. Adult owned from day one. one scuff on the left lower, other than that its nearly perfect.  All plastic is Suzuki original or OEM. Only two things are not original on this bike, the windshield(factory replacements are not available but Zero Gravity has stock looking clear ones for $75.00) and the steering damper is missing. Runs great, I start it every month to ensure needles stay varnish free. Feel free to email me with questions. Comes with a cover and a rear stand.
So a couple of things to take note of. The plastic is Suzuki or OEM, suggesting that some may have been replaced. You may want to get more detail on that. It also has a replaced windshield and is missing a steering damper. The seller highlights some scuffing on the fairing in the photos. Mileage is not bad at all for a bike this age and again, if maintained, the motor will go on and on.
The BIN price on this is $4,000. Not bad for a clean, older GSX-R 1100. I think these have a great upside and clean versions will maintain value. But beyond that, I think you can get a cool, early liter bike that will be fun to ride (10 second quarter miles anyone?) for not a truckload of cash. Dig it? Then place your bid!
-RN