Suzuki's TL1000R wasn't quite ready for bare-knuckle competition, but over-engineered for the road and it was the only Suzuki sportbike configured the big twin way.  This TLR looks quite original with low miles, a few notable upgrades and that Bo Diddley beat from the hybrid gear/chain cam drive.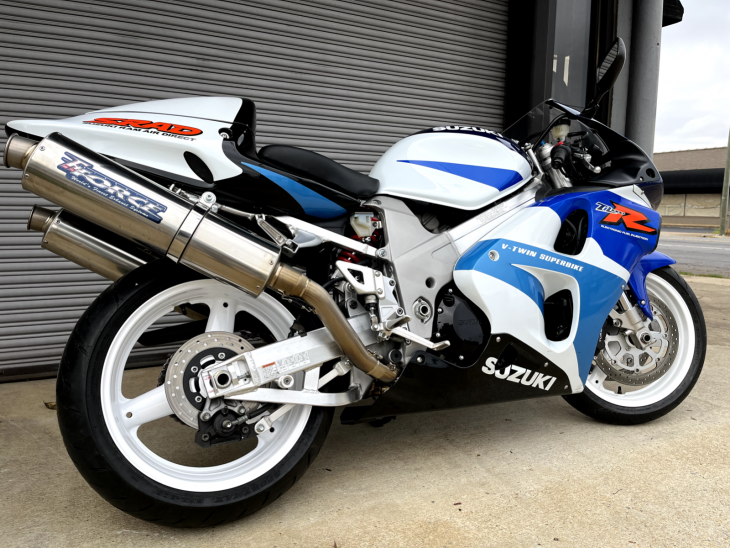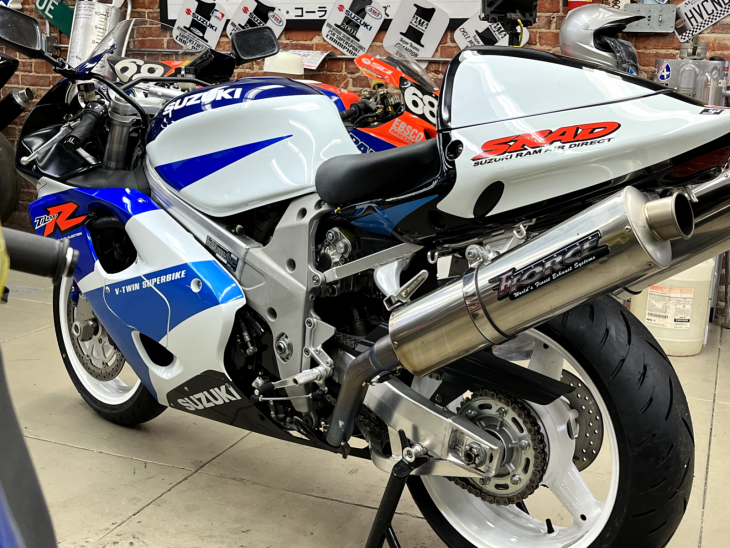 Based on the earlier TL-S engine, the TLR's was hotted up for Superbike duty with dual injectors, forged pistons, and more aggressive cams.  With a little tilt and a massive twin-beam chassis wide enough to put the swingarm pivot very close to the final drive sprocket, engineers achieved a wheelbase under 55 inches.  The wind tunnel-designed nose almost gets ahead of the front fender, with stacked radiators making room for ram air intakes.
Presented by an Alabama race-prep and service shop, this TL1000R looks excellent, showing just over 8,100 miles.  Just one stress crack is pictured on the left fairing, and paint and decals are said to be all original.  Shown in various states of undress, the bike has been comprehensively serviced for the next owner.  Way too many details to be printed here, but a worthwhile read.  Just the opening comment from the eBay auction – 
Original – non butchered – well preserved – climate control stored entire life. 25 years has passed already and this thing is still as sexy looking as any bike being currently manufactured. 
Mileage is only 8,183. This bike needs absolutely nothing. Clear Alabama title in hand.
If you're looking for a premium example of a non molested and non abused – FIRST YEAR version of Suzuki's almighty V-Twin Ducati slayer – you have found it! Extremely low miles and well appointed. Ready for museum display or a good haul through some mountain twisties.
This stunning machine needs absolutely nothing. It is a collector's masterpiece and a valuable part of motorcycling history. Bike fires on an instant and idles smooth and steady. Throttle is crisp and raspy – a definite monster to be unleashed. These beasts are becoming more and more rare and collectible as time passes. 
Some of Suzuki's chassis work went toward keeping handling sharp in an admittedly heavy package, and the bike gained a bit of a reputation.  The factory had GSX-R and TLR race teams going for a short time, and when the decision had to be made the twin got the back burner.  But a close study of the un-faired pictures show how serious Suzuki was about their effort, and what a great example the next owner will have.
-donn
3 Responses.