Location: Morris Plains, New Jersey
Mileage: 14,427
Price: Auction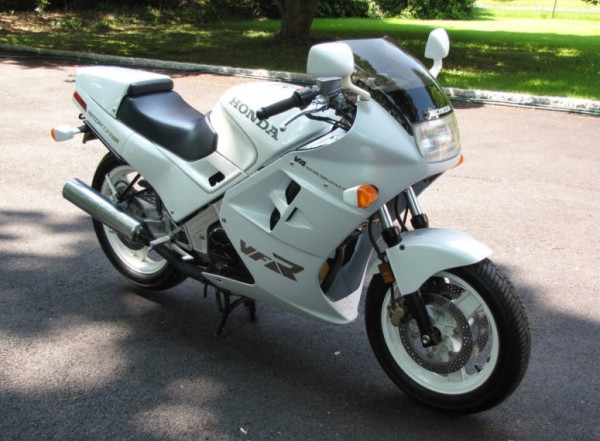 I ride a VFR800 so I am obviously a big fan of the Interceptor.  The VFR has an outstanding history in the Honda sportbike line, being really at the beginning of the sportbike in the U.S. with the early Interceptor's and then the VF1000R, a fully faired statement by Honda about its intentions in the sportbike world. All of this leading of course to one of the greatest bikes of all time, the RC30.
This '87 Interceptor 700 is the beginning of the fully faired V-4 VFR that were a leap forward from the the previous Interceptor. Chain driven cams and four valves per cylinder made for a potent ride back in the day. And normally you would expect to see this bike in the 750cc column, but this was during the tariff era and Japanese bikes came in at the 700cc mark to avoid additional costs.
Here's the info from the seller-
I am selling my 1987 Honda VFR 700 which I have owned for 17 years.  The bike has a liquid-cooled V- four with dual gear-driven overhead cams and four valves per cylinder.  I am the third owner of this bike. The bike is completely stock, has always been garaged kept and is in excellent condition.  There is a slight indentation on the left side of the gas tank by the "H" in "HONDA" (see photo), and some touch-up paint on the right front turn signal.  The rest of the bodywork is in excellent condition.  All instruments and lights work and the bike runs good.

The bike has a side stand and center stand and comes with the original tool kit and owners manual as well as a service manual, collection of road test reports, Eclipse rumble pack, and two bike covers (one lightweight & one heavyweight).

Any questions please email me or contact me. 

Thanks, George  
And photos for you-
The owner describes there bike as stock and it looks like it. Pretty impressive for its age. There looks to be no serious cosmetic issues and the seller says the bike runs strong. Mileage isn't too high and these bikes have been known to rack up the miles. So if it has been taken care of you'll be able to enjoy this bike for a long time.
If you are looking for an early VFR, this may be your ticket. I dig it. If you do too, check it out!
-RN