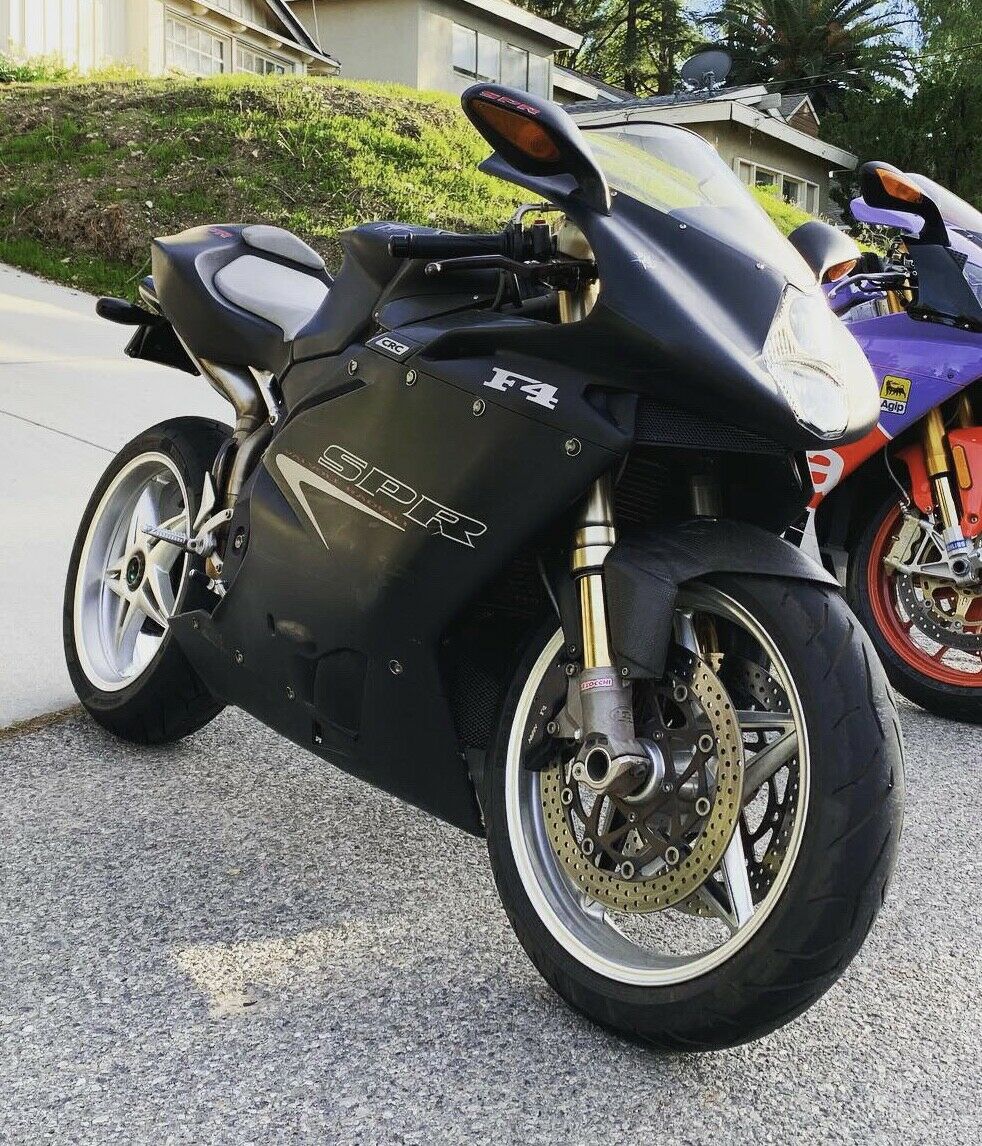 When MV Agusta dropped the F4 to an adoring public, they made a significant splash. This was important, as the F4 was the rebirth of the legendary brand. Penned by designer Massimo Tamburini, the F4 was a spiritual successor to the Ducati 916 line. Featuring a timeless silhouette coupled with an all-new inline four cylinder 750cc power plant, the MV Agusta simply oozed quality and exclusivity. Eventually the 750 grew into a 1,000cc variant, and each of the two capacity lines spawned numerous special editions. In total there were nine different 750 variants offered, along with a dozen different 1,000cc limited offerings. Today's F4 SPR was the pinnacle of the 750 line and intended for racetrack use. Both the SPR and the later SR (intended as a reimagined ORO edition) utilized a power unit derived from the Senna edition, itself a more powerful engine derived from the 750 Evo 2 (which was originally intended as a SPR model), which itself was an upgraded motor based on the standard 750 S unit. All clear?
To build an SPR required new engine internals to improve power and engine characteristics befitting a race bike. More power (146 HP @ 13,000 RPM) improved straight line performance when fitted with the race exhaust and eprom. The transmission was altered to a close ratio gearbox with a new clutch assembly. The chassis remained standard across the full 750 family, but suspension was upgraded for racetrack use. The SPR utilizes a larger fork with nitride treatment to reduce stiction. A race-spec rear shock sourced from Sachs was a step up from previous models. Weight was reduced through the use of carbon fiber body panels. As with all special F4s, a limited edition numbering scheme was created and a plate was attached to the headstock. The seller has included some great information about the F4 SPR, so I will let him pick up the story: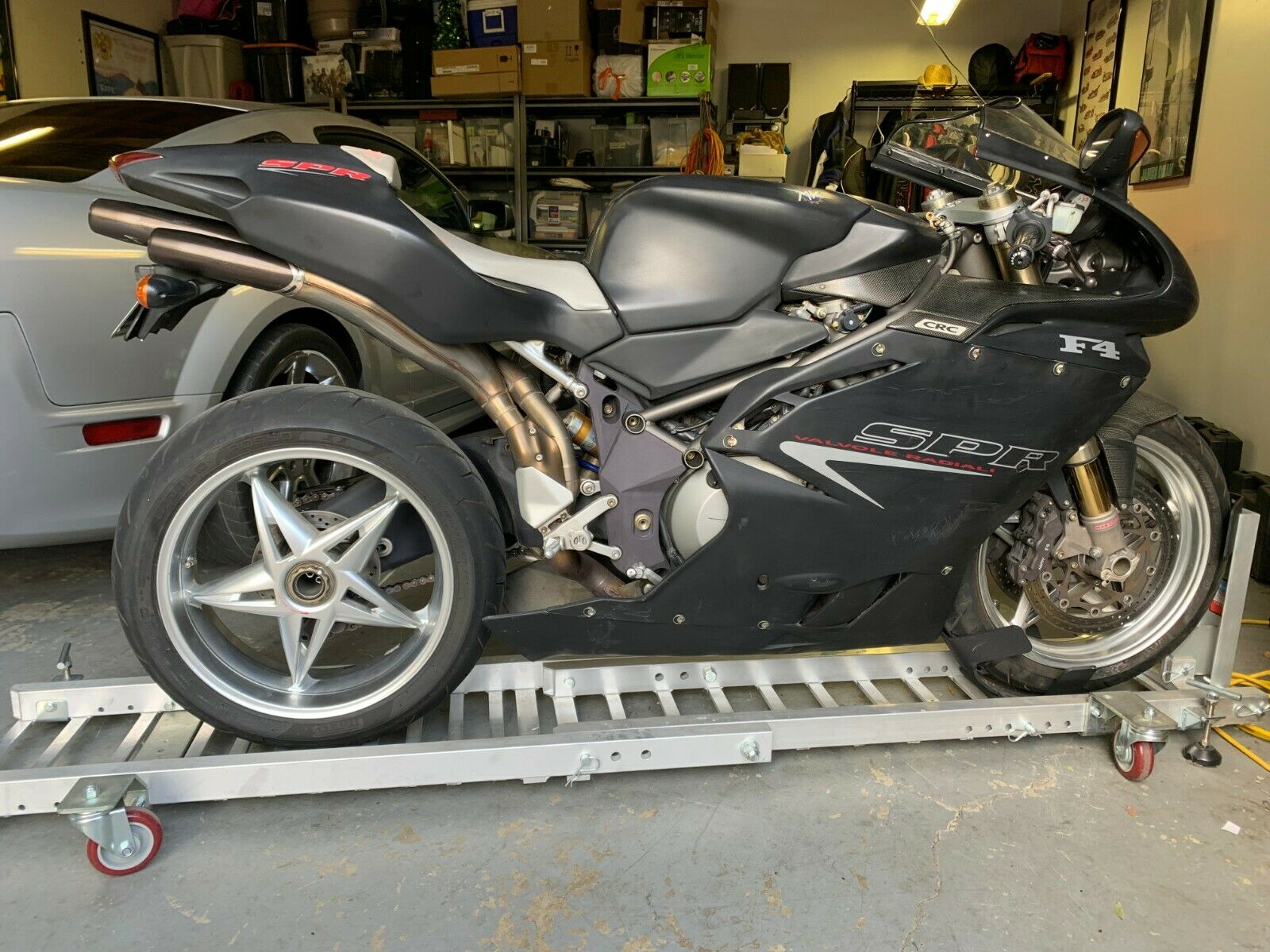 From the seller:
This is a very limited production MV Agusta F4 750 SPR #268 out of total 300 SPR production. At 146 hp the F4 SPR is the most powerful F4 750 produced. It was built only for 6 short months (June-December of 2003) to culminate the end of the F4 750 series production. There was only one color availabe, the flat black.

This is not a gussied up F4 but a distinct model within the series, produced by MV primarily for track use. SPR engine was equiped with a new cylinder head with re-designed combustion chambers, improved intake and exhaust manifolds, hotter cams, Mahle pistons with oil jet cooling, lightweight crankshaft. This resulted in 146 hp at 13,000 rpm. To improve performance on the track, SPR is equipped with a close ration gearbox. Depending on the final drive used, SPR's top speed ranged from 170 mph to 183 mph – not bad for a 750cc motorcycle!

Suspension upfront are massive 49 mm Marzocchi forks with titanium nitride treatment. Sachs Racing damper is in the rear and has a dual compression adjustment for high and low speed. Front brakes are dual 6 piston calipers with a single 4 piston caliper in the rear.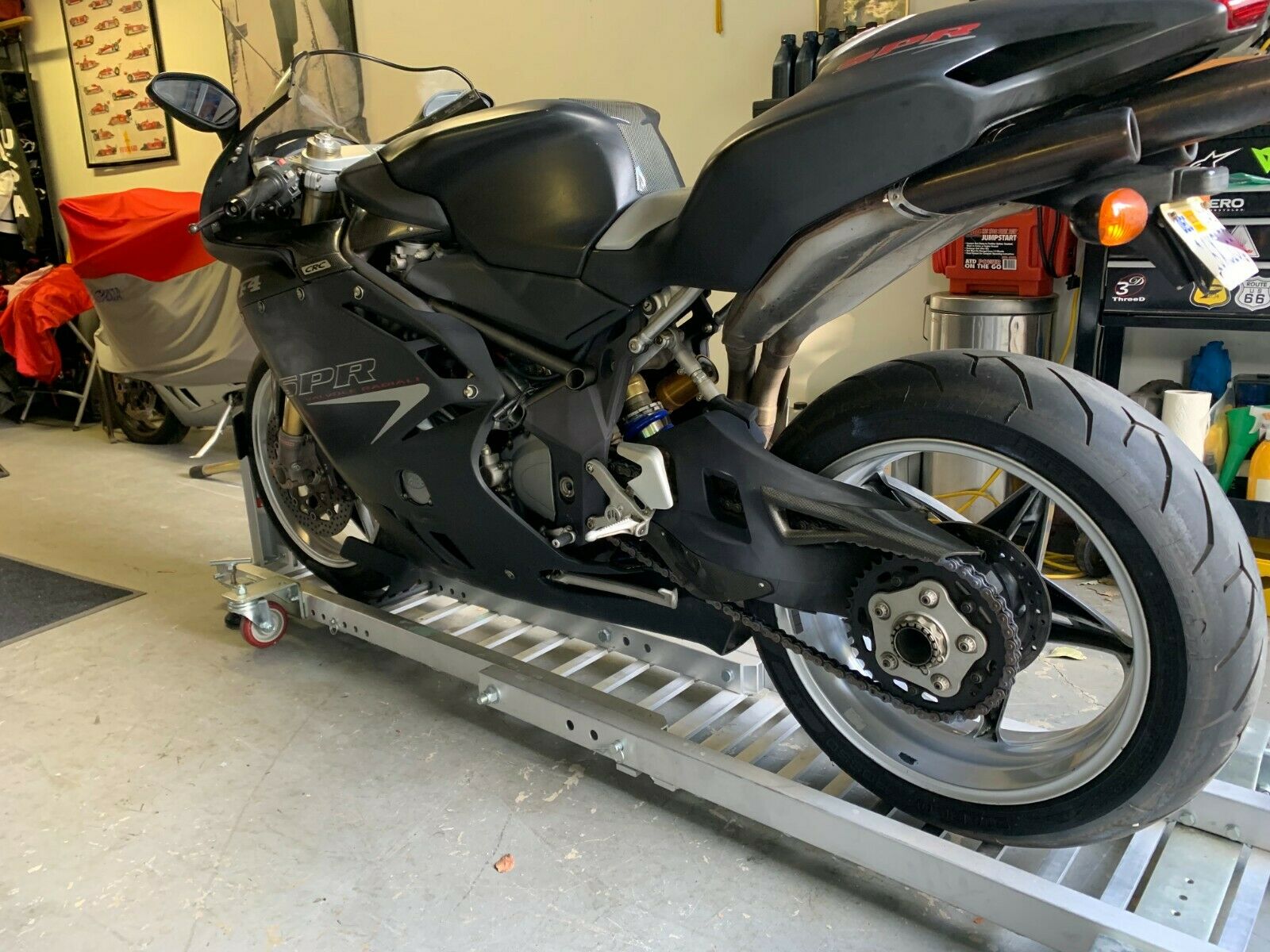 More from the seller:
#268 is a strong runner. It does not overheat, leak or smoke. It comes with a full service history with most work done at Pro Italia. It just had a $650 service performed which included new battery, fuel pump, starter solenoid and chain lube. The stand switch was intermittent and was disconnected which results in the N green light to remain on constant. Tires are ok but would recommend replacing if you will be riding this SPR in anger.

It comes with an Ohlins steering damper, factory tool kit, owner manual, service records and one key. It has a clean California title and registration that is good until 12.18.2020

This SPR is not a garage queen. It was down earlier in its life and with the exception of the the slight damage to the rear brake pedal and a cosmetic (no punctures or leaks) dent in the radiator (see pics for both). The rest is cosmetic, primarily the right side fairings are scratched and the front fairing has two small cracks – one just above the headlight and the other below the mirror which I found only after cleaning the bike. The windscreen has a small crack on the top. I have included pictures with the fairings off for better inspection as well as the pictures of the damages. Please feel free to ask any questions.
MV Agusta F4 SPR models are rare. 300 unit count rare. They are some of the most capable 750s on the planet, exclusive as all get out, and expensive on the used market. Expect to part with $15K+ for an impeccable example of the breed. Which brings us to the downside of this particular example: it has been down. Purists will tell you to run – not walk – away from this one. But purists may have the cash a spic-n-span example will bring (even a lovingly used SPR is over $10k these days) And purists are more likely to collect than ride. If you are seeking an awesome bike that you want to use – possibly even on track days – do you really want a museum piece? The pictures show some bodywork damage, but some deeper inspection might be warranted to ensure the rest of the components are straight and serviceable. If they are, this could be a cheaper way to ease yourself into a rare and coveted SPR.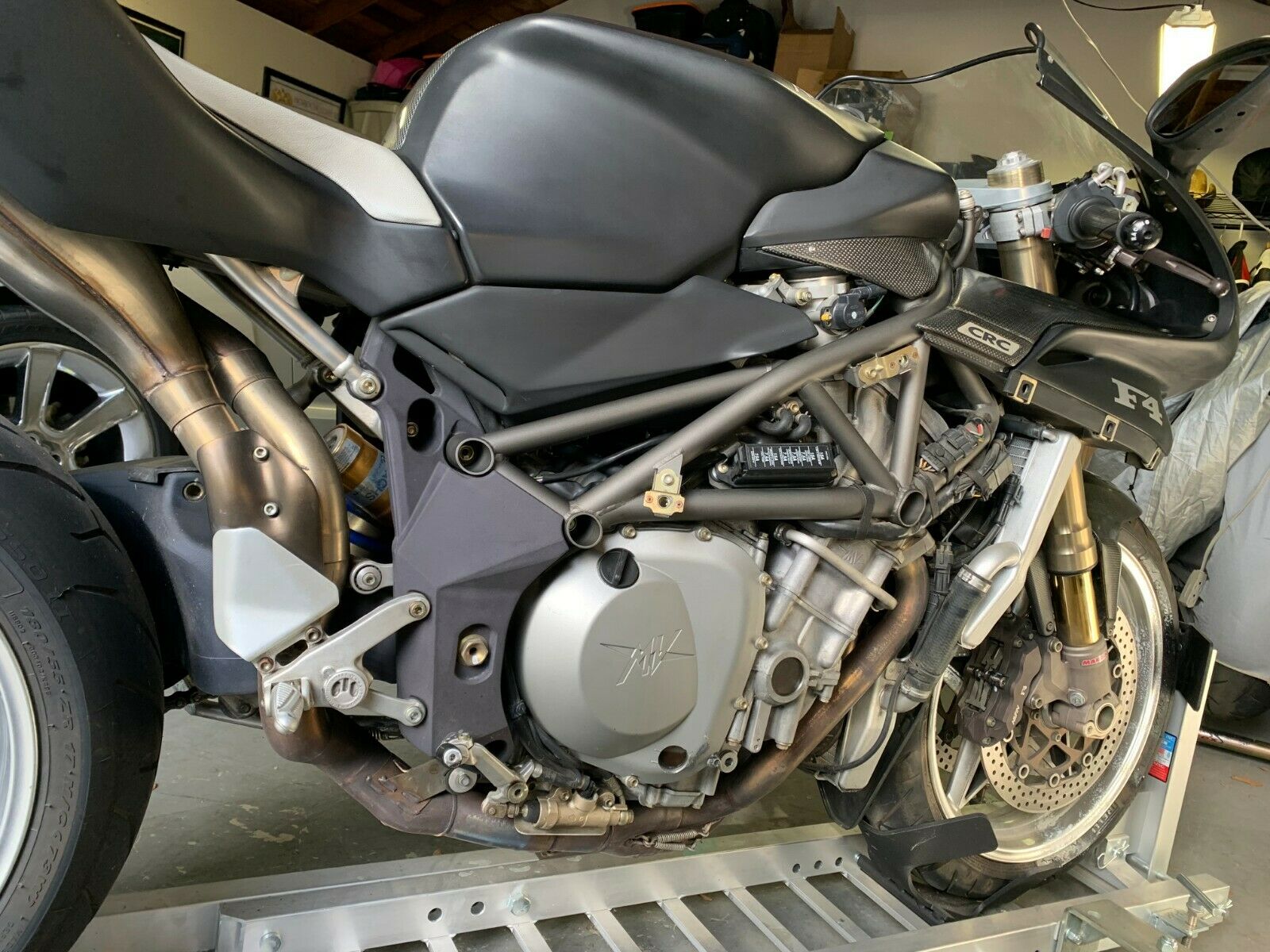 Today's bike has a Buy It Now asking price of $6,600, with the seller open to offers. While that is not a bad deal for a rare SPR model, potential buyers will have to trade off between cost and value. Part of the bargain here is the in the unknown – damage which is beyond cosmetic. The seller has done a good job of describing and showing the effects of the impact, so that should help. If there are no hidden issues lurking, then all the better. But don't discount the cosmetic either; those carbon skins do not come cheaply, if they can still be had at all (I don't know about SPR parts availability – knowledgeable readers feel free to chime in). At the end of the day, you could have a rare rocket for fun, but not likely to be on the same level as a collector bike. Check it out here and then make your choice: are you willing to trade sweat equity for status, or do you buy only the best? Good Luck!!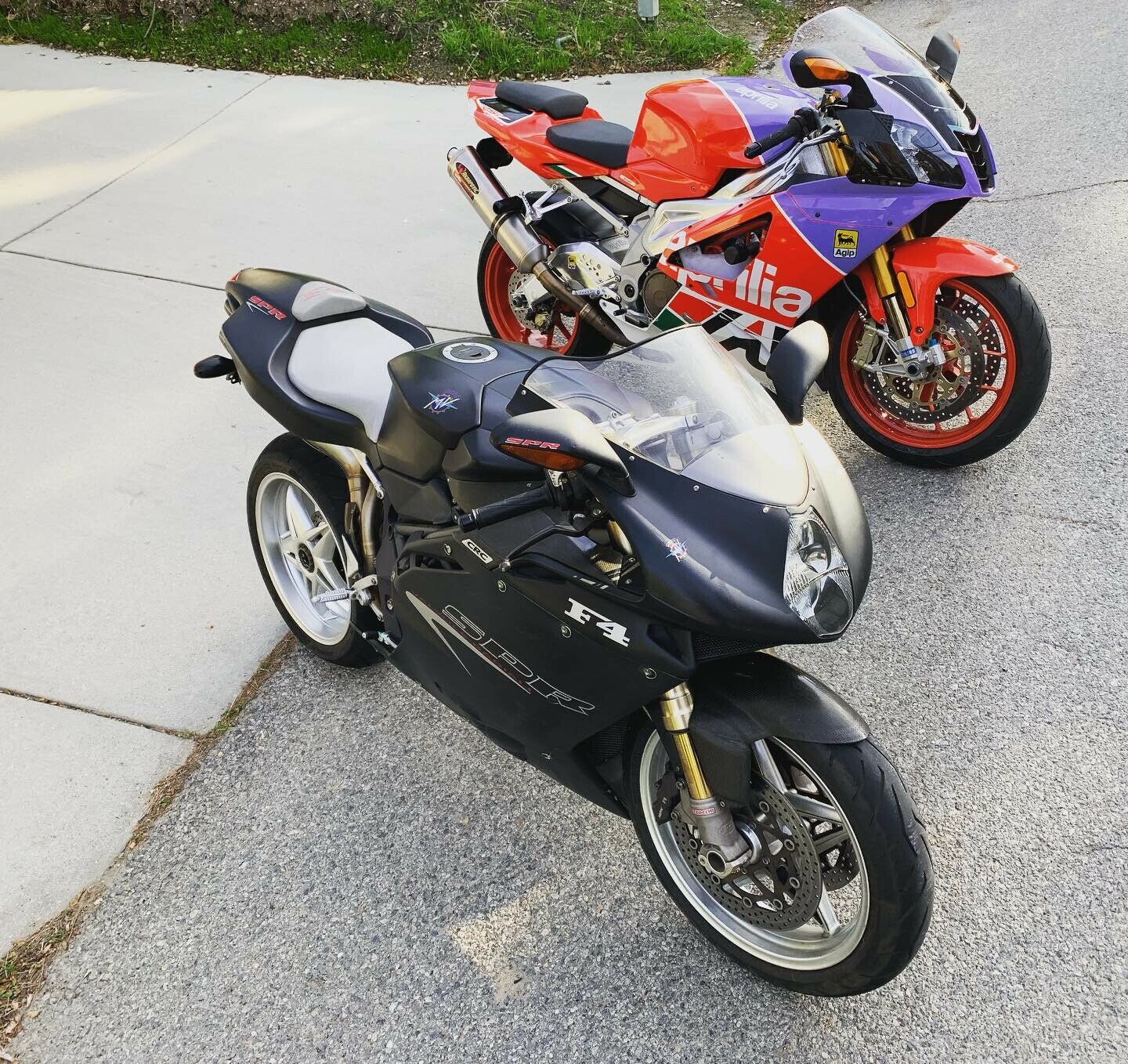 MI