Warning!
This post is in our archives. Links in this post have been updated to point to similar bikes available to bid on eBay.

Location: Westminster, MD
Miles: 534
Price: Currently $13,099 ($37,000 BIN)

Update 11.15.2011: Relisted. Last time the Buy-it-Now option was $37k and reserve was off at $30k. -dc
It's been a while since we have seen an RC30 pop up here at RSBFS that isn't located overseas. So in case you have forgotten or just don't know much about these in general, allow me to refresh your memory. The VFR750R (RC30) was a homologated special designed to compete in Super Bike racing. It was produced from 1987-1990 (though some might show as 1991 models depending on the time they were initially registered). The bike features hand-laid fiberglass fairings, titanium connecting rods, as well as several other race-oriented parts.
In 1987, the VFR750R was only produced for the Japanese market and featured a restricted 77hp motor. 1,000 of these JDM units were produced and are distinguished by their smaller diameter headlights and black mirrors. The RC30 was produced for other markets around the world in 1988 and 1989 and had a claimed 112hp engine. These bikes featured the "VFR750R"
branding on the tail as well as larger diameter headlamps and white mirrors. In 1990, the U.S.
received the RC30 with about 86hp on tap for the 49-state model (which features a "0" in the 8th position of the VIN). The California model (which is identified by a "1" in the 8th position of the VIN) was more restricted and had a low lift cam and softer valve springs while redlining at
12,000 rpm (12,500 rpm redline for the rest of the U.S. models). The U.S. version is also distinguished by the "RC30" decal on the tail versus the "VFR750R" seen on non-U.S. models. As a side note, there were some bikes made for the UK market in 1990, so the U.S. was not the only place to receive the 1990 model year.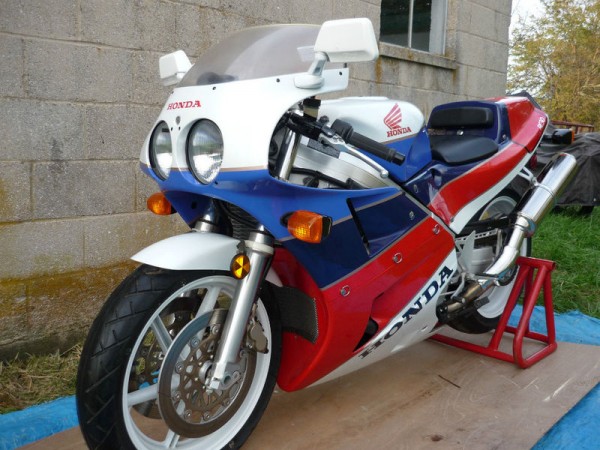 On to the RC30 that is for sale at hand. No immediate complaints or call-outs come to mind and it is easy to see why, as this bike has only racked up 534 miles in its 21-year life. It does have a "0" in the 8th position of its VIN, so this is not one of the heavily restricted California models. The only flaw I can spot is a hazing of the windshield, and the seller does mention this.
From the seller:
The bike starts up as shown on YouTube video at their website (www.YouTube.com/watch?v=Ld_vJpp-4xE). There are no scrapes, dings, or road rash. The bike has never been driven in the rain, never washed, waxed, or cleaned. There is a slight opaqueness to the clear plexiglass-type windshield due to aging. There are products available to help clear that up. There are micro surface irregularities on the hand-laid up polyester fairing due to age (too small to photograph). All rubber components show no sign of age cracking, to include tires. All fluids are original as delivered from the factory, except for fuel. Inspection is available for serious buyers with the funds. No test rides.

Perfect bike! Certainly one of the best motorcycles ever produced. Bike is being sold at a very reasonable price. Clear title in hand. Included in this auction are – the motorcycle as pictured and described, owners manual, factory tool kit, accessory bike support, original battery, and
original RC30 brochure.
This bikes looks to be as clean as they come and would be a prime collector's example. Now, there may be one thing (or 37,000 things) standing in you way of buying this beauty. Yes, the $37k BIN is definitely above the range we have seen RC30's go for in the past. To find one in this condition with this low of miles for sale is tough, so it is hard to tell if this bike will command its price tag. But it will be very interesting to see just how high this bike get bid-up and you can bet that other RC30 owners will be keeping an eye on this. I will be keeping an eye on this one for sure. You can check out the auction here and make it part of your collection today!
-JS