Claudio's Bike:  2006 MV Agusta F4CC  W/1 Mile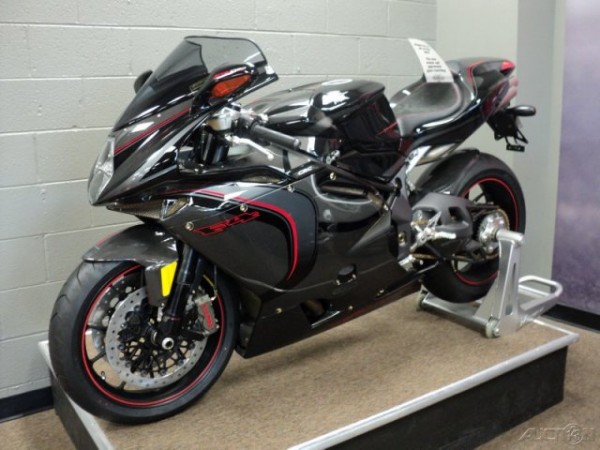 I think you've made it when you run a motorcycle company, create a bike with all your finest bits and then name it after yourself.  If you haven't figured it out, the "CC" stands for Claudio Castiglioni, the managing director of MV Agusta.  I guess you could say this is the top dog of the MV line.  It is the most expensive bike they produced and has the highest horsepower figures as well.  Only 100 F4CC's  were produced so you definitely get some exclusivity for the price:  $120,000 MSRP by the way.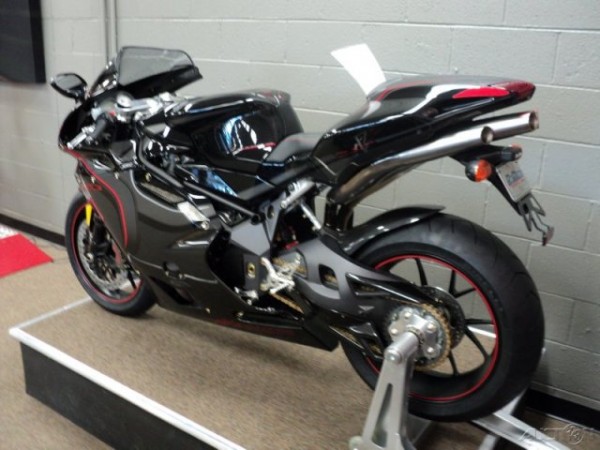 Have no fear if you didn't have the shekels to  buy it back in 2006.  This F4CC has been someones eye candy for the past 5 years and now can be yours for $59,999 and with only 1 mile on it.  Patience pays off!  Hey you even get the watch an sweat, sweat jacket (that's a little sarcasm on the jacket).
Damn, there isn't even dust on it!  From MV Agusta's website here is what is unique about the F4CC:
The F4CC is at the absolute top of the F4 hierarchy. The main differences between it and the more "commercial" F4R can be summed up as follows:
Over 90% of the components are individually tailor made
Brake and clutch levers that "fold" at the tip in the event of a fall
1078 cc engine
200 CV maximum power with titanium racing exhaust system
New timing system
Smaller alternator
One-off mechanical type slipper clutch
New forks interior set-up and mono shock absorber
Brembo Racing monoblock brakes
Curb weight 187 kilos without fuel
Just a bit from the auction:
This bike was in a collection, it has 1 mile and comes with all the original equipment it came with from the factory.  This includes the Jacket which is a large and the watch.
Doesn't 50% off sound great?  It does but I just don't know in this market right now, it is a buyers market to say the least.  I've really been surprised to see some of the low prices other (arguably less exclusive) limited edition MV models have sold for.  I can't tell for sure but this bike may have been on the market for some time.  We posted this F4CC back in 09 and it had similar asking price.  If that 50% off is too much to resist .
Some nice close ups. Photos and video don't do this bike justice.

A chic in high heels from the Los Angeles Times doing a review of the F4CC. You figure it out.

IK