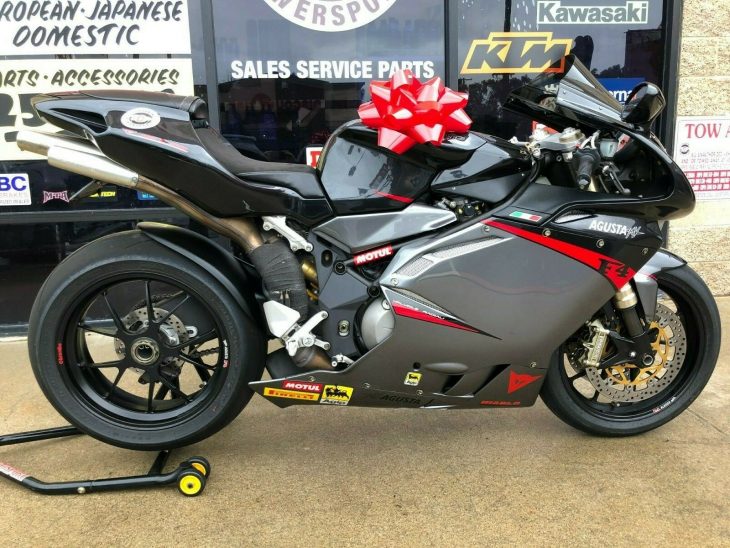 The 2008 MV Agusta F4 312R came dancing across the water in pretty short supply, but was still aimed at being something of a halo bike for those whose incomes don't equal the GDP of an Eastern bloc nation. When this thing was new, it was meant for superbike competition, but didn't carry the eye-watering $128k sticker of the F4CC dream machine.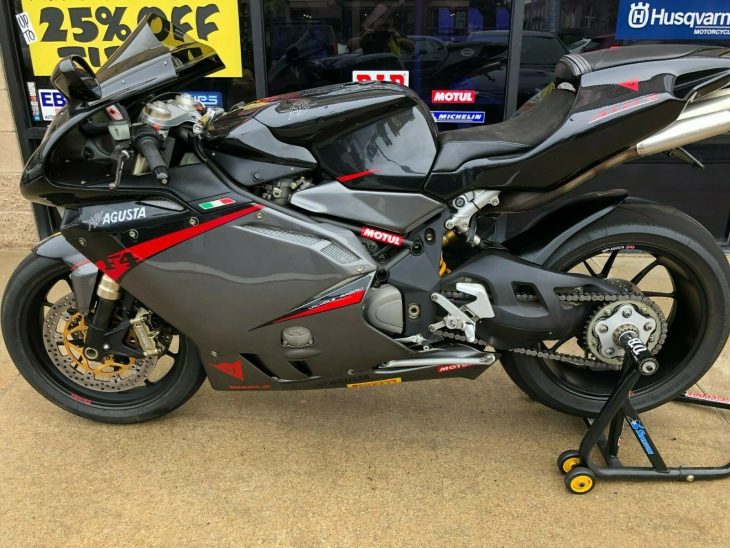 Thanks to higher lift and longer duration cams, punched out throttle bodies and titanium valves, the F4 312R was good for 183 horsepower at 12,400 RPM — or 9 horsepower and 500 RPM above the standard F4. It had a fully adjustable Marzocchi front end, backed up by a similarly tweakable Sachs shock. The whole package weighed just 425 pounds without fuel. Even by today's insane standards, it's a fast machine. But in 2008, absolutely nothing stood in its way.
This 2008 MV Agusta F4 312R has been ridden and enjoyed, and it shows, but the bike is still in really nice, well-taken-care-of condition. With more than 10,000 miles on the dial, it's on the upper end of the scale. To compensate, the seller says it has recently had a full service, which included Engine Ice coolant, Motul oil and new tires. It got a valve adjustment and new valve cover gasket at the same time.
From the eBay listing:
BIKE INFO;
THIS MV AGUSTA F4 312R IS AND HAS BEEN TAKING CARE OF WITH PASSION. ALL SERVICES AND MAINTENANCE IS DONE ON SCHEDULED MAINTENANCE TIME BY PROFESSIONAL MECHANIC AND MOTORCYCLE SHOP OWNER.

IT'S RIDDEN ON REGULAR BASES STREET,HIGHWAY,TWISTIES, FOR WEEKEND FUN.
NEVER RACED ON TRACK OR BEEN IN ANY SORT OF ACCIDENT OR TIPPED OVER.

ALL FLUIDS ARE CHANGED(PREMIUM OILS AND FLUIDS,MOTUL OIL & BRAKE FLUID,CLUTCH FLUID,ENGINE ICE COOLANT).
DNA' PERFORMANCE AIR FILTER WASHED AND LUBED.
NEW SPARK PLUGS. VALVES CHECKED/ADJUSTED/NEW VALVE COVER GASKET ADDED.
ABSOLUTELY NO NEED FOR ANY MAINTENANCE FOR THE NEXT 7,500 MILES AT LEAST,JUST RIDE.
NEW PIRELLI SUPERCORSA TIRES,150 MILES ON TIRES ONLY DONE,SINCE NEW.

BIKE HAS LIGHT SMOKE SCREEN,INTEGRATED TURN SIGNALS IN REAR,SUEDE NON SLIP RIDER SEAT,MIDDLE EXHAUST PIPE WRAP TO KEEP HEAT AWAY FROM RIDER.

THERE IS 3RD FAN MOTOR INSTALLED ON THE RADIATOR WITH 2 SPEED IF NEEDED TO KEEP IT COOL IN THE TRAFFIC JAM.
UPGRADED VERSION ORIGINAL WATER PUMP INSTALLED FROM MV AGUSTA.
LOJACK INSTALLED FOR SECURITY./CAN BE TRANSFERRED TO THE NEW OWNER./ 0 COST
LITHIUM BATTERY INSTALLED. PASSENGER FOOT PEGS AVAILABLE TOO.

AS THE OWNER I AM VERY ATTACHED TO THE BIKE , DON'T WANT SEE IT GONE, BUT, AT THE END I HAVE REALISED THAT I AM NOT RIDING THIS FANTASTIC BIKE AS MUCH AS I SHOULD + I HAVE MORE BIKES TO LOOK AFTER.
MV-F4 MOSTLY SITTING PRETTY IN GARAGE.
I AM SURE THAT MANY OF YOU OUT THERE KNOW VALUE AND CAPABILITY OF THIS MOTORCYCLE,SO I WON'T POST BIKE SPECIFICATIONS HERE AS ALL! THIS CAN BE FOUND ON NET AND SEARCHED UNDER 2008 MV AGUSTA F4 312R 1+1

PLEASE NOTE;
I WILL HAVE OPEN BIDDING WITH MINIMUM PRICE AND NO RESERVE PRICE ADDED.-WOW
NO "BUY IT NOW PRICE"- ALSO.! JUST BIDDING AS IT SHOULD BE.
I AM DETERMINED TO SELL BIKE AND ONE OF YOU WILL CAPITALISE ON THIS DEAL SOON.
BID WITH CONFIDENCE.
LOCAL BUYERS IN CALIFORNIA(SAN DIEGO) ARE WELCOME TO STOP BUY AND LOOK BIKE UP CLOSE. LOCAL PICK UP, ALWAYS AVAILABLE AS OPTION.
MOTORCYCLE IS OFFERED FOR LOCAL SALE AS WELL.HOLDING RIGHTS TO CLOSE AUCTION BEFORE ENDS, IF NEEDED.
IF MOTORCYCLE IS PURCHASED ON EBAY, BUYER MUST PAY EVERYTHING IN TIME THAT HAS BEEN SCHEDULED.
"NO EXCUSES"

BUYER TAKES CARE OF ALL FEES,AND PLANNING REGARDING SHIPPING TO DIFFERENT STATES.
FROM LOCAL DEALER I FOUND THAT RATES FOR SHIPPING BIKE ARE $600 3-4 WEEKS, OR $780 IN 10 DAYS.
NOW YOU ALL HAVE SOME REFERENCE POINT ON SHIPPING COST.
2KEYS,2 LOJACK KEY FOB, TITLE, BILL OF SALE,MANUAL,EXTRA BIKE STUFF WILL BE MAILED SEPARATE FROM THE BIKE.
There's no reserve on this beast, which means highest bidder takes it home. There's scant few of these around, so we'll be curious to see where the bids end up.