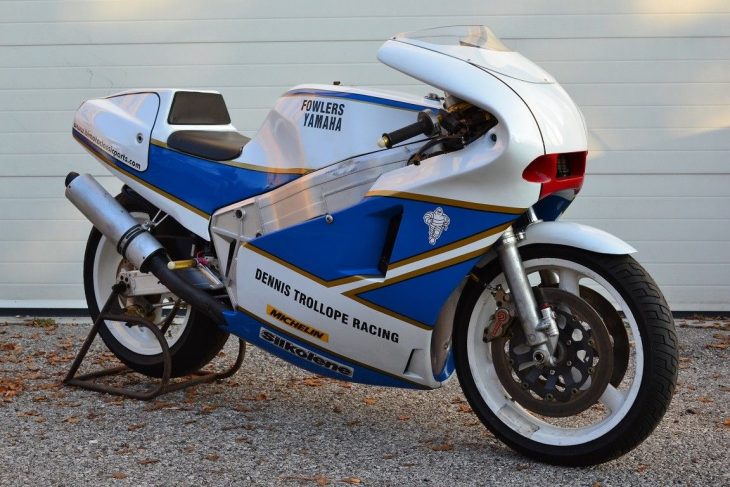 It's fitting that the last couple of Bimota YB4s we've featured have been race bikes, since the YB4 was a competition machine first, and a road bike second. In fact, only a racing version was built at first, until World Superbike homologation rules required 200 roadgoing examples be built. The YB4 competed head-to-head with the best Japan could build, first in Formula 1, and later on in the new World Superbike series, an amazing feat for such a tiny manufacturer.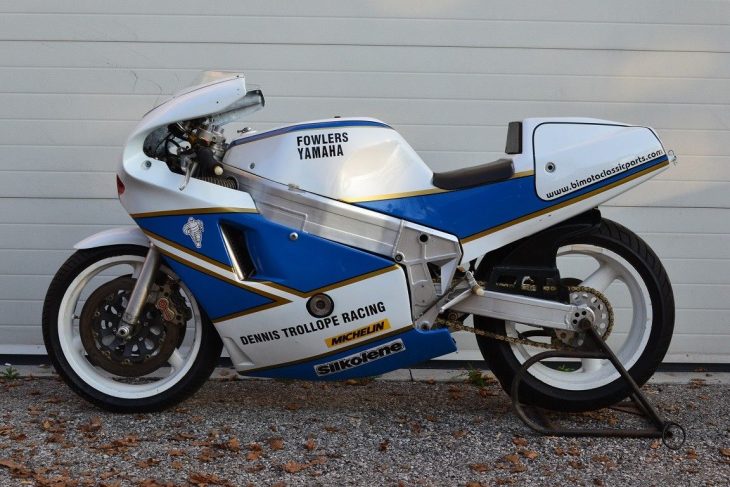 First produced in 1987, the YB4 was powered by Yamaha's 749cc five-valve "Genesis" motor and six-speed gearbox, which it ironically used to compete against Yamaha's OW01. Weight for the roadbike was 396lbs dry, and both versions used Bimota's stiff, lightweight aluminum beam frame and swingarm, so handling was predictably sublime.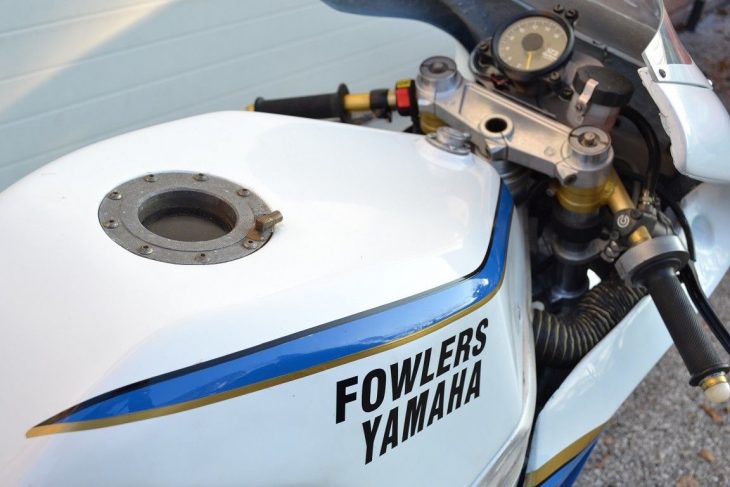 Before their untimely demise, Bimota had become a manufacturer of expensive toys for well-heeled collectors or the occasional race team maybe looking for something to differentiate themselves from all of those very competitive Kawasakis and BMWs. There's nothing inherently wrong with recent Bimotas, but the Japanese Big Four and the Germans have caught up, and they didn't provide the kind of competitive advantage that bikes like the YB4 offered to racers and road riders of the 1980s.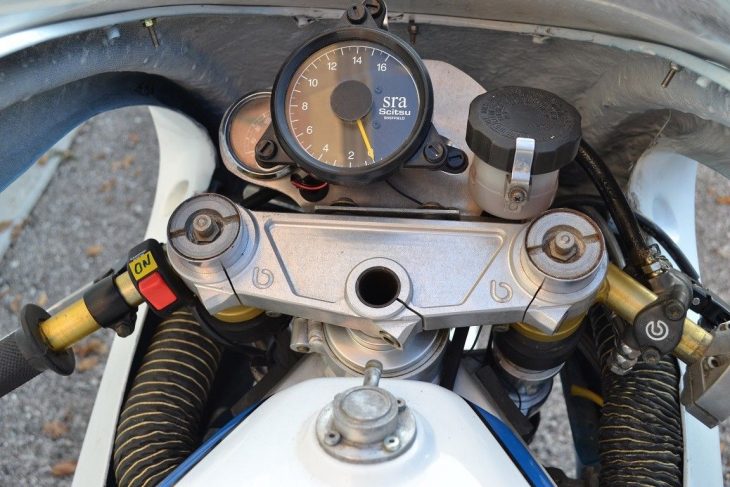 From the original eBay listing: 1988 Bimota YB4R for Sale
1988 Bimota YB4 Racing, ex-Steve Williams Team Fowlers Yamaha UK VIN: YB4*000027

4th overall in the 1988 World TT F1 (Superbike) Championship  – that year Fogarty won it, second Joey Dunlop, both on Honda RC30. This bike was also in the top ten results of TT IOM 1988 and 1989.

Rare opportunity to acquire a piece of the early Superbike era and of Bimota history. Bike is genuine, complete and working with the right patina, fitted with the correct carbs engine with magnesium sump.

Letter of verification by Dennis Trollope with the bike.

Parade, race and collect!

Bike is currently located in 33080 Roveredo in Piano, Italy but i can get them delivered all around the World at cost, no problem. I can supply US contacts for reference.
This example comes to us via a seller that should be familiar to RSBFS and CSBFS readers. I've never met him, but he obviously has great taste in motorcycles. There is very little time left on the auction, and bidding is up to just north of $5,600. Bimota values in general and pretty low right now, but this particular machine I'd hope would buck that trend: it's got racing history and plenty of patina. It's obviously a bit scruffy around the edges, but that's pretty much par for the course with well-used racebikes.
-tad