Practical sportbikes like the Yamaha FZR400 generally weren't babied and pampered, or cherished in the way that seems so common with Italian superbikes: for an FZR400 fan, "to cherish" means to flog mercilessly on a canyon road or tight track, passing bigger bikes around the outside on that skinny 140-section 18″ rear tire… But nice, clean examples still exist, and today's example has low miles to boot.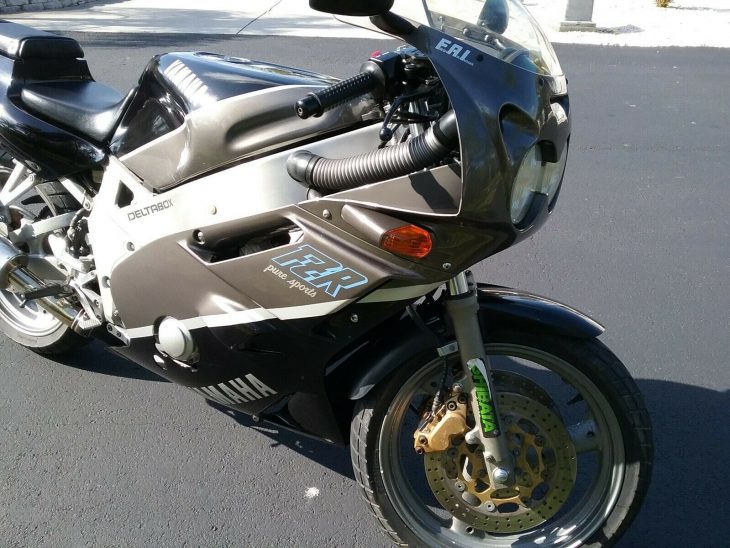 The bike followed Yamaha's formula at the time: an Deltabox frame housing a liquid-cooled inline four, with a six-speed gearbox. It was actually more sophisticated than its bigger 600cc brother, with a frame made from lightweight aluminum, instead of cheaper steel. The engine revved happily to 14,000rpm which isn't all that unusual today, in a world of 1100cc V4s that can reach similar engine speeds.But the 399cc engine lacked any appreciable power below 5,000rpm and made a claimed 64hp, so extensive use of the shift lever was required to make quick progress. Luckily, that aluminum frame meant claimed weight was just 346lbs dry, so the FZR400 probably still came in under 400lbs with a full tank of gas.
At the time, it was overshadowed a bit by the very exotic V4 Honda NC30, but the FZR400 offered a practical and affordable package, with exemplary handling: many are still used as race and track bikes for riders that believe less is more. In addition to the lower cost, they were actually sold here in the USA new for a while at least, making registration much easier than for some of the other bikes in the 400cc class like the ZXR400, GSX-R400, and aforementioned NC30.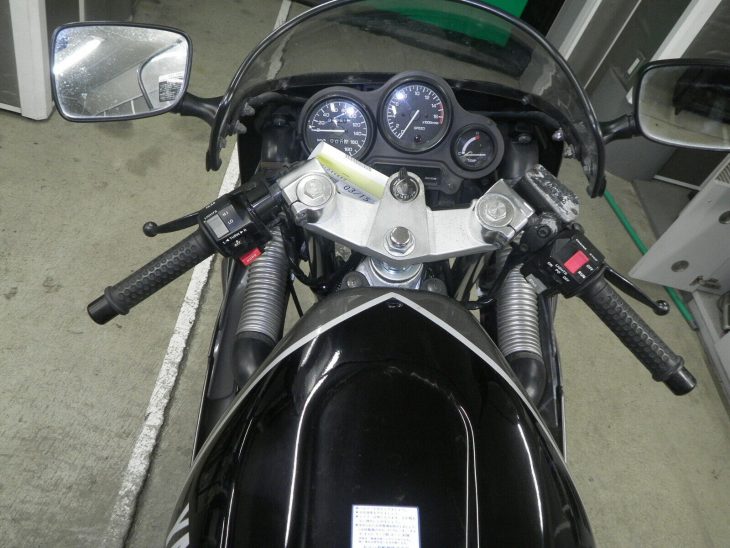 From the original eBay Listing: 1988 Yamaha FZR400 for Sale
1988 FZR400 in excellent running condition with VERY low miles.  I imported about 2 years ago from Japan and rebuilt the carbs with a high quality carb kit about 5 months ago and synced them with the Morgan Carbtune, runs great.  New battery, everything works.  Will need new tires and most likely chain.  Has minor oxidation from the Japan climate but much of it will clean off, some will need repaint.  The body, tank, plastics, seat are excellent original cond.  I prefer to sell it to someone that will actual come see it in person so they know exactly what it is.  I can assist with shipping and know a few shippers.  It has a clear Florida title.  I have it for sale locally and reserve the right to cancel this ad and sell it.  Thank you
With just 2,600 miles on the odometer, this bike is probably one of the lowest-mileage examples on the planet, if that's your thing. Of course, with an asking price of $6,500 it really should be… It did come from Japan recently, so probably worth it to make sure there will be no problems registering it, if you live someplace with a strict DMV, and as the seller mentions: there is some surface corrosion on some of the metal components, a common issue with bikes stored near large bodies of salt water. Ask me how I know…
-tad