Honda RC30 with only 1.6 miles and the ad states "it's never been started"! What is the world coming to?
**Update- now on ebay!
Location: Boston, MA
Miles: 1.6!
Price: $25,000.00! now $30,000
That's right folks- you're reading this correctly. I was killing time and trolling CL and WHAMO!, this RC popped on my radar and I couldn't believe it when I read it. As a matter of fact, I had to read it about 4 times to make sure I wasn't dreaming. An RC30 with only 1.6 miles since new and never started-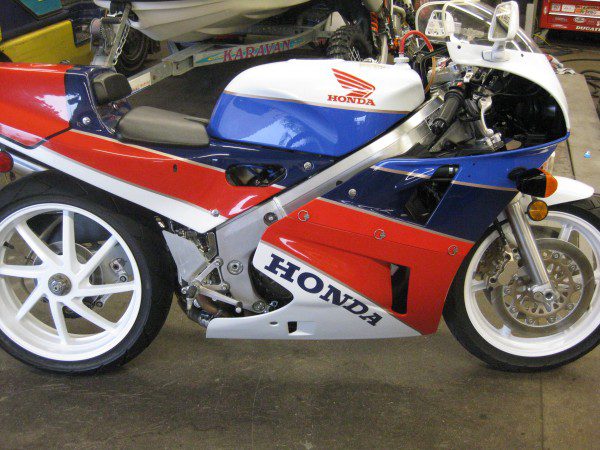 Thanks goes out to Doug for forwarding us these good photos of this bike-
From the listing-
NOT A MISPRINT. A NEW 1990 RC30. NEVER RIDDEN. BATTERY NOT EVEN SERVICED. ORIGINAL MANUAL, TOOLS. ETC ETC. 1.6 MILES ON CLOCK FROM PUSHING ONLY. ONE OWNER. ORIGINAL TITLE FROM 1990. THE WINDSHIELD COATINGS IS DELAMINATING AND THE LH MIRROR GLASS IS FLAWED. OTHERWISE ABSOLUTLEY PERFECT!
Cheers!
dd