Warning!
This post is in our archives. Links in this post have been updated to point to similar bikes available to bid on eBay.
Faced with the onslaught of powerful, dead-reliable motorcycles from Japan, many of the storied British and European motorcycle brands folded and Triumph was among them, although the story of their eventual resurrection is suitably British. These days, they're famous for their characterful performance machines, but it took them years to earn that enviable reputation. This Daytona Super III represents ground-zero for this new generation of Triumph motorcycles and was their sportiest bike at the time.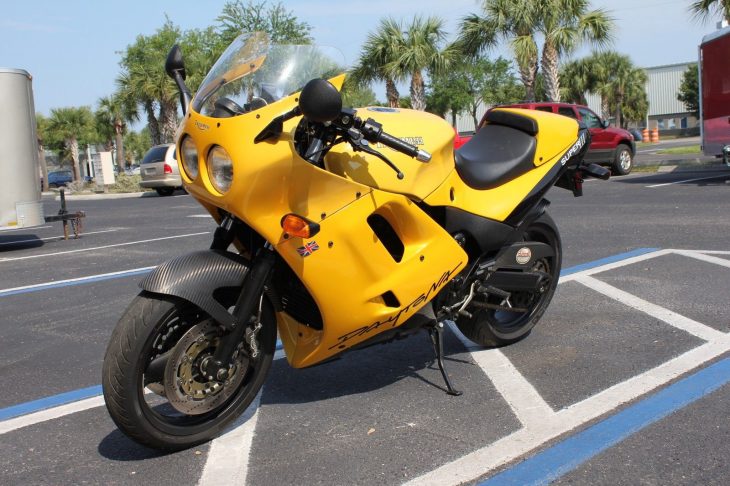 John Bloor was actually looking at the defunct Triumph factory as a residential building site when he decided instead to relaunch the brand, which is about as much a change of heart as it's possible to have. Building a wide variety of bikes to suit different markets and niches with entirely different frames and engines would have been prohibitively expensive, so the new range of motorcycles was built around a modular frame, with either a 900cc triple or 1200cc inline four for motivation: the 900cc triple in the Daytona was the same basic engine that also powered the Thunderbird, Trident, Sprint, Tiger, Trophy, and Speed Triple. Pretty impressive, considering how different those bikes appear at first glance.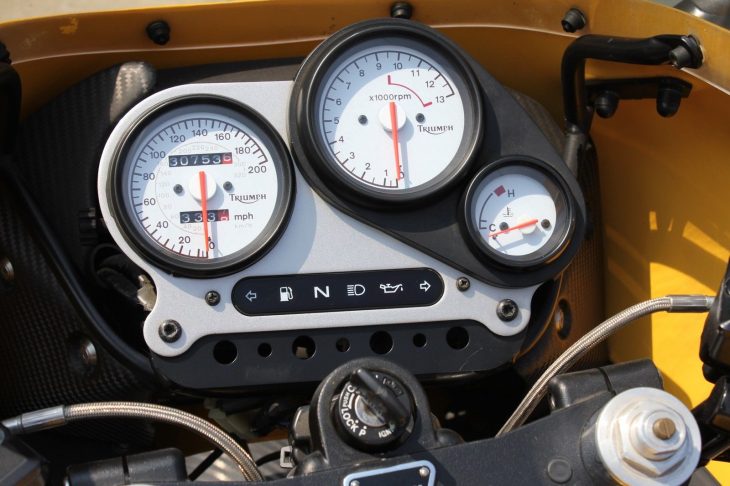 The standard Daytona 900 made 98hp, but Cosworth tuning took the Super III to 115hp, with a near 140mph top speed, with upgraded, six-piston brakes up front to bring the whole thing to a halt quickly. Those numbers were healthy for the time, although they didn't really compete with the fastest bikes of the era. But as you can see from the displacement, Triumph wasn't looking at competing in racing for the most part, and the displacements reflect this roadgoing mission, an area in which the bike excelled.
Handling was very stable, although the spine frame carried weight high and the bike was fairly heavy overall so it couldn't really be considered nimble. But quality was a step up from the Japanese, comfort was good, and the look was much more classic and conservative to appeal to a different segment of the sportbike marketplace. These days, nice Daytonas and even Super IIIs can be had for relative peanuts, as you can see with today's example, and offers up useable performance and distinctive looks.
From the original eBay listing: 1996 Triumph Daytona Super III for Sale
This is a good clean example of a rare 1996 Triumph Daytona Super 3.  The bike is in great shape with limited modifications and most of the original parts.  I do not have the original exhaust, but have seem them on e-bay for 100-$300.  This bike has just had a fresh tune-up, rebuilt carbs, plugs, all new rubber hoses, coolant flush, valve adjustment, and new Pilot 3 tires.  One of the side panels may have been repainted at some point, but I'm not sure, and one of the rear turn signals has a broken stalk.   Aftermarket parts  4 into 1 full race exhaust by Sebring K&N pod filters (original air box included) Available Parts 1 Brand new Penske fully adjustable remote resivore rear shock $1,000 (paid $1300).  If the bike buyer dose not want it, I'll list it in a separate auction. Additional Super 3 info: The Triumph Daytona Super III was a limited edition of the under-appreciated Daytona 900. Just 805 were sold worldwide and they featured engine work by Cosworth. In addition to Cosworth's touch, this bike got bigger cams, flat slide carbs, 6 piston front brakes, and a whole lot of carbon fiber. The results of the engine work yielded a healthy 115 horsepower, though the bike was too heavy to be a true sports bike. It instead ended up being a fantastic sport-tourer, and a bike you had to muscle around to have a lot of fun with.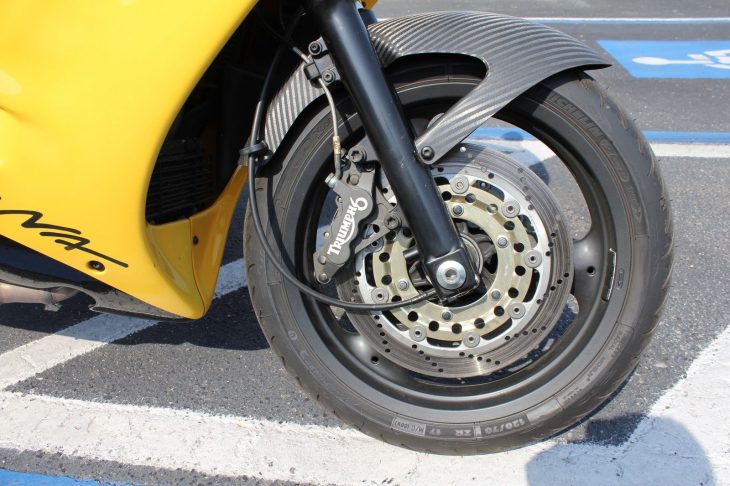 That "repainted side panel" does look a bit off in a couple of the photos, but the seller is asking a very reasonable $3,500 for what appears to be a clean, well-maintained and upgraded bit of Triumph's comeback story. The styling may be a bit dated, but the bike oozes class and while it may not be a "true sportbike" it has muscle where it counts: on the road. And let's be honest, that's where most motorcyclists spend their time. Track day junkies should probably look elsewhere,  although one of the coaches at the track-day organization I rode with on the East Coast had a Daytona like this one set up for track riding, so they can be made to handle if you're willing to expend a bit of time, money and effort.
-tad