Looking for a fun weekend project to keep you busy for a while? Well look no further than this ex-Doug Polen Suzuki GSX-R750 racebike. It's not exactly finished, but all of the really important parts appear to be there to get you started… Strangely enough, it seems like the AMA racebikes used many of the stock Suzuki components, even switching from the more exotic dry clutch to the standard wet unit, according to the seller. So that should help, right?
The introduction of the Suzuki GSX-R750 in 1985 was a seminal event in the history of motorcycling. It may not have been the first or only bike to use fully-enclosed, endurance-racer styling wrapped around a bulletproof, large-displacement inline four and monoshock aluminum frame, but it made that formula affordable and available to the masses, and led directly to the sportbikes we know and love. Later sportbikes would add liquid-cooling to the equation to help generate maximum power, but the Gixxer eschewed such frippery as too heavy for their pure speed machine: in spite of the visible cooling fins, it's oil that does most of the work. The oil-cooled powerplant utilized their SACS or "Suzuki Advanced Cooling System" that used a double-chambered pump and oil jets directed at the underside of the pistons to keep temperatures under control. Other than oil cooling, it followed modern designs and used dual overhead cams and four valves per cylinder.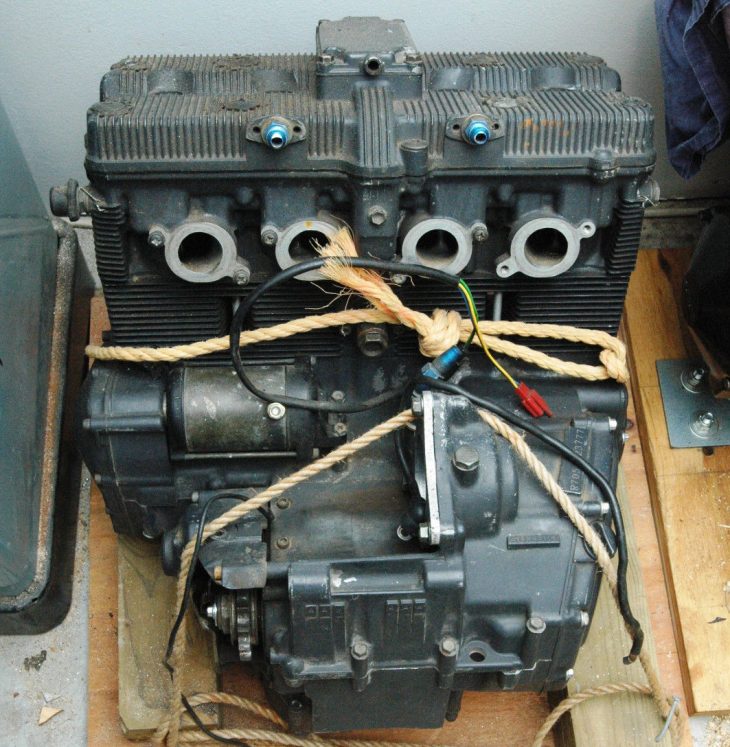 Obviously, as a race-spec machine for the street, the GSX-R750 spent plenty of time competing in various classes both abroad and here in the US. This particular bike was used in AMA racing and was ridden by Doug Polen. Polen was a world-class rider who got his start in AMA racing but left to compete in the World Superbike Championship, where he won the title on the trot in 1991 and 1992. He continued to compete in both international and American roadracing with success, netted a win at the Suzuka 8 Hour endurance race, and even dabbled in MotoGP.
There's additional information about the bike, its history, and the included photos over on eBay, so head over and take a look.
From the original eBay listing: Ex-Doug Polen Suzuki GSX-R750 AMA Superbike for Sale
I have researched the photo archives of Cycle World and Cycle magazines and obtained a number of unpublished photos from their records.  I've also bought photographs from freelance photographers that covered AMA racing in that year.  Special thanks to Larry Lawrence, of The Rider Files website.  I will provide these photos to the buyer with the proviso that they remain unpublished.

Each rider had two chassis.  The chassis and motors evolved constantly through the season and Doug probably got the good parts first, as he did better than Otter in the results, starting with the first race.  Their A bikes had all of the good parts at each race and the B bikes had more stock components.  You can clearly see in the photographs the progression of modifications during the season for all of the bikes and the lower spec of the B bikes.

The chassis is un-braced, with modified stock forks, Kosman Triple clamps, Kosman brake discs, AP calipers, a Fox shock and Marvic magnesium wheels.  The swingarm has been slotted, to allow for more variation in wheelbase.  Jim Lindemann worked with them on the shock valving, although he passed away a few years ago.  I have spoken to an ex-Fox engineer and he'd be happy to restore the shock but the records they had of those years were destroyed a few years ago.  Sandy Kosman now lives in Portland Oregon and the last time I talked to him, he was willing to get the discs reground on a Blanchard grinder, if desired.   One of the previous owners began the restoration years ago and the chassis, as pictured, is where he was when he sold the bike to the next owner.

The bodywork used was stock Suzuki plastic.  Early in the season it was raced in 1986 blue/white Suzuki colors; later in the season some of it was sporting the 1987 blue/white Suzuki stock colors.  A perforated metal filler panel was incorporated into the lower fairing V and the lower fairing panels had holes cut in them to allow for more ground clearance.

The motors were modified during the season and varied quite a bit.  They had Yoshimura (either kit Suzuki or Cosworth) pistons, different crank bearings, heads ported by Ron Scrima, Megacycle cams with Yosh retainers, a Tsubaki cam chain tensioner, and various carbs and exhausts.  At one point they obtained dry clutches and close ratio transmission gears but went back to running wet clutches and stock transmission ratios.  They may have run an ECU with a higher rev limit.  Ron Scrima passed away in 2011 but his company (Racing Engine Service) is still in business in Texas and the current owner was with Ron for about 25 years, so they might be my first choice for an engine refresh.  Another option would be Kelly Roberts, also in Texas.  I have never disassembled the motor, so I do not know what internal components are present.

I am interested in selling this project to someone that has the necessary resources and desire to restore it to an as-raced condition and to preserve it for the future.  It is a significant bike, as it was one of the highest placed privateer AMA superbike efforts of that era and was ridden by the rider that probably had more success in the USA racing the first generation Suzuki GSX-R than any other rider.  I would be willing to discuss this bike in more detail, via telephone, with any serious prospective buyers.  I am also willing to provide additional photos, a more complete listing of what components will come with the bike, and an approximate idea of what additional components will be needed to complete the restoration.

I have listed the mileage as 99999, as eBay requires that the mileage be listed for any vehicle sale.  The true mileage is unknown, as it was never recorded, which is not unusual for a race bike.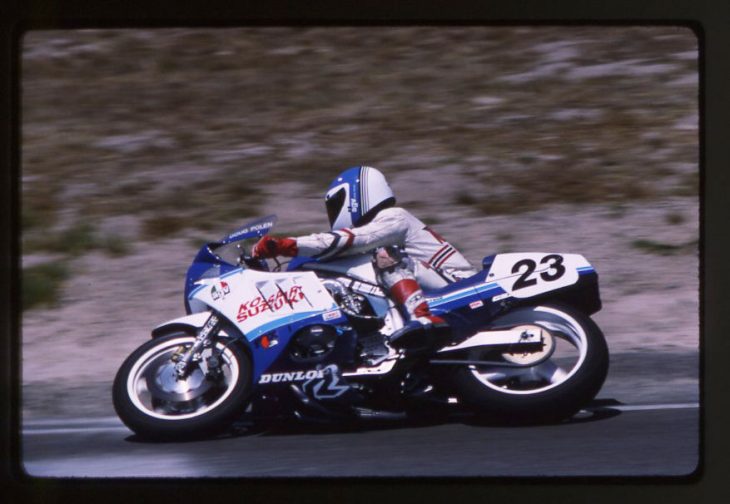 It also looks like the bike went through several iterations, giving you a bit of flexibility in terms of the color scheme you choose. If it were complete and in as-raced condition, this would probably be a very valuable motorcycle. As it stands, it's a valuable… basket case. How valuable? Well the But It Now price for this bit of American roadracing history is $4,950. This is going to need a lot of love, time, and money to finish, but I think this GSX-R deserves to be restored to its former functional glory.
-tad