1984 Suzuki XN85 Turbo
Suzuki entered the Turbo wars of the 1980's with a bang. While Honda and Yamaha created Turbo bikes with a sport-touring intent, Suzuki went straight for the sportbike jugular. Chiseled from the same mold as the GS1100 Katana with its sport fairing and clip-on bars, the XN85 included such period go-fast pieces as a Full Floater rear suspension, anti-dive front fork, and a GP-inspired 16 inch front wheel. Although heavy by sport bike standards at 550 lbs wet, the XN85 was a comparative missle when the road turned twisty.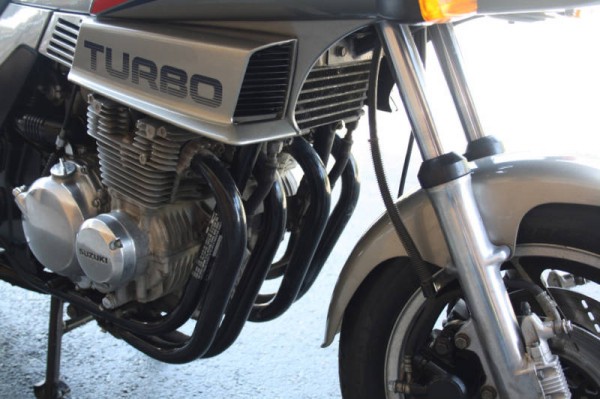 From the seller:
For sale Original Suzuki Turbo XN85 in perfect condition. Full tine-up and new tires. TURBO is 100% perfect. This bike was kept by the last two owner for more than 11 years in heat place and start every year. I have it since last year and it showrom condition. Was drive only 13483 miles I done 1600 miles with the motorcycle and all gear, Shifter, Brake,Suspension work perfectly. Original millage and it just missing the front side fairing light reflector. Everything else is on the bike. Also it ORIGINAL PAINT.

It can be ship in all Canada and USA. If you need more information, contact me using contact seller in ebay.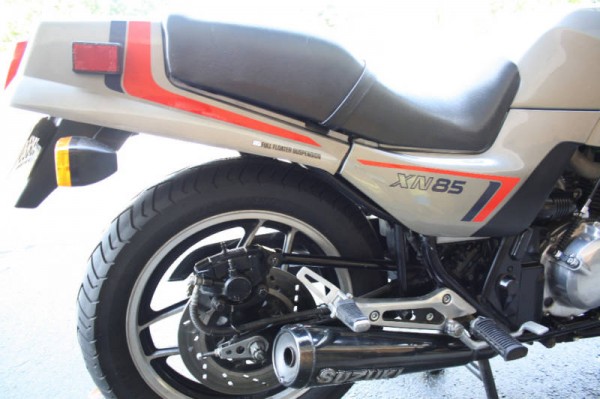 While extremely rare, these Suzukis have also proven to be quite reliable. Known issues are minor and primarily related to the exhaust – water gathers in the 4 into one collector, creating internal rust. Unfortunately, because of the rarity of the model, spare parts and knowledgeable mechanics are both in short supply.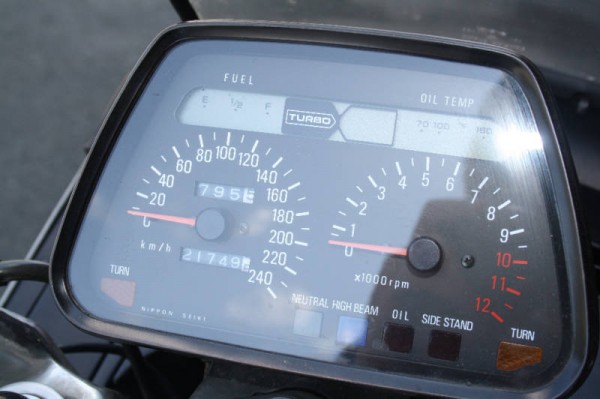 The XN85 has a nifty instrument pod, complete with speedo, tach, fuel gauge, boost gauge (upper middle), and oil temp gauge. Boost builds by approximately 5,000 RPM, and these models pull right up to the 10k redline. Although there are more 'turbo' stickers on this model than any other turbo bike of the era (including a backwards one on the front of the fairing), the XN85 is not quite as fast as it looks. The bike has 85 horsepower (hence the name), and is saddled with a bit of weight due to the extra plumbing. Still, it offers a satisfying jump when the boost kicks in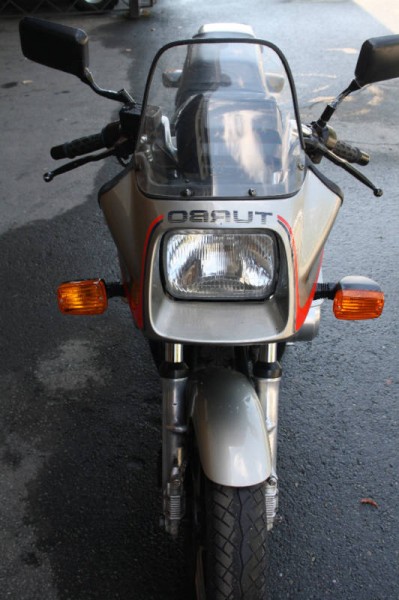 If you are looking to roll on something a little different than your buddies, then this just might be the bike for you. Suzuki built just over 1,100 units of the XN85 model, and reportedly only 300 were imported to the US (note that the XN85 was a 1983-only model in the US). This clean Canadian bike might be the best chance you'll get at owning one of these wonderful motorcycles. Sure to be an eclectic classic for years to come, the XN85 Turbo will carry you down the road in style and relative performance – what a bargain!
MI