Warning!
This post is in our archives. Links in this post have been updated to point to similar bikes available to bid on eBay.
Back in the 1960s and 1970s you could buy race cars and race bikes that were basically road-legal, vehicles you could actually drive or ride to the track and reasonably expect to be competitive with pretty minimal changes. Of course, those days are long gone: race machines often share very few components with their road-going counterparts and frequently bear little resemblance to any sort production vehicles whatsoever. But today's Laverda 750 SFC was a machine from the tail end of that earlier era and was very much a race bike with some lights and signals slapped on to make it vaguely road-worthy.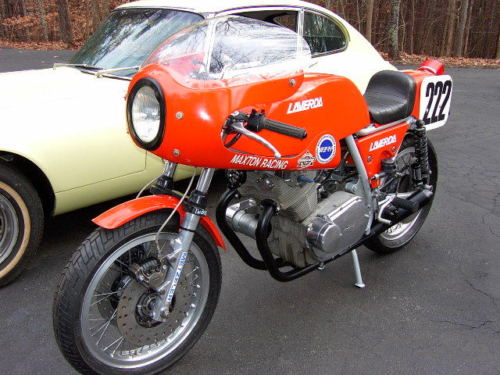 I mean, just take a look at that taillight: was it thoughtfully integrated into a specially-designed cut-out? Nope, it was literally bolted to the sloped rear face of a solo tail section that was obviously designed with a number-plate in mind. The instruments are basically just a tach, ignition barrel, and indicator light bolted to the inside of the fairing: this thing is the epitome of crude, at least in terms of creature-comforts and finish. Speedo? Who cares? Just figure out what revs approximate which highway speeds in top gear and assume you could just outrun cops of the period anyway.
But forget refinement: the mechanicals are where it's at, and the bike has those in spades. Early models used a huge alloy drum brake, and later machines like this one a pair of discs, giving the bike it's name: "Super Freni Competizione" or basically "Super Braking Racebike." Laverda used the very best components available everywhere they could, and the basic parallel-twin was overbuilt and very durable, making it ideal for endurance racing.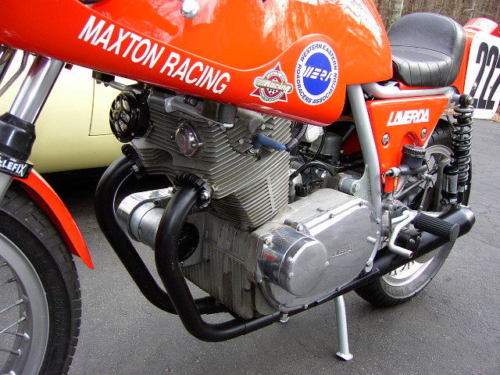 Ceriani forks, Bosch ignition, and Nippon-Denso electrical components, and that 744cc parallel twin with five main bearings, backed up by a five speed gearbox that put the bike's claimed 75hp to the rear wheel. This example isn't some museum-piece and the seller mentions it's done quite a bit of track time. How much? Who knows: like many SFCs, this one lacks a speedometer, and therefore an odometer. The tach looks non-standard, although I've seen several different types fitted to the original bikes. It's hard to tell from the pic, but maybe it's a Scitsu unit?
From the original eBay listing: 1974 Laverda 750 SFC for Sale
Am 76 and it's time to let go of my collection. Started collecting about 50 years ago and the main objective was to buy one owner high end cars and motorcycles for pleasure and investment. I won't bore you repeating the history of the 750 SFC Laverdas – If you are reading this you already know of the Laverda 750 SFC's iconic competition accomplishments, background and rarity. Hand built by a small number of employees, there were only 100 of these limited production Laverda 750 SFC competition motorcycles manufactured in 1974. Recently brought out of storage, it is an authentic two owner (I am the 2nd owner) matching numbers factory original survivor. I purchased it from the gentleman who bought it new at a dealership in Florida. He raced it on every motorcycle race track East of the Mississippi up until around 1984, when he found out he had terminal cancer and put the bike in storage. He did not want to sell it but had to liquidate his holdings. It is a beautiful piece of art. The engine had a complete overhaul from a company called Megacycle in California after it's last race and is in fresh like new original condition. Runs perfectly. What a sound. An exhilerating deep throbbing sound that can only come from a Laverda 750 SFC. It has been cleaned and the brakes rebuilt. It is in it's original racing condition complete with period stickers, as it came off the last track. The engine mount tab is indeed stamped "SFC" from the factory. My collection included many motorcycles but I kept this one for the last and had no intention of ever selling it – but to be realistic it needs to move along to another caretaker. I have framed photos of it being raced at different tracks and the original 1974 owners manual. Please read the complete description so you will understand all conditions and any issues. THERE IS NO TITLE – Sold on a Georgia bill of sale and Georgia Sheriffs Department inspection certificate. I will answer all email questions and consider offers.
Just 549 total were built between 1971 and 1975. So the Buy It Now for this race-bred classic? A mere… $195,000?! Well, maybe that's a mistake. I mean, it is eBay after all. So the starting bid is… $150,000?! Wow, I guess he is serious. Well I'll be curious to see if anyone bites. Seems like a major auction might be a better bet for something like this, but who knows? Certainly the SFC is one of the most valuable and collectible bikes of the era, and prices are certainly headed in that direction.
-tad