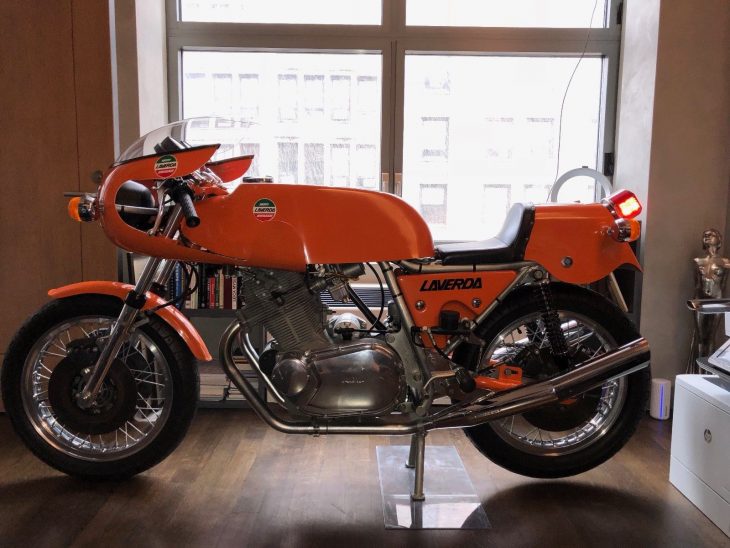 Wow, two Laverda 750 SFCs in one week, both with very serious pricing. Although, of the two, this one appears to be more original and is in much nicer, if less patina-d condition and appears to… what the hell, it's decorating a New York City apartment?! Oh well, I guess if I had the money for real estate in NYC with a stylish freight elevator, I'd probably do exactly the same thing…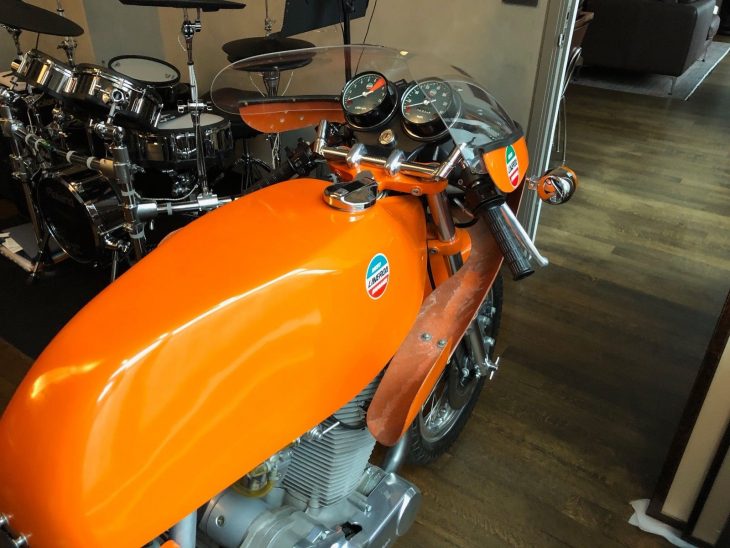 It has no real bearing on its quality but, since I don't get to see most of these bikes in the flesh, I do appreciate some decent photography, and the SFC is certainly a deserving subject. I realize that orange isn't likely to be too many people's first choice for their fantasy motorcycle, but it just looks so right on a Laverda: it's a brash color on a purposeful bike. These really were road-legal race bikes, the ultimate development of Laverda's rugged parallel-twin platform before their switch to the triple, and the SFC had a history of racing success.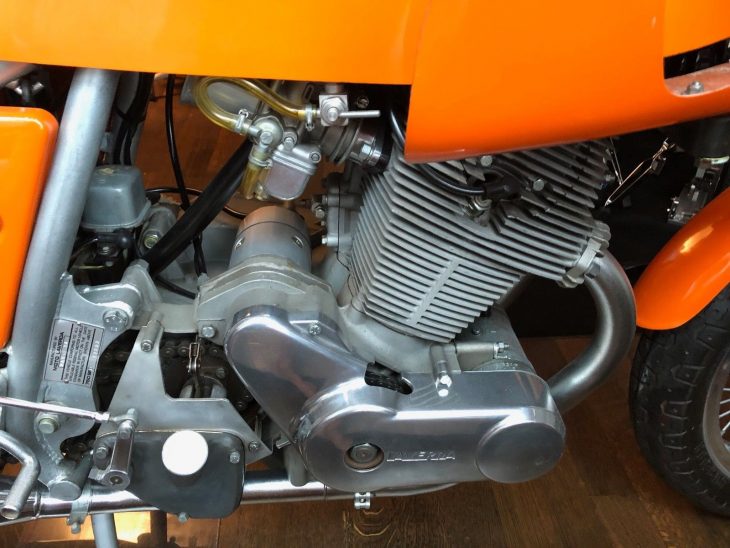 Laverda got their start making agricultural machinery, and their natural tendency to overbuild everything to increase reliability extended to their motorcycles. The two-cylinder engine had five main bearings and the very highest-quality components were used wherever possible: Ceriani provided the suspension, Bosch the ignition components, and Nippon-Denso the starter. Introduced as a 650cc machine, the displacement was quickly increased to 750cc so it could compete against bikes from Triumph, Norton, Ducati, and Moto Guzzi.
The SFC or "Super Freni Competizione" was named for its enormous magnesium Ceriani four leading-shoe front brake, although the later machines used a more effective dual disc setup as seen here. The 1974 model also featured improvements to the frame to make it lower and lighter, and suspension was updated as well. Engines were far from standard, and the bikes produced between 71 and 80hp.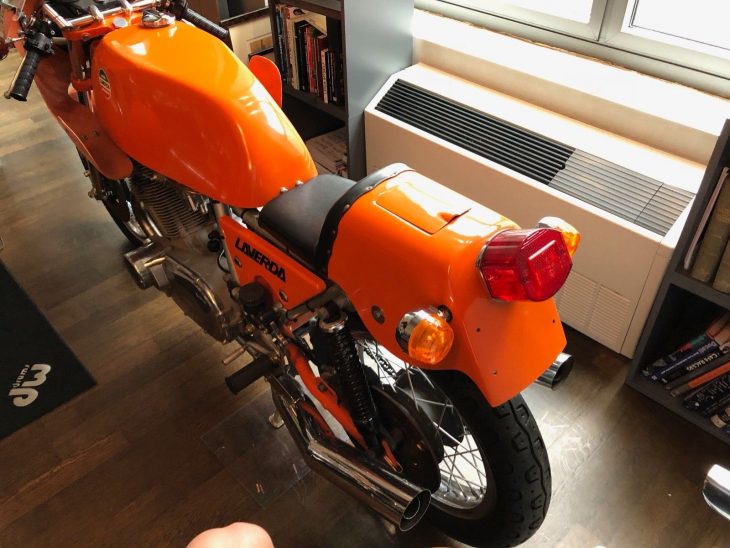 The seller mentions that the sale is motivated by a move to the West Coast. New York City seems to an outsider like it'd be an amazing place to be a biker, and the traffic means motorcycles make huge practical sense. But road surface quality that wouldn't look out of place in Berlin at the end of World War II and traffic that more closely resembles gladiatorial combat than any sort of cooperative endeavor combine to make motorcycle riding in NYC less fun than it should be. Traffic in much of California is pretty awful as well, but legal lane-splitting, beautiful roads, and year-round riding weather would have me reconsidering a sale of this one if it were on display in my living room…
From the original eBay Listing: 1974 Laverda 750 SFC for Sale
Original 1974 "17000 series" Laverda SFC #17093 in perfect unrestored condition. If you don't know the history of these extremely limited and hand-built racers, just Google them.  She is the best time capsule in existence for sure. She has not been on the road since the late 70's.  Previous to my purchase as third owner, she was in a private collection for 30+ years in the Southwestern USA. I purchased her from the second owner as he was selling his collection due to his advanced age and he wanted her to go to a collector who would hopefully leave her untouched. This SFC also has its original "2-into-1" exhaust pipe that I removed as the original "2-into-2" exhaust pipe looks better when the bike is on display.  The original "2-into-1" pipe is included in the sale. I have turned over the engine every other month over the last few years. She still has all of her original fuel lines, taps and all hardware as included from day one. The only missing item is the original battery… lol. She has 2,930 miles and still has her original tires. I have a collection of over 20 motorcycles of which this is my clear favorite. She resides in my home office in New York City and I get to admire her every time I work at home. Time for her to find a new home as I am downsizing my collection as we are planing a move to the West Coast. I believe she deserves to reside in a museum or as any new owner seems fit. Re-commision her and take her to the track! I have often thought of re-commsioning her and taking her out as she should be ridden; but I never seem to be able to remove the original fuel lines and tires, etc. to make that happen. These time capsules are original only once in its life, and she remains that way to this day. I am happy to answer any questions.  f you would like to see any particular pictures, just ask. The bike can be seen by appointment in New York City. Deposit due within 24 hours and final payment by wire or bank check. If by bank check, bike does not leave my possession until the funds are cleared.  Good Luck!
This example is basically a museum piece, less a living document and more of an archival record, although the owner does "turn the engine over." I think he means "by hand" so I'm sure it will still need recommissioning if the new owner plans to ride it. It has a the full dash with both a tachometer and speedometer, something relatively rare among the SFCs I've seen for sale in the past few years: like many exotic bikes and cars of the period, they were a bit like snowflakes, and no two were exactly alike. With fewer than 600 produced during the entire run, the SFC is one of the most desirable sportbikes of the 1970s, and prices have obviously been increasing as a result. What's it worth? Well last week's was obviously a bridge too far for our readers, but this one, while still a very expensive proposition, is slightly less of one: the Buy It Now is only $135,000! Perhaps the nearly perfectly-preserved condition helps justify the asking price, although the last couple examples we featured were less than half that and in very nice condition…
-tad