The wide Guzzi V-twin is instantly recognizable, the big air-cooled heads only lately fuel-injected and in this case protected by tipover guards.  The longitudinal crankshaft machine has a history going back to 1976, long and stable, if not a lightweight.  This V11 has some miles but looks undamaged and well cared-for.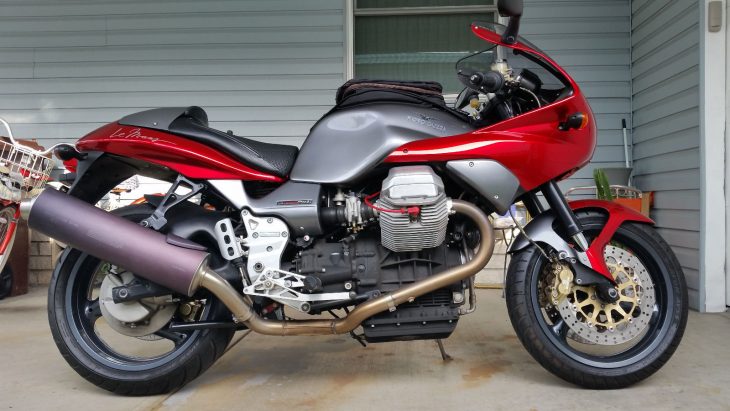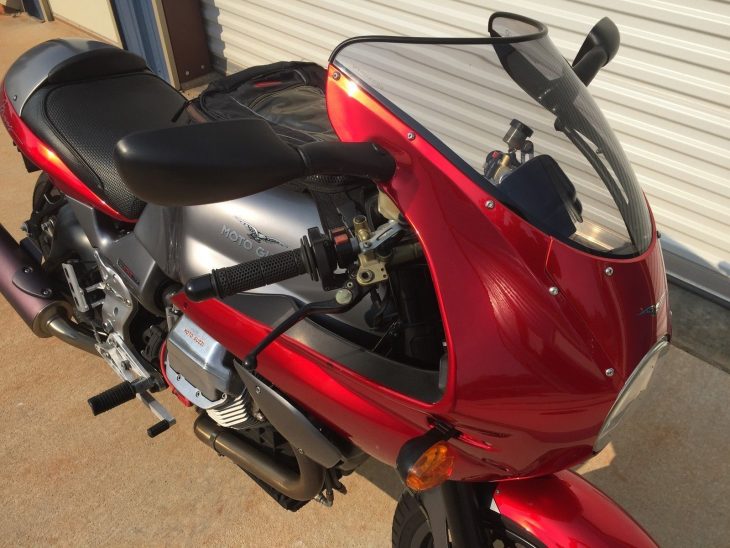 Rather than ground-breaking, the V11 is reverent to Guzzi's past, the layout the same though the frame now supports the engine from the top.  Magnetti Marelli digital ignition and injection help deliver 91 hp and 69 ft.-lbs. torque.  Various wheel sizes have been used on past LeMans, settling on 17-inch front and rear for the V11.  The addictive torque keeps the signature shaft drive 5-speed transmission in the game.
The Idaho owner has kept this Guzzi extra nice for the miles, with a Corbin seat and forward foot controls, an unusual but worthwhile mod for those with adult knees.  From the eBay auction:
Excellent condition, Needs nothing, This past spring ( 200 miles ago ) all fluids changed- including brake & clutch, valves adjusted, new spark plugs, new air & fuel filters, throttle bodies & injectors professionally cleaned, Guzzi Tech reflashed the ECU, Eurocycles adjusted the TPS & sync the throttle bodies, Avon tires in very good condition, shifter spring up-date is done, paint is in excellent condition, Moto Tech foot controls, Factory MG Tank Bag, & center stand.
A little more GT than SuperSport, up-to-date fuel injection and premium components have made the LeMans V11 is a winning continuation of a venerable model.  The early 2000's found Guzzi making many special models, but the LeMans is just classic.  With very little in the way of applied graphics, the grays and candy red work wonders.  The owner has done some nice mid-life maintenance on the bomb-proof V-twin, and this looks like a great way to catch the European strain of the sportbike affliction...
-donn