Its a given that every sportbike collector has a bike (or two) they regret not adding to their collection back when they were cheap to acquire.  Typically these regrets are for bikes that introduced a new technology or reset the standards for a sportbike class.  Also they were probably in pristine/nearly all OEM condition.  My personal example of this is the 1st year Yamaha R1 (the red and white one) which has seen dramatic price appreciation over the last 2 years.  Other examples in recent years include the Suzuki TL1000 and Triumph Daytona 955i, both which have also begun to increase in value quite dramatically
I mention all this because today's post is a 1st year/1999 Suzuki Hayabusa, a model which could become another "missed opportunity" for collectors very soon.
When the Hayabusa was first announced in the late 1997, the expectations of the sportbike world were that it would be an ultra-light, ultra focused machine meant to compete against the Honda CBR900/Fireblade and Yamaha R1.  This was probably due to its name, which means "Perigrine Falcon".  But Suzuki actually decided to go after a market that hadn't seen any dramatic changes in quite a while; the big bore hyper-sport.  Suzuki's Hayabusa hearkened back to the era when bikes like the Kawasaki ZX, Honda Blackbird and Yamaha Thunderace ruled; big bikes that could cover big distances with big speed.
Did the Hayabusa deliver?  Woo wee wow, yes it did.  The big Suzuki came standard from the factory with a top speed that was over 300 kph (that's over 185 mph for our non-metric readers).  Even more insanely, upon its introduction the big "bird" bike from Hamamatsu Japan did not have any electronic speed restrictions installed so even more speed was easily possible with just a few tweaks.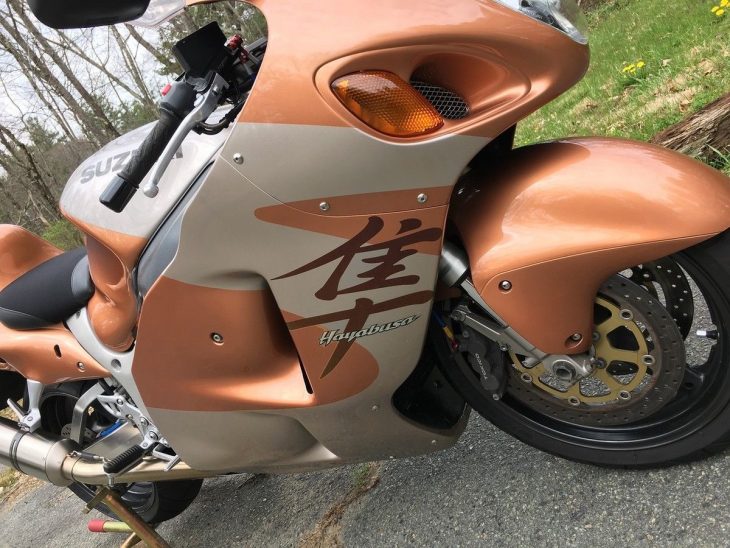 It probably shouldn't have come as a surprise that, shortly after the Hayabusa was launched,  an agreement was reached between the Japanese and European manufacturers to limit motorcycles to no more than 300 kph. This meant that the unrestricted Hayabusa,was pretty much guaranteed to be the top speed champ for quite a while.  The Hayabusa actually held the top speed record for unmodified bikes for almost 10 years, finally being dethroned by the BMW S1000 in 2009.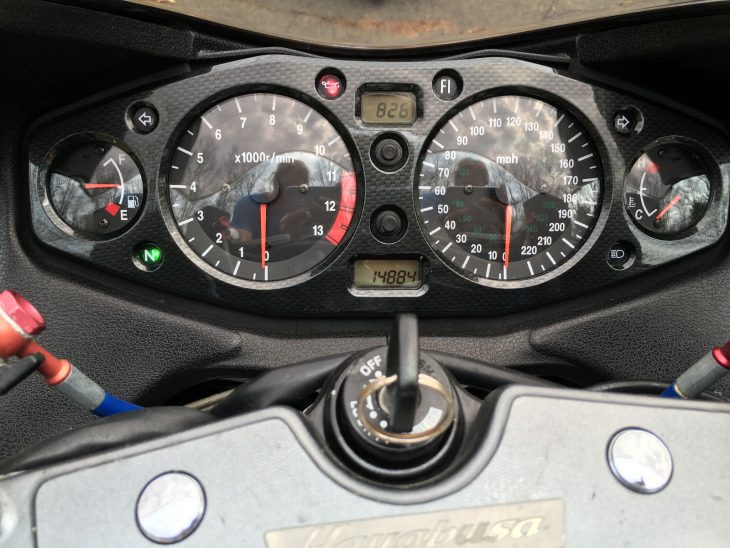 This particular Hayabusa looks to be nearly all OEM and the seller posts a fair amount of pics showing condition.  Mileage is approximately 14,000 miles so its not been a garage quuen but a good amount of service info is provided.  Even the only non-OEM pieces are clearly identified by the owner.
Here is what the seller has to say:
*NEW* Pilot Sports
Full Akrapovic stainless steel exhaust system
Full synthetic fluids every 4K mi. from day one
PowerCommander 3 with a radical map currently programmed
Brock clutch kit and clutch cushion upgrade
Adult owned, NEVER raced, dropped or molested.  
Never seen rain.  Been in a heated garage on battery tender for a couple years now
Have stock seat and sissy bar.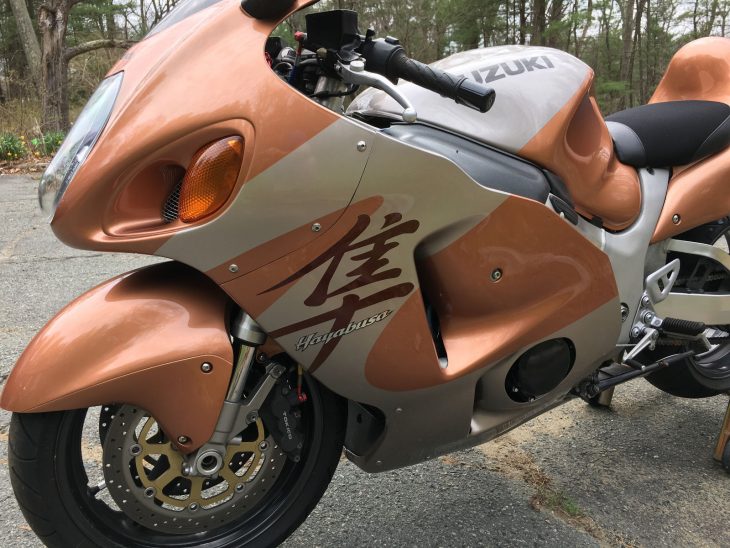 One more interesting note- the big  Suzuki wasn't a runaway sales success in its first year.  Unlike most bikes, which sell well in their first year and then see their numbers decline the Hayabusa reversed this pattern.  According to Wikipedia, "sales in the United States increased from just a few thousand units in 1999 to over 10,000 in 2006."
So is this 1st year unrestricted speed monster worth the $7000 USD asking price?   Well we haven't posted too many of these before so very little price info is in the RSBFS archive.  A quick search through ebay history seems to show a price for 1st year Hayabusas around $4500-$6000 USD  depending on mileage.  Given this bike has approximately 14,000 miles the sellers $7000 asking price seems to be at the high end of the range but not completely unreasonable.
The Hayabusa will never be unobtanium and you won't impress anyone by riding one to your local bike night.  Then again, we used to say the same thing about 1st year Fireblades and the R1.  And this is the 1st year model, which was produced in much less numbers and was the only unrestricted version, so perhaps the question for collectors really is – how much will I regret it if I miss this opportunity?
-Marty/Dallaslavowner