Most of the bikes we post on RSBFS are in pristine condition or if not, are so rare as to make their condition less of a concern.  This one is somewhere in the middle...a 2005 Benelli Novocento with what appears to be light cosmetic damage.
Before proceeding further with this post, I have to admit that in the past I have had a bit of bias against the newer Benelli bikes, mostly due to the fact that the triple engine was originally designed to be the new power plant for my beloved Laverda marque (a pox on your house, Francesco Tognon!)  But as any smart collector or US/UK voter knows, allowing your emotions to influence decisions can cause you to do/not do things that you end up quickly regretting.  Therefore we present this 2005 Benelli Novocento in need of some light care/restoration for your consideration.
The history of Benelli has been well chronicled on RSBFS, with an especially good write up done here, but suffice to say the company has gone through the trials and tribulations that are typical for a small Italian motorcycle manufacturer.  Right now primary ownership seems to be Chinese with a major brand focus on scooters but parts for this model do appear to be available.  This is important because this bike does show evidence of being lightly down but the seller is quite honest about this with lots of details/pics and the damage looks to be cosmetic.  Best of all the price seems to have been adjusted to reflect the current condition so this might be an opportunity to pick up one of these at a discount.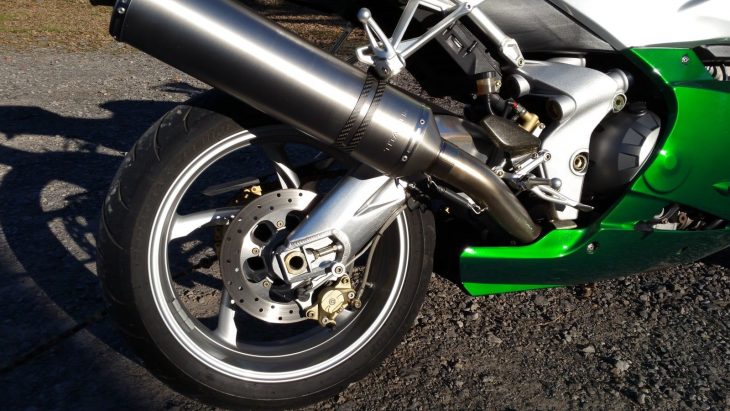 >
Reviews by owners of the 900cc Benelli were very positive, although the seat height is apparently fairly high and apparently the OEM mirrors are basically worthless.  It may not be the fastest bike but it looks and sounds awesome and it certainly isn't something you are likely to see at your local bike night.
Here is a video review from Motorvision.
Mileage on this one is at 6,155 which means it has been broken in.  The seller does indicate that all the issues associated with the early Benelli bikes have been addressed, including the factory warranty replacement of the clutch basket.
Here is an overview of what the seller has posted in the ebay listing
Upon bringing the bike home, I ordered all of the updated parts it required from a Benelli dealer in Germany.  This includes updated clutch basket and bearings, z25 gear, alternator drive cup and cushions, z25/alternator driven shaft, bellville washer and bolt, side cover gasket, as well as a few other pieces.
All original parts will be included in sale.  
Oil has been changed every season (less than 1000 miles) with AMSoil full synthetic and hiflofiltro filter (one filter will be included with the sale).
The only upgrades from stock have been a Leo Vince sbk titanium slip on exhaust, and a top notch Rk gold chain.
Comes with a benelli branded ,fitted cover.
I will be including many extra parts, some used, some new, including stock exhaust, cover, full shop manual in english, extra carbon fiber mount for the Leo Vince exhaust if you want to delete the passenger pegs, extra coil sticks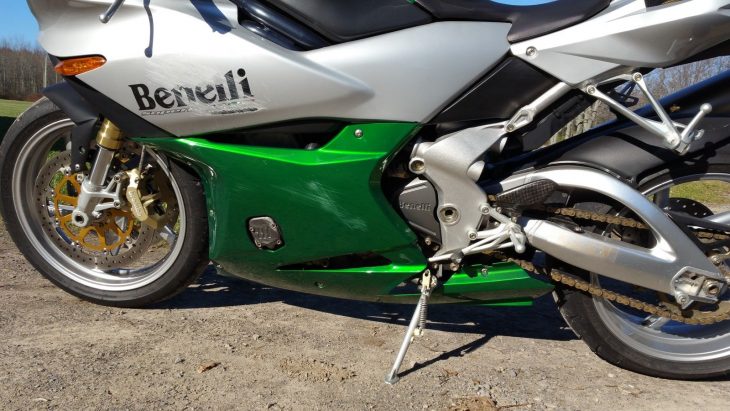 The seller seems to be quite honest about the condition and includes additional pics in listing via a link to google drive.  There are also a fair number of questions with seller responses embedded within the eBay listing , which seems to indicate an honest seller.
Note - I emailed the owner about the missing riders right mirror, he indicates this is not included in the sale.  However research on owners has indicated the mirrors on this bike are one of the more commonly replaced items due to the standard ones poor effectiveness.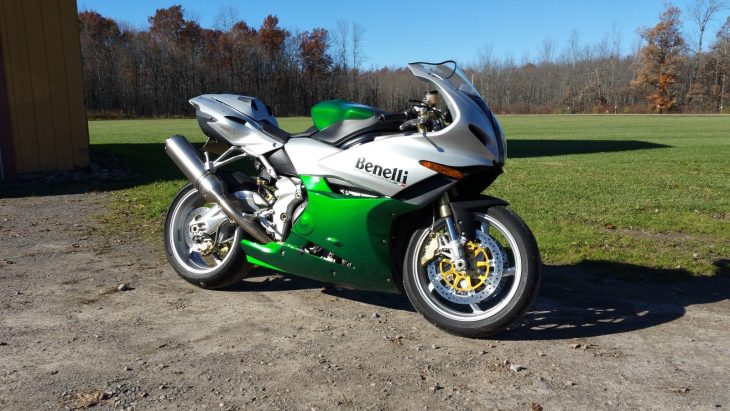 Now for the question - should you consider acquiring this bike?  Well as stated previously it is in need of some love to bring it back to OEM condition but most of the effort seems to be cosmetic.  The level of detail provided by the seller is good so I don't think this one has been abused, probably just unlucky.  And the current opening bid price of $5000 is much less than the average $9500 prices we have seen for these previously on RSBFS so even with the cost of any repairs/restoration you might end up ahead.
I think this bit of green and silver triple powered Italiana is a good opportunity for someone who is reasonably comfortable with light restoration.  Personally I would consider this bike as an acquisition if the seat height was a few inches less.
-Marty/Dallaslavowner