Like a lot of riders here in the states, my introduction to sportbikes began with bikes above 500cc.  But thanks in no small part to RSBFS I am getting more into the 400cc, 250cc and even 125cc range and have even convinced my girl to allow me to add a two stroker to my little collection when I find one I really like.
This particular auction is for a collection of smaller displacement Hondas from the late 80's, including several in the desirable Rothmans livery.
The 1st bike is a truly rare 1987 Honda NS125r.  While the color scheme may look custom, I emailed the seller and they stated that the Adriatico bodywork was offered on the 125R in Japan and Italy.  The Adriatico NSR125 also comes equipped with twin front discs instead of the standard single disc for the NS125 and the bike looks to be in excellent condition.  The seller does indicate it has non-stock painted wheels but is otherwise pristine and even has the factory warning stickers still on the bike.
The 2nd bike is a 1986 NS250r with almost 12,000 kilometers on it (about 7300 miles) and comes with the rare Rothmans bodywork which the seller indicates is recently redone.    I have been researching these bikes for possible additional to my personal collection and from what I have learned its basically a track bike that can be ridden on the street but it still behaves like a track bike and doesn't really start going until you get to around 8000 rpm.  But hey, the bike looks great and would make that ideal two stroke sound.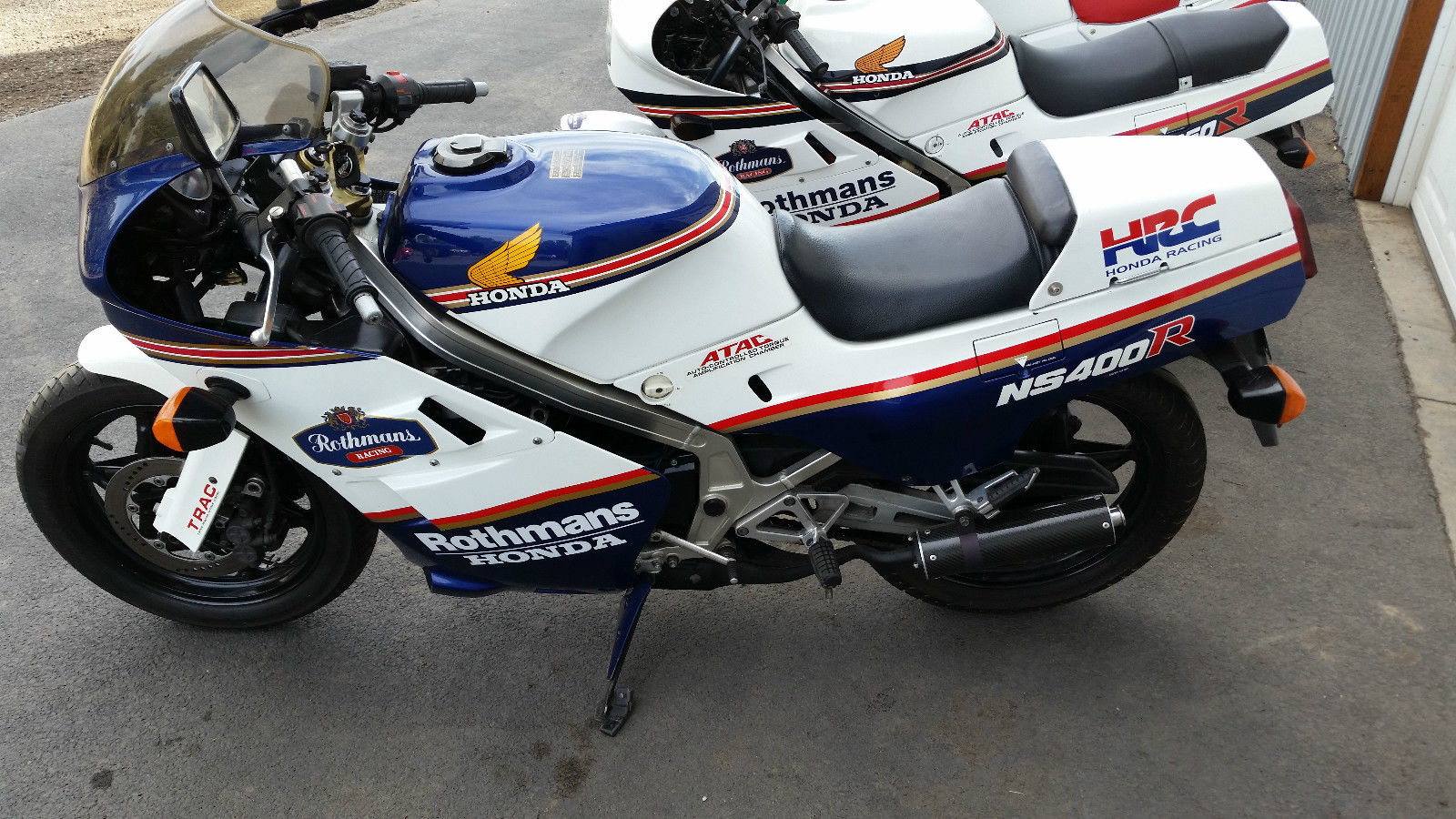 The 3rd bike is a 1986 NS400R with about 22000 miles.  These bikes are a little more common and rider friendly, as can be proven by it having the highest mileage of the three offered bikes.  The seller indicates they purchased this bike from Great Britain so a question regarding US Title would need to be addressed.  This one has the Rothmans bodywork too but the seller indicates he has several of the
NS400r bikes if someone would prefer to have a different model other than the Rothman shown.
So whats this collection worth?  Well the condition looks excellent and the seller states that none of these bikes have been raced or have any safety wire.  The last Rothmans NS400R on RSBFS went for around 10k by itself so I think this collection is worth right around 17-22k.   It would certainly be a good opportunity for any honda collector to expand or complete their collection.

MG