We seem to be on a bit of a Ducati theme here at RSBFS of late but before we move off, here is one more…a lovely Ducati 916.  For those of a certain age, it was proably the first bike that ever caused feelings of motorcycle-based lust without any knowledge of performance or racing heritage. Today's example is the standard/strada version with a mere 3310 miles as of this post and best of all, fresh maintenance.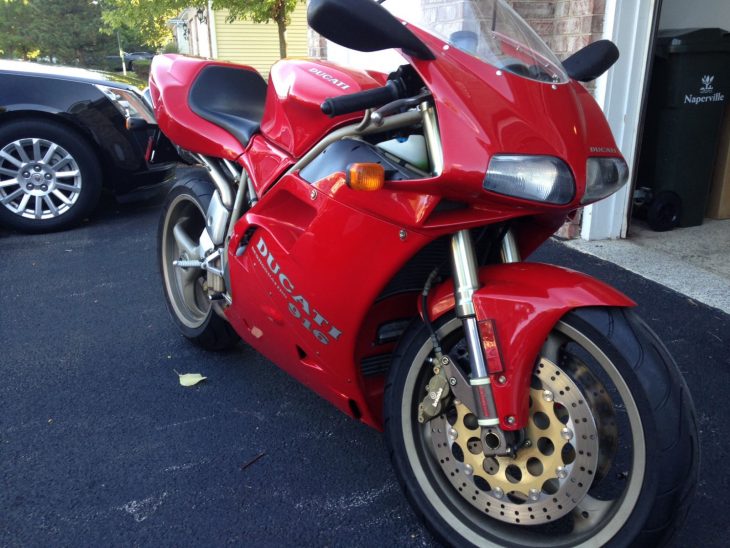 When the Massimo Tamburini designed 916 arrived in America in 1995 it was a sensation, with quite a few young fans drawn by the lithe proportions that made other bikes of the era look bloated (I'm looking at you, Honda CBR1000).  Best of all the 916 sinuous form was matched by function; it really did handle and go well.  It was smaller and more powerful than the preceding 888 model, and while power was less than some of the Japanese competition of the day, at 114 bhp it was no slouch (NOTE: And anyone who wanted a bit more power, there was the SP model which looked the same but a more powerful engine).
Downsides?  Well the riding position was kind of brutal, and required belt maintenance was very pricey…but the design was so iconic it continued on in the 996 and 998 and still appears in lists of important designs in motorcycle history by authorities like the Guggenheim Museum.
As Motorcyclist magazine wrote in their recap of the 1990's – "1994: Ducati 916 debuts. Did anything else happen that year?"
Condition of the this 916 strada looks to be very good and pretty much all OEM.  There is an odd crack in the upper fairing and some small paint chips and I am not sure if the exhaust is the Termignoni without stickers or something else but other than that it looks really really good.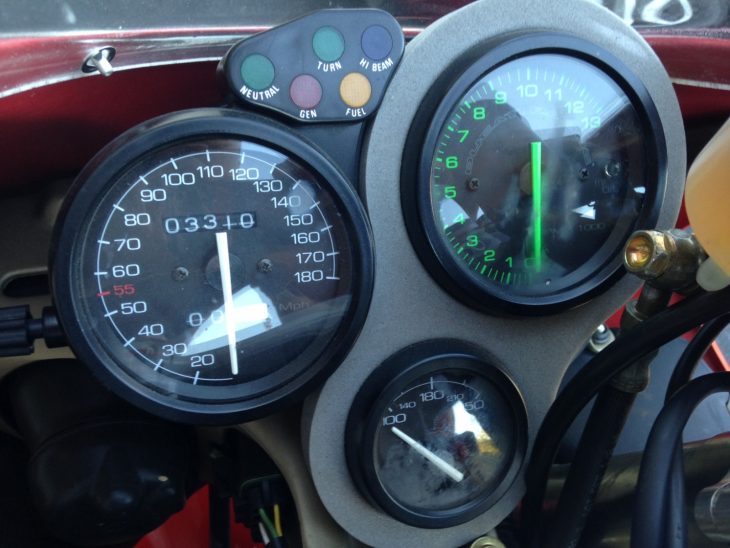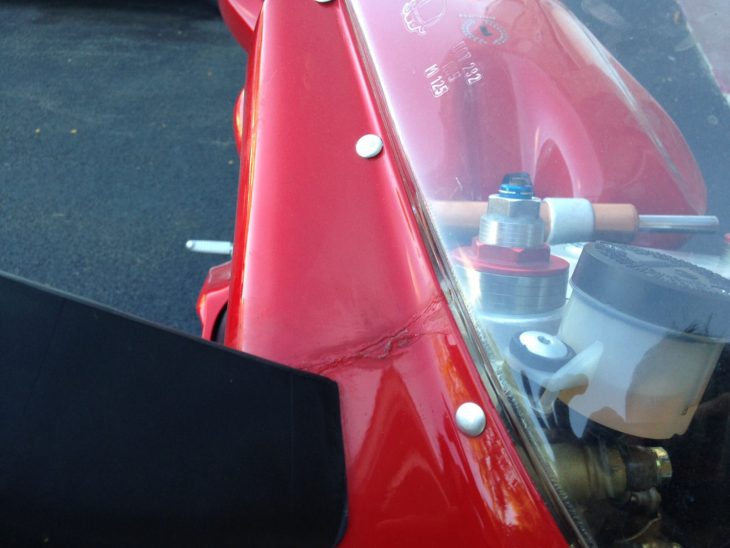 Here is what the seller has to say:
The bike was gone through top-to-bottom by MCC in Villa Park on 7/5/2016 and had the following done (see picture of receipt for all the specifics):

Oil Change
Brake Fluid Change
Coolant Change
Michelin Pilot Power Tires (F&R)
Chain Replaced
Belts Replaced
Rear Brake Pump
Voltage Regulator Replaced
Upper & Lower Chain Sliding Shoes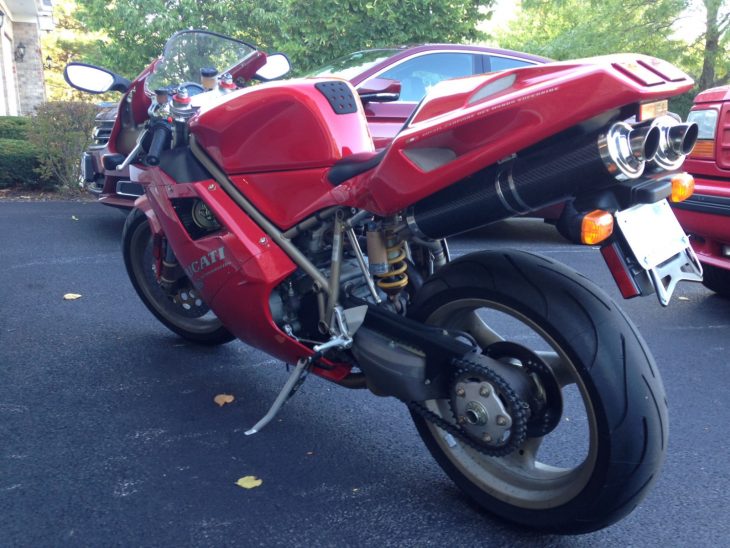 So is this low mileage, Massimo Tamburini penned red head worth the current asking price of $7,499 USD?   If it was one of the top shelf/unobtainum SP versions maybe but given that this is the strada version, I would say probably not.  Even though Massimo Tamburini passed away back in April of 2014 and some of his creations are already climbing in value, I don't think this 916 strada will appreciate much over time.
The last few of these on ebay seem to have gone for between around $5,700, + 500.  Given the condition of this one together with the low mileage and recent service and I would think a fair price would be between $6,000 and $6,400.  It might make a nice addition to anyone building a Tamburini inspired collection, perhaps parked between the Bimota SB2 and the MV Agusta 750 SP-01.
-Marty/Dallaslavowner