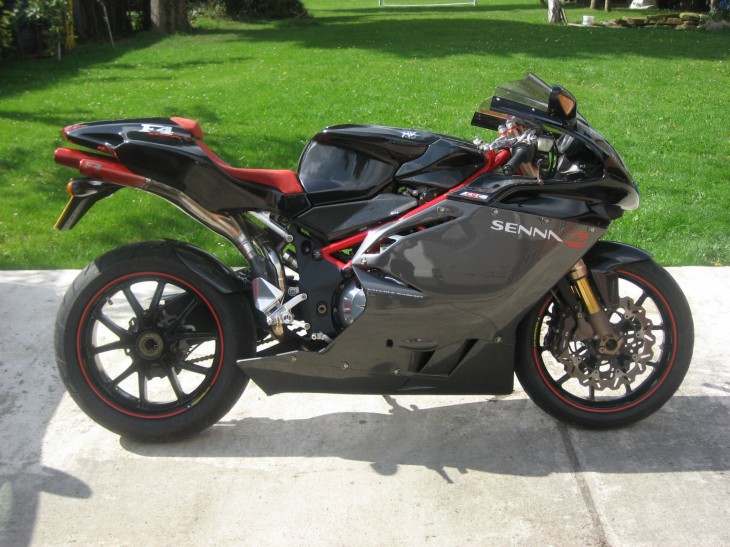 We have posted before about the Senna version of the MV Agusta 750 and comments seem to fall into two camps;  either desired collectible or overpriced version of the standard 750cc edition.  The Senna version (which was built to commemorate the life of Formula 1 driver and motorsport legend Ayrton Senna) has as its basis the beautiful and competent MV Agusta 750 and only 300 Senna editions were produced so at first it seems to be a shoo-in as a Rare Sport Bike.  However, MV Agusta also did a 1000cc Senna version and Ducati did a Senna edition of the 748.  Between the 3 different Senna edition versions there seems to be a Senna edition motorcycle for sale almost constantly which makes it a bit harder to consider it a Rare Sport Bike.
I will also admit to a bit of personal bias against bikes like this;  I don't think just having a different paint scheme and a number plate on the top yokes necessarily makes a bike a true rare sport bike and this was really the only difference in between the MV Agusta 750cc Senna version and the standard MV Agusta 750cc.  To me, one of the key factors of whether a bike is worthy to post here on RSBFS is whether its something I would personally like to own, either for collection purposes or to ride and Senna edition usually doesn't do that for me.  So then why is this bike being posted?  The reason is simple; this particular MV Agusta Senna edition has had some very tasty modifications done to it which I think improve it significantly and move it from overpriced version of the standard 750cc edition to desired collectible.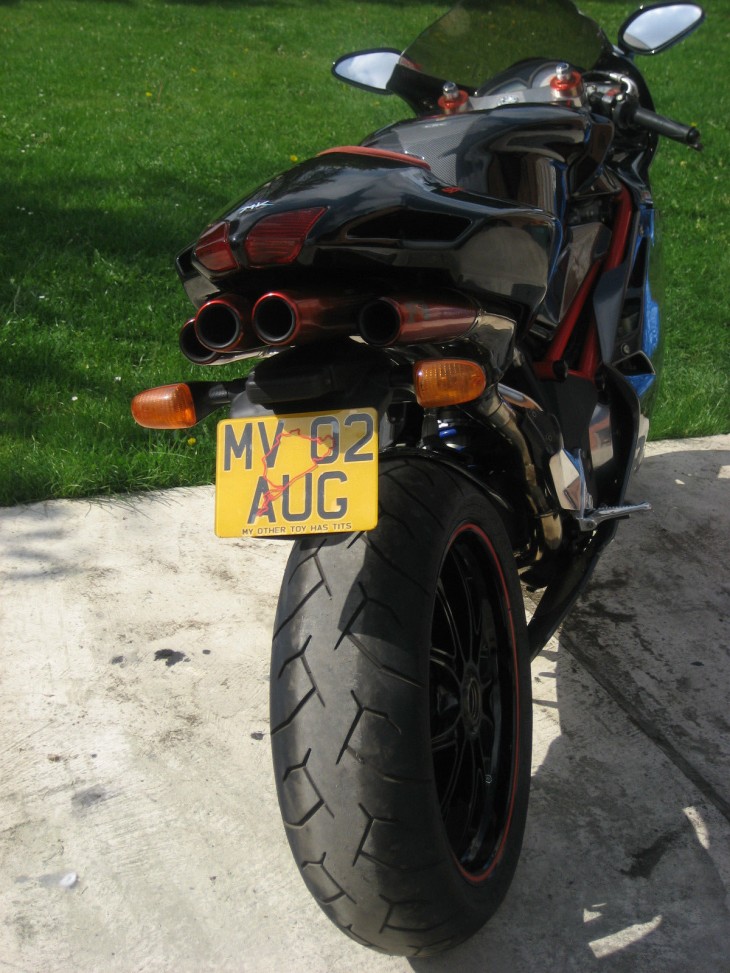 The MV Agusta Senna 750cc has always seemed to have two problems; it was a bit too showy, a bit "blingy" with its polished silver/red wheels (check this Senna 1000cc edition also for sale in the UK to see what I am referring to).   Also, reviewers found the  750cc a bit underpowered compared to what other bikes available at the time could do.  Fortunately, this MV Agusta Senna has had upgrades that seem to address both of these issues.  The details of the changes are listed below but include the wheels being replaced with black Marchensini Forged Magnesium wheels, a dynojet- based tuneup, upgraded brakes and an addition of a bypass for the sidestand switch issue common to so many italian motorcycles.  The end result seems to be a bike that both performs and looks better.  Best of all the seller is including all the original parts with the sale so a collector can still have it as an OEM 750cc Senna version if they want.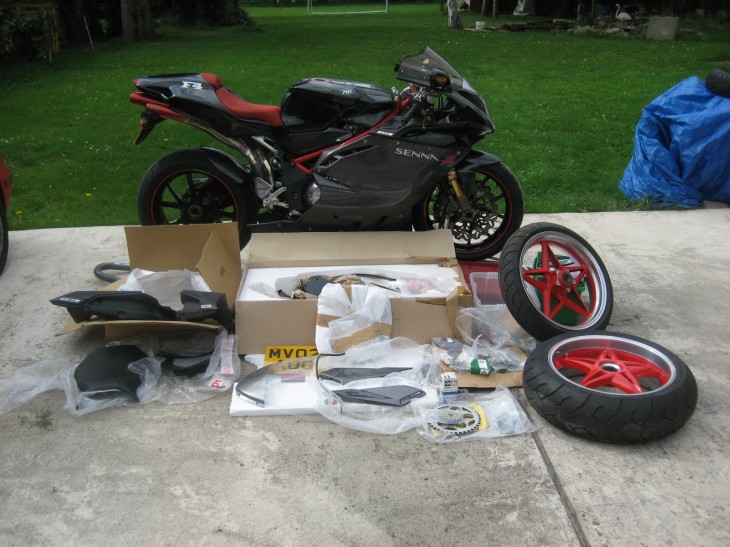 Here is part of what the seller has to say
One of only 27 genuine UK bikes, was number 20 on the importers list, number is 89 out of the 300 made.
Had its oil and filter changed every year whether its done any miles or not.
Shims and engine had a full check over at 9,638, ironically exactly 2000 miles ago

Upgrades include

Pair of Marchensini Forged Magnesium wheels – these cost in excess of £2000 at the time of purchase
3 x "braking" wavy disks
1 x CRC carbon fibre front mudguard
1 x pair of CRC carbon fibre electrical covers
1 x pair of CRC carbon fibre air ducts
1 x pair of CRC carbon fibre tank/seat side panels
1 x pair of CRC carbin fibre tank ears/covers
1 x CRC carbon fibre key guard
1 x carbon fibre fairing V peice
1 x CRC carbon fibre chain guard
1 x carbon fibre rear hugger=
1 x CRC carbon fibre exhaust heel heat shield
1 x dynojet system – tuned and set up on dyno
1 x "yellow box" for adjusting the speedo reading if you change the sprocket ratios etc – it corrects the  speedo etc for the new gearing
1 x alcantara covered seat in red inc rear pad
1 x quick fill fuel cap
One off dial for rev counter showing "Senna" and no 89 – see picture 4
Various polished engine casings and parts
Relocated rear brake reservior to stop overheating and brake fade
Side stand cut out switch modification to stop engine cutting out if put in gear

Only 11,700 miles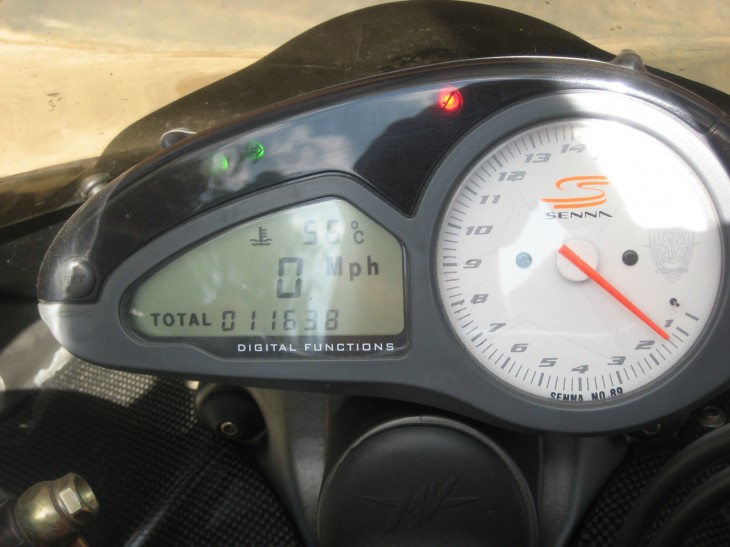 Note:  the seller indicates this bike has been featured in a few bike mags and the sale includes all of the original stuff that came with the bike including the owners handbook, service manual, bike cover, rear stand, handle bar covers, RG3 exhausts, RG3 chip, 1 spare rear sprocket and 1 spare front sprocket, 2 keys, an MV bag and "some other misc bits and bobs".
So is this bike worth the 14,000 GBP asking price?   It does have more miles on it than most Senna editions of the MV Agusta 750cc we see on RSBFS but personally I think this is the nicest Senna edition I have ever seen.  I think the improvements the owner has made together with the availability of all the OEM parts make it something that anyone interested in adding a Senna edition bike to their collection should seriously consider acquiring, either to ride or to just eyeball on a cold winter night.