Is this a Ducati that Ducati doesn't want to admit exists?  Read on!
Earlier this year I wrote about what collectors look for when assessing a rare vehicle; age, number produced of a particular configuration, technological impact, and availability in the country being sold in.  When I noticed this pristine-looking 1988 Ducati 900SS located in Australia I thought it would make a nice RSBFS posting, in part because we hadn't previously posted a 1988 Ducati 900ss.
But as I researched this model a bit more I found something quite unexpected;  the 1988 Ducati 900ss doesn't appear in the history section of the Ducati website.  Yes, you read that right...Ducati does not appear to acknowledge the existence of this bike.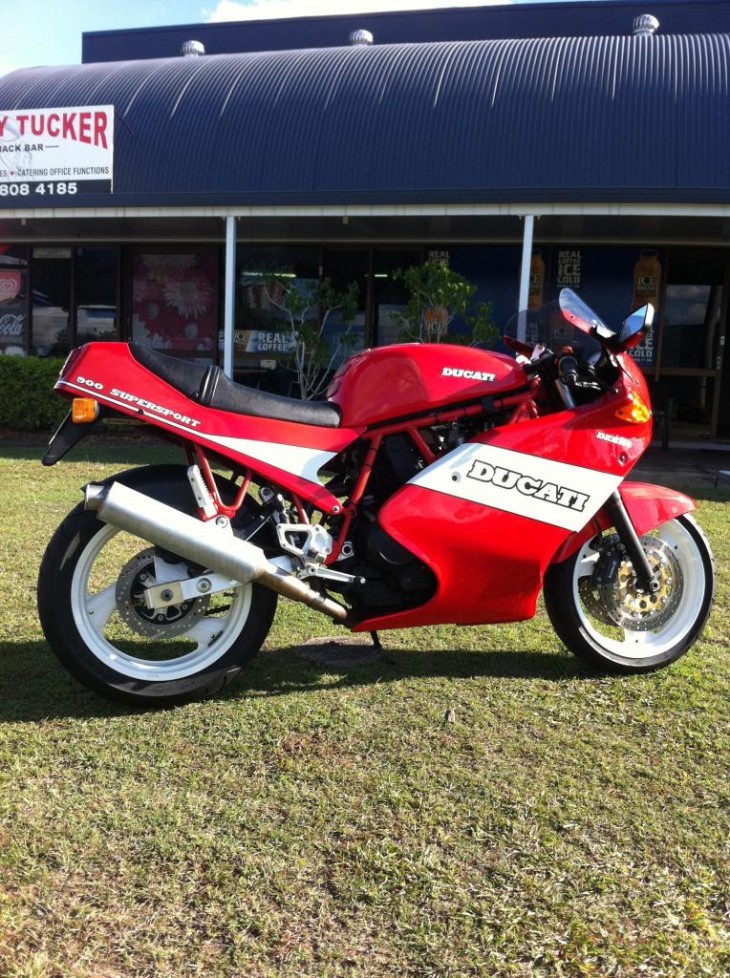 Now before you start thinking maybe this is a custom bike made to look like a 80's Supersport, I was able to find some very limited info about the bike on the web and also a link to the existence of a Bike magazine review so it does appear to be a real Ducati.   This begs the question, why isn't it listed in the history section of the Ducati website?
From what I have been able to determine, when Cagiva took over Ducati in the mid-80's one of their first actions was to resurrect the SuperSport name.  This isn't really surprising since the name had a long and proud history within Ducati, including the now uber-collectable 750ss and 900ss of the 70's.  In 1987, Ducati/Cagiva relaunched the SuperSport edition, first on a 750cc model that came equipped with the same engine as the luscious 750F1 but was detuned/intended to be a bit softer than the hardcore F.   But apparently the new SuperSport had some serious problems, including issues with the casting of SuperSport 16-inch wheels, the Weber carburetors were described as "kludgy" and there were even instances of cracking swingarms.
So what did Ducati/Cagiva do?  Well, in somewhat typical-of-the-times-Italian-small-value motorcycle-manufacturer thinking, rather than hold off introducing new models until they fixed the issues with the 750cc lineup, they instead plowed ahead and offered a more powerful version of the SuperSport.   The 1988 Ducati 900ss SuperSport used the same tubular trellis frame but was fitted with a Pantah based 904 cc air-cooled 90° V-twin,  which had crankcases derived from the 851 motor.   It's not really surprising that the 900 SuperSport had the same issues as the 750cc model while also having a reputation for running very hot and a notchy transmission.  This is probably why in 1989 the 900 SuperSport received a revised air/oil cooled motor and a new six-speed gear box from the 906cc Ducati Paso. But in any case, the result was very few were sold and fewer are known to survive.
So now we come to a question;  if the 1988-1989 Ducati 900 SuperSport was really just a more powerful version of the 750cc model that ran even hotter and still had all the same problems as the 750cc model, would it really be a surprise if Ducati wanted people to forget about this bike?   And if Ducati does want people to forget about this bike, does this make it a good acquisition for a collector?
This particular 1989 Ducati 900ss looks to be in absolutely pristine condition with only 11.5 kilometers. In fact it looks so good I would be willing to bet that it has either been in storage or there has been a restoration done to it.   The $5990 AUD seems right in line with the values posted on Bikepoint.au.
Perhaps the fact that this bike isn't in the Ducati website history section its just an omission and this is a rare opportunity to get a piece of Ducati history.  Then again, perhaps this bike is more like the Morris Ital, a vehicle that it its best to let just quietly fade away and collectors should avoid.
-Marty/Dallaslavonwer