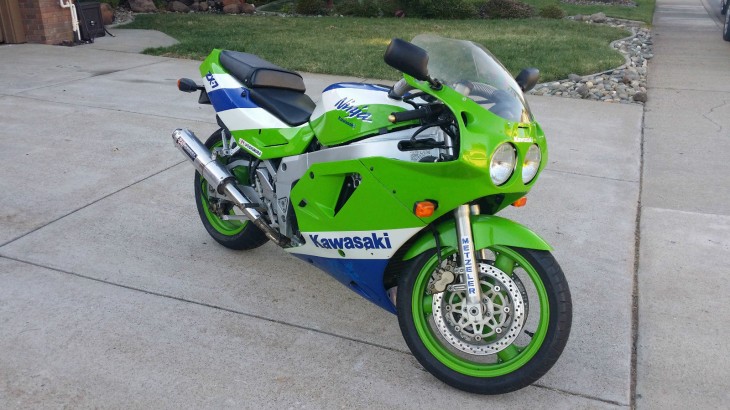 Just a quick post this time. This is a 1989 Kawasaki ZX7 Ninja H1. This is the 2nd generation of Kawasaski 750cc ZX/Ninja bikes and the slightly hotted-up version of these (the 750R) would be used as the basis for the bikes ridden by Scott Russell in 1990 to win hat won the AMA 750 Supersport Championship. This is the non-R/street version and looks to be in pristine shape.
Note: While the H1 version isn't currently as collectable as the later R versions, they do seem to be starting to appreciate and are certainly easier to use on a daily basis as their engines aren't tuned as high.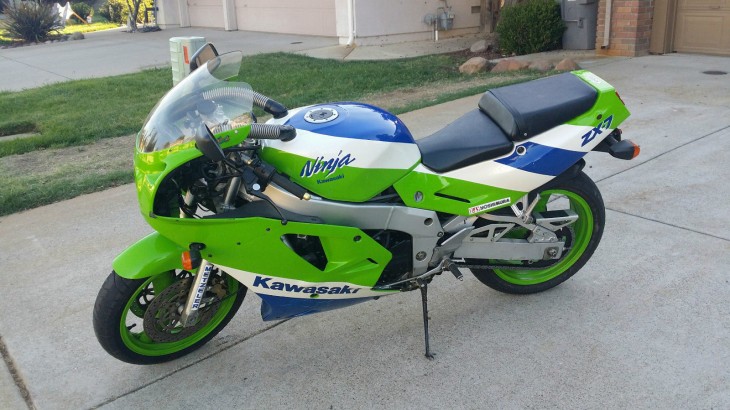 Here is what the seller had to say about the bike:
"You are bidding on a very nice all original 1989 Kawasaki Ninja ZX-7. These bikes are pretty rare and are becoming highly collectible in their original shape. This bike is one of the better examples you will see. Take a look at the pics and you will see just how nice it is. It actually looks better in person.
The only change has been made to the bike is the Yoshimura pipe, everything else is very original. This bike runs strong and everything works. As you can see the paint is in great shape and still has lots of high gloss. The seats are in excellent shape as well. There is a small scrape on the left side of fairing, however there are no cracks or rips in the fairings. The bike has recently been tuned and it fires up and shifts with no problems. The battery is new as well oil changes and maintenance. The tires are still in decent shape. I do hold a clear title on the bike. Please feel free to contact me if you have any questions. I do have bike advertised with a few local clubs and reserve the right to end the auction early if the bike is sold. "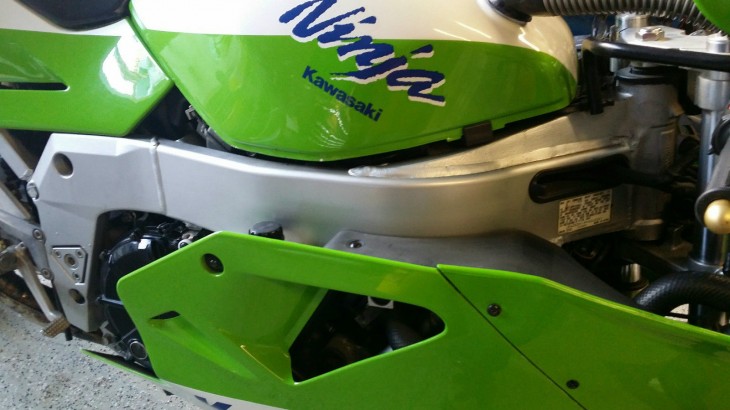 Its certainly is nice to see one of these that hasn't been hacked apart, repainted or had its frame/wheels polished. Mileage is listed as about 18,000 miles but the 750 engine was the configuration with most development effort behind it and was pretty much bulletproof. The bike would definitely need some new tires, also the brake fluid looks a little dark in pictures but seller indicates recent fluids so it may just be the lighting in the pictures or slightly older pictures?
So what's it worth? Well since the late 80's/early 90's 750cc configuration seems to be hot right now, its not really surprising the bid price is already over KBB retail and the reserve isn't met yet. Personally I think this is probably going to appeal more to someone who wants to relive a bit of their misspent youth than a serious collector or perhaps someone who wants to introduce a youngster into what it was like "back-in'the-day".
-marty/dallaslavowner