Here we have #79 of 100 and it has zero miles.  This MV retailed for $120,000 new; no I haven't typed too many zeros.  It was the pinnacle of what the MV factory could create.  You have to love the owners collection of bikes and cars.  Additionally he has the watch and leathers to go with the bike.  This has to be one of the most exotic machines you can find.  The bike has a claim 200bhp with the use of many exotic material such a carbon fibre everywhere and titanium being used for many engine internals.  Of course it goes without saying that brakes and suspension are of the highest calibre as well.
I think this quote says it all:
"I decided to put my name to this bike as I originally dreamed of it for myself". This is how Claudio Castiglioni, the Managing Director referred to the new F4 that now carries his initials "CC".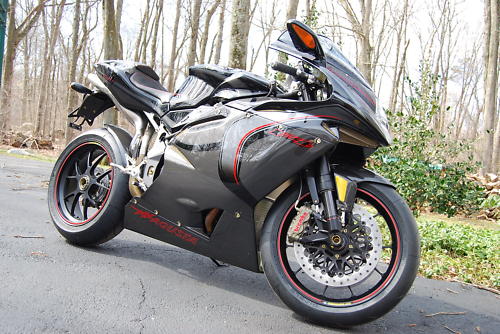 The auction on eBay is certainly work a look.
The seller doesn't have too much to say but then what else is there to say!
2006 MV Agusta F4 CC ( Claudio Castiglioni ) #79 of 100. Incredible 200hp Carbon Fiber, over 90 additional special manufacturers improvements, Brembo monoblock calipers, Titanium valves, comes with mounted full titanium exhaust, rear stand, Signature bike cover, complete spare exhaust. 21 month balance of manufacturers warranty. Original crate available, Huge savings off MSRP. Also have F4 Serie Oro available at additional cost. Like new custom leathers included if buy-it-now selected (fits 5′ 8″- 6′, 165-185 lbs).

Free shipping anywhere in the continental US if buy-it-now
Most exclusive of final Tamburini ( of Ducati fame ) designed MV Agustas
Also, comes with Girard Perregaux Special Edition #79 of 100 MV Agusta F4CC Laureato Evo 3 watch.
Winner 2011 Greenwich Concours d'Elegance Best Motorcycle- Post 1970
This link gives you details from the MV website: http://www.mvagustausa.com/web-mvagusta/07_F4_CC.html
If you are the lucky buyer we would love to hear from you particularly is you plan to ride this beautiful machine.  It seems a bargain based upon the original purchase price but one only knows what this sort of exotica will sell for.
-AS