The Ducati 916 has many times been voted the best looking bike of all time.  Over the years the engine was increased in size where it ended up at 998 cc.  As the new 999 designed by Pierre Terblanche was being released, the venerable 916 family was going away.  So here we have the final edition of the line which was released in 2004.  There were 981 of these bikes made and to find an example with such low miles is a real bonus. The engine made a claimed 136bhp and was in fact the testastretta unit that had previously been used in the R bikes and included Ohlins front and rear. The seller states that there were 112 of these bikes produced and that is true for the California model in Red.  In total 419 biposto and 562 monoposto bikes were made.  Oh and by the way only 1 was ever produced in any other color than Red and that would be the sole Black one delivered in Europe.  I would love to know the story behind that!  Personally I don't think you can find a more beautiful bike than the 916/996/998 line.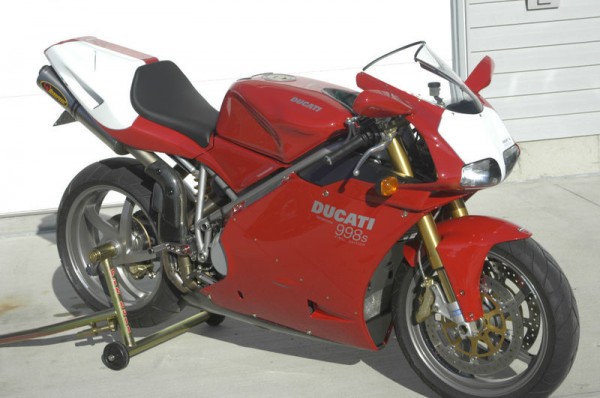 The seller gives us some nice history.
1986 miles

This is a  chance to own a rear piece of Ducati history. 1 of the 112 of these very rare and limited pieces of super bike history that were imported into  the United States. 2002 was the last year of the legendary 916 design  super bike series. In 2004, after countless awards and championships,  Ducati built a very limited run of special edition 998s Final Editions  to pay tribute to the icon that had created history in every aspect of  the motorcycle industry.

This Ducati is and absolute must see  piece of art and perfection in every way. It is a one owner bike. This  bike and sale includes all parts, accessories, Ducati Performance cover  and pitbul rear stand. This bike has been upgraded with Ducati  Performance R-cams, ECU, Akrapovic' full titanium exhaust system,  Pipercross air intake system and custom tuned by the legendary Tom  Manley. Tom has completely performance tuned this bike's valve train,  fuel injector patterns and engine timing producing incredible  performance gains. Included are all the custom tuned fuel mapping data,  software and dyno recordings. All engine and chassis mods are bolt on  and all the original parts have been packaged and retained to provide  absolute factory stock authentic value. I purchased a second solo tail  section and custom painted the matching white classic ducati number  plate theme, pin striped, labeled and clear coated for a perfect long  lasting finish. I have added and swapped out the shields/guards with  carbon fiber and again have packaged and retained all of the original  take-off parts. I have added Cycle Cat titanium rear set foot pegs which offer infinite adjustability and fitting look to Ducati styling. I have added a rear license plate relocater kit and integrated the rear turn  signals into the classic ducati tail lamp unit for the ultra clean look  and again have packaged and retained all the take off components. I have installed an updated cooling fan switch kit for improved cooling and  temp control along with the kickstand bypass switch kit. This bike is  built by Ducati with Ohlins performance front and rear suspension as  well has an Ohlins steering stabilizer. The front Ohlins forks have been serviced and tuned by a trained Ohlins technician.

This is an  absolutely flawless show piece of Ducati super bike history with  incredible collector value. This bike offers every aspect of the  ultimate Ducati look, sound and stunning performance. I purchased this  bike new and it has been a prized show piece and always stored in my  climate controlled shop on display.

Please feel free to ask any  questions and completely understand how pristine this rare Ducati is.  You can email me at mopar101@mncable.net or call me at 218-686-4397.

This is an absolute must see motorcycle, but the buyer is responsible for  any shipping arrangements and fees and must be paid for in full  before the title is signed. I will accommodate in any way I can.
Jump right over to the auction on eBay here
This bike has had some very nice period upgrades done using Ducati Performance parts and I love the fact that the seller retained the original parts as well.  A beautiful and rare bike with a documented history means this is going to command a good price.  Naturally they don't come up very often but I would expect around the $13000 mark maybe even higher for the right buyer.  Either way great value.
AS