2009 Aprilia rs125 with the wiring harness installed, registered and plated!!!
Location: Visalia, CA
Price: $1.00 with reserve still on — duh!
Mileage: 110 miles
I'm 99.9% sure this is another RSBFS listed by Larry a rare sport bike fanatic! I believe we recently posted his RS250 Loris Reggianni Replica on May 15th of this month. Hopefully, he is unloading only to re-load the collection. I recall SicDuc telling us that he purchased bike #11 for himself, which was a NSR 250 from Larry. SicDuc went on to tell us that-
Like larry said to me when i was there "everythings for sale!!" Give him a call..
Like I said in the title- this RS125 is ready to rock-n-roll and appears to have all of the hard work completed. It has the Euro wiring harness installed with all of the D.O.T. necessary evils and it has a sweet Arrow exhaust to really annoy the neighbors with. I really like these and think it would look super sitting in my shop. Hmmm, I wonder if Larry has any interest in a 1990 FZR 400 with only 8,000 miles on it. While I'm looking for Larry's number to horse trade you can take a look at this sweet lil' skeeter killer.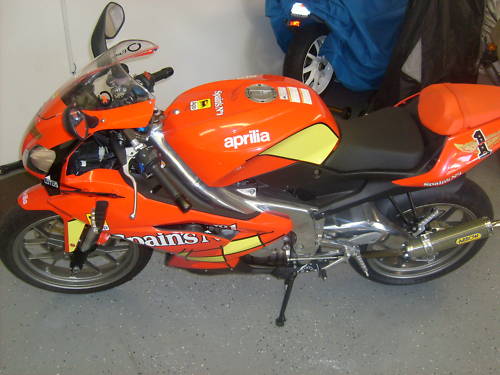 Okay, found Larry's # and just in case he won't trade me I did the honor of putting the first bid on it. Who cares if it was only a $1.00 bid… You never know when a second chance offer might come your way. 🙂
You can out bid me by jumping to .
Cheers!
dd