For Sale: 2003 Kawasaki ZRX1200R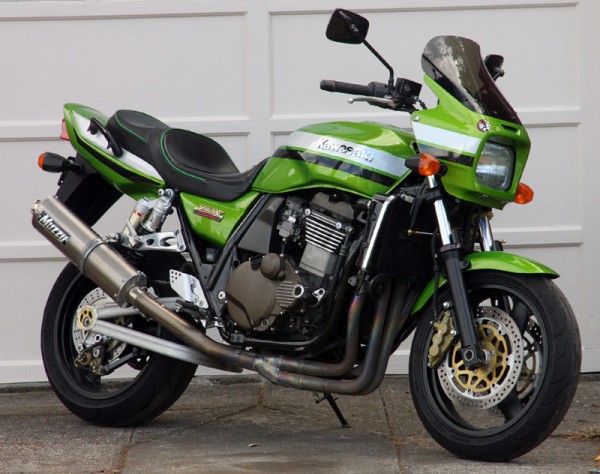 After the last gneration ELR I posted came under fire for uncertain bits and potentially less than authentic kit, here is a more modern version that the seller makes no bones about not being stock. This is a Gen-II ELR with some major additions that make it look and go even faster.
From the seller:
Up for bid is my 2003 Kawasaki ZRX1200R. While the bike appears to be pretty stock, it is anything but.

This ZRX has a $4,000 full Muzzy Stage II high-performance engine kit. A Kawasaki dealer in Minnesota professionally installed the kit according to the previous owner. The kit includes:

Displacement bump from 1157cc to 1224cc
High-compression (12.5:1) piston kit
Aggressive cams
A Muzzy-spec engine block (note the color)
Custom airbox modification to a single big K&N filter – so simple to service
Full Muzzy Titanium exhaust system front to back – cuts 36 pounds, sounds great but not overly loud
Carbs have been expertly rejetted for optimal performance with this system
Original engine parts (block, pistons, cams, airbox) are included!

From the Muzzy website: The 1224 cc Stage 2 is definitely the way to go. This consists of the pipe and jet kit, the "drop-in" cams, and a 2mm overbore kit with higher, 12.5:1 compression. The added compression and 61cc's of displacement provided by this step adds back the mid range power missing with just the Stage 2 cams and moves the top end power to an exciting 165 hp at 9800 rpm, a whopping 45 hp, a 37% increase over stock. Even better news though, is the 100 hp you get at 5850!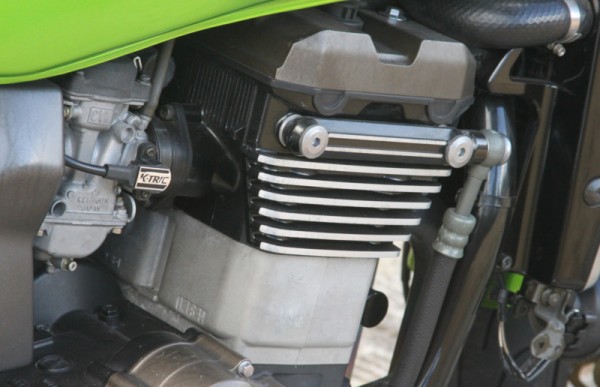 That sounds like a pretty expensive bit of extra oompf that somebody has already dropped the dollars for. But it doesn't end there:
From the seller:
Additionally, this ZRX includes:
Corbin custom seat with green seat piping and very comfy passenger section – best seat I've ever had and sharp looking
HyperPro steering damper with 24 levels of adjustment
Zero Gravity sport-touring windscreen (perfect height)
Fork brace
The rear track stand in the photos is included.
Finally, the seller has included a description of all the rest of the details not evident in the photos or the earlier bullets.
From the seller:
I have never had the bike dyno'd, but I'll have to say this is by far the most powerful bike I have personally ever ridden in terms of torque and acceleration. It is not for beginners, but that said, it is also very easy to ride around town and is also a decent touring bike – the just-tall-enough fly screen makes a big difference in comfort. It currently has 21,000 miles on the bike and the engine kit was put in at about 10,000 miles according to the previous owner. It has stock gearing and runs perfectly.

One other benefit of the engine kit, via the airbox and battery mod, is the creation of a generous amount of under-seat storage. I can fit a full rain suit (tightly folded), winter gloves and flat repair kit along with other small items in the space where the airbox used to be. The stock underseat storage space holding the tools is also retained so you can carry quite a bit of kit under the seat.

Another unexpected benefit of the engine kit: better gas mileage. ZRXs typically get between 30 and 35mpg, but I average 40mpg or better most of the time (got 43mpg on one long ride). It just runs more efficiently. However, it does require premium gas due to the high compression ratio. I'm told this is common with the Stage II kit.

I just put on a new Pilot Power rear tire, it has less than 50 miles on it (it's "scrubbed in"). Matching front tire is in excellent shape. This bike is ready to ride.

This is the "least neon" and "darkest green" of the green models (they are a bit different year to year) and it has black and grey stripes rather than the purple. Best ELR color combo of all the ZRXs in my opinion.

The previous owner said he put the bike down in his driveway (gravel), causing a small rub mark on the fairing (currently covered by a small sticker) and a rub mark on the exhaust and grab handle (see end photos). There are NO cracks in the fairing. The alternator cover has some chipping on it but again, this is hard to see (but visible in the last photo). The bike had frame sliders on when it went down and they did their jobs (and are still on the bike). See photos below for detailed shots. The bike has a clear Oregon title with no brands.

I bought this bike because I've always had high-performance Kawasakis (Mach III, Z1-R, ZX-11, ZX-12R) and I love the look of it and the way it rides (oh, the POWER), but I've decided to get into flying so I need to finance my flying lessons and get some dirt bikes for my kids. And I'm not riding it much since I got a dual-sport bike last year. Getting older I guess…

This bike is huge fun to ride and enormously powerful – far beyond a stock ZRX. Yet, you can easily cruise around town or the open road in comfort. It looks great and sounds very burly without being obnoxious. It gets a lot of attention. And I have found it to be highly practical as well, with good MPG, the extra storage and no mechanical issues of any kind. I'll miss my big green Kawi street machine!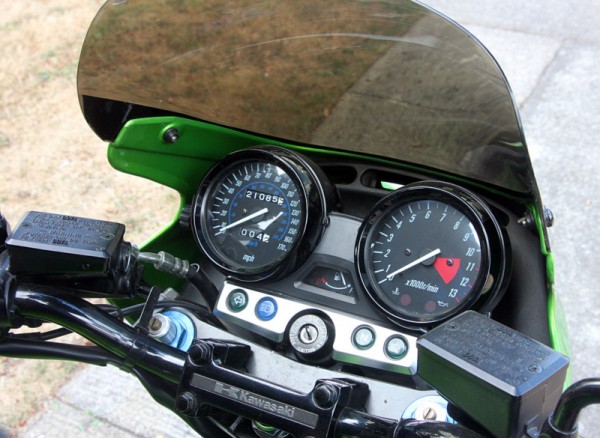 I like it when bikes are advertised like this. It shows that the seller cares about the bike, knows what was done to it, and there are enough pictures for a potential buyer to understand the real condition of the machine. Plus, with all the words the seller used I don't have to type as many. Bonus!
This big, green and fast machine is available now for what seems to be a pretty reasonable amount given all of the extras: The starting price was a mere $1,500, and bidding has pushed that up to $2,500 at the time of this writing. As with all auctions, the reserve price will be the real tell tale here, but at current this looks to be a nice find and a good bookend to that earlier ELR in Hungary. For all the pictures and details, click on the link and jump over to the auction. Old style or new style ELR – which one floats your boat? Sound off on the comments!
MI