It came up recently in the comments section, but I got into motorcycles relatively late in life. I mean, I always thought they were cool, but they just seemed so dangerous, and I knew I'd never hear the end of it from my family and friends. They're also of limited practical value in the northeastern US as primary transportation, unless you're a masochist or have Yeti DNA. When I finally got one here in California, I used economics to justify it: just $500 got me a runner. And that still holds true: if you're into motorsports and have a limited budget, just what kind of worthwhile car can you get for five to ten grand? And if you live in Southern California, where would you keep a fun hobby car anyway? But you can fit a small collection of bikes into a single parking spot. And a nice, classic superbike like this 1994 Kawasaki Ninja ZX-7 can be had for that kind of money.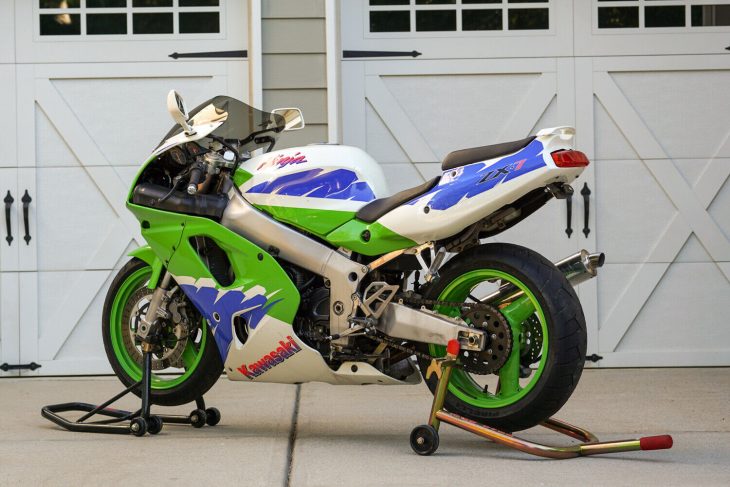 The late 1980s and 1990s were a golden period of superbike development. The basic formula was set, and the Japanese manufacturers were hard at work perfecting their creations. Only Ducati really went their own way with a v-twin: Suzuki, Kawasaki, Yamaha, and Honda all stuck with inline fours for their mass production machines, with the very limited-production RC30 and RC45 homologation machines from Honda being notable exceptions. Kawasaki's ZX-7, known in other markets as the ZXR750, used a 748cc four that squeaked in under the 750cc limit for four-cylinder superbikes, a move that allowed the machine to be used in production-based racing series.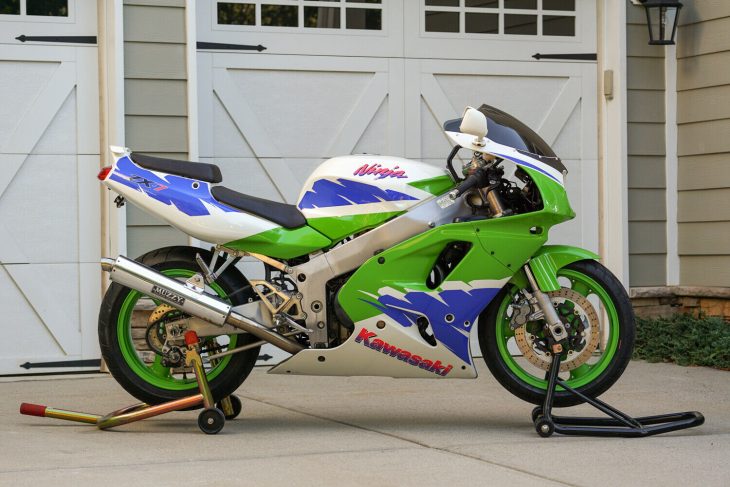 That engine was hung in a stiff aluminum frame, and backed by a six-speed gearbox. Power was rated at 105hp and the bike wasn't especially lightweight at 450lbs dry, but there was the potential for more in the hands of skilled tuners, and the ZX-7 was famously terrific under braking and had excellent mid-corner stability. It might not have been the best bike on paper, but the Kawasaki found plenty of success in a variety of racing here in the US and abroad. This example isn't perfect, or even stock, but looks like a sharp rider or a rolling restoration project. It's not flawless, but has low miles and appears to have been sympathetically maintained.
From the original eBay listing: 1994 Kawasaki Ninja ZX-7 for Sale
1994 ZX-7 (ZX750L) with 9,812 original miles.

Original plastics – All VIN tags in place.

Engine/Frame/etc. all very clean.  No leaks.

New tires, fresh oil change (Mobil 1), new sprockets all this year.

Runs and Rides great (see video).

Light damage on left side from falling off lift while stationary.

Muzzy full system with correct jetting.

Original turn signals etc. will be included.

CLEAN NC TITLE IN HAND.
The seller has also helpfully included a nice, high-res video of the bike. So what's to like here? The low miles, the likely reasonable final price, compared to a more exotic ZX-7RR, the period Muzzy pipe, and classic superbike looks. What's not to like? The fact that it's just a standard ZX-7 and the minor damage the seller mentions. The front and rear turn signals are also missing, along with the rear fender, although those shouldn't be too hard to source if you want to switch things closer to stock. I doubt these will ever be worth crazy money, but it's certainly a bike that should go up in value and you'll be able to ride it in the meantime without worrying too much about either damaging an ultra-rare exotic or devaluing it by adding too many miles.
-tad