Yamaha wanted to extend the success of their singles and developed 600, 400, and more rarely 250 variants.  Though references to US imports are hard to find, this excellent example has an MPH speedometer.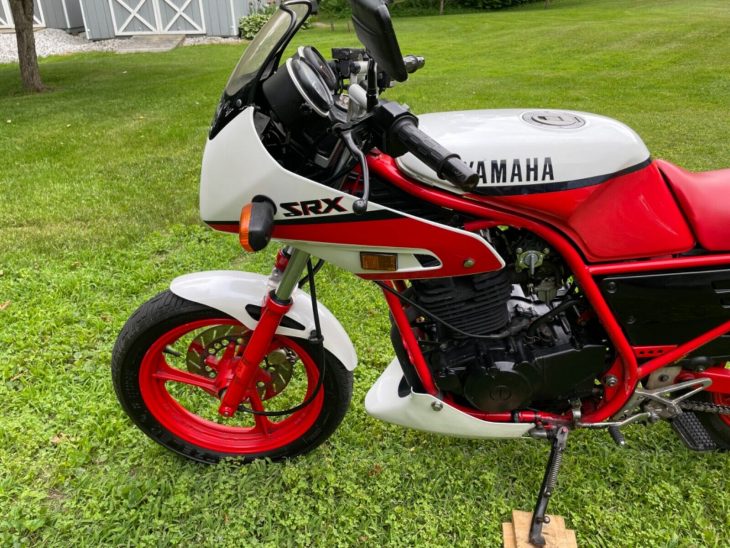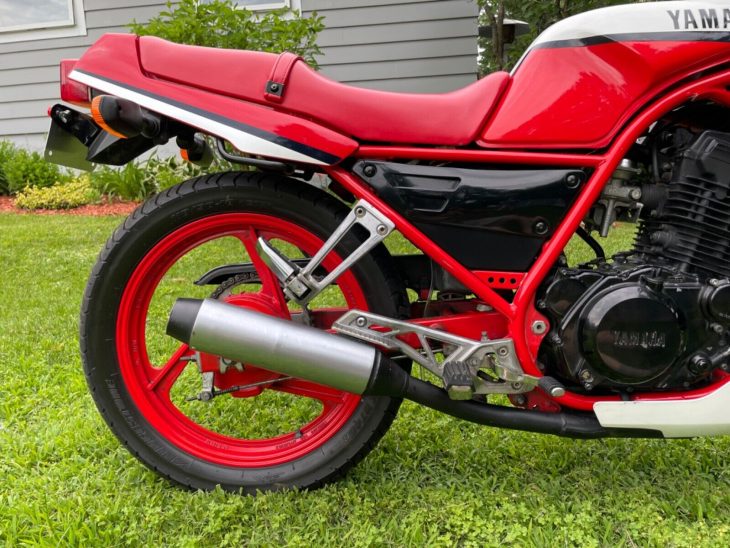 Even though there were similar Yamaha 250 singles, the SRX engine was its own animal with 10-to-1 compression and a four-valve head.  Its 32 hp were more than the dirtbike and quad engines, if not more than  enough.  Just about all the double downtube frame is visible, in red on the 80's-era sports livery.  Even though it's lightly built with a single front disc and economical with the drum rear brake, the sporting intent is evidenced by the staggered 16-inch front / 18-inch wheels.  A small frame-mounted fairing is accompanied by a chin scoop which hides the exhaust.
Evidently tucked away in Vermont garage for a while, this SRX has amassed 15,641 miles but looks like less.  Brake fluid has bubbled the paint on the reservoir and the owner's keyring has scored the triple tree, but otherwise it looks a few years old and not 35.  Thinking the seat has been recovered but only because it looks that good.  Noted from the eBay auction –
This bike is very rare. This bike was only made for one year. This bike is in great condition for a 1987. See pictures, they will tell the story. Last fall I put on a new Petcock, rebuilt the carb, and disc brake caliper. Last week I had a professional mechanic tune it up and install a new Yuasa battery. The tank was sealed years ago. Everything works on the bike, lights, blinkers, horn. The speedometer is slightly foggy which I don't understand because it's always been kept in a heated cellar or heated garage.
Maybe not the thumpiest single out there, The SRX250 was more of a domestic market sport style for Yamaha fans who needed a 250.  For RSBFS readers, maybe a good starter or pit bike with impeccable taste.  Plenty of bids but hoping the reserve isn't out of this world.
-donn