Here are some rare modern classics for sale on eBay for under $10k each. Let the Italian goodness begin:
quote from seller's eBay listing:
This lightweight cycle (from 208 units made in 1987) comprises classic Bimota tri-color design, Yamaha FJ1200 engine, robust 41.7 mm Marzocchi M1R forks, and Brembo (good enough for the Dr. Rossi) brakes, and lightweight Technomagnesio wheels, all in near perfect condition.

[…]

Here are some interesting facts about this motorcycle's history:

1. Purchased from Nick Ienatsch, famous motorcycle journalist, racer and teacher at the Freddie Spencer Riding School.
2. This YB5 was owned by Nick's father.
3. Includes original vinyl folder, including owner's manual and warranty and service booklets. Also includes official workshop manual (two copies).
4. Purchased around May or June 2001
5. Excerpt from Bimota book regarding YB5 is enclosed.
6. This bike has been kept in push button, start up condition: the carbs are clean and the steel gas tank has had a properly applied rust proof treatment.
---
quote from seller's listing:
I purchased this from the original owner 4 yeas ago with 1900 miles. The previous owner took very good care of it and also replaced the tires with new Metzeler Rennsports at the time of sale. It has an upgraded Euro headlight and upgraded Ohlins rear suspension.

I have taken meticulous care of this machine. It is in mint condition, always garaged, covered and properly maintained. I actually change all the hydraulic fluids after each ride. I just performed a complete tune up with Amsoil synthetic fluids and a new OEM battery.

The paint work is all original, never dropped, scratched or touched up. The black portion of the lowers have been perfectly refinished due to lifting of the logo type decal.

I am including the OEM workshop manual with electrical wiring diagram as well as the parts microfiche and sales brochure. I have the passengers seat and rear foot pegs that are unused as well as 1 unused spare key. All the documents and paper trail from the original owner are also included.
---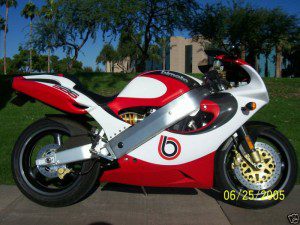 quote from the eBay listing:
One of only 700+ red, white and carbon SB6's

Only flaw is touch up paint on chin of fairing and paint chips near kick stand (see photos)

From a later run of bikes with upgraded controls, rear sets, wheels, dash, gauges, strengthened body work, and exhaust system.

Vehicle Description

* GSXR 1100 water/oil-cooled
* All carbon fiber body, dashboard, fenders
* New battery
* Clean carbs
* Runs well
* Owner's manual
* Marchesini wheels
* Massive beam frame
* Complete Brembo brake system – 320mm front disc
* Paioli carbon fiber front forks – Ohlins rear shock
* Original 4 into 2 into 1 into 2 undertail exhaust
---
All three are super delicious, but I think I'm most turned on by the YB11 with the super low miles and Yamaha Thunderace engine. Not that I could handle a monster like that, but it'd sure look great in my living room!
Thanks again to Doug for his spotting help!
dc