Enough ink has been spilled complaining about the design of the Ducati 999, but two things are clear: it is a far more practical, useable motorcycle than the classic 916, with ergonomics that at least took actual human physiology into account and the controversial looks of the bike are aging well. To be honest, as much as people fawn over the 1098 as "the bike that should have followed the 916," I find its styling way too derivative. I love the headlamps and nose, but overall, it just looks like a bike designed by someone terrified to screw up, rather than a bold new statement. The 999 may never be considered beautiful in the way that the 916 was, but function has a beauty all its own, and you'd never mistake it for anything else.
But beauty is more than skin deep, and while a 999S is really just a 999 with some bells and whistles, the 999R is another beast entirely and was intended to meet requirements for Ducati's assault on the AMA Supberbike class. Internally, the R shares little with its less-aggressive stablemates: it features a completely different bore and stroke, 104mm × 58.8mm vs.100mm × 63.5mm. The 999R actually displaces exactly 999cc, whereas the regular 999 has 998...
With 12.5:1 compression, titanium rods and valves and a knife-edged crankshaft spinning in sand-cast cases, the R was good for a legitimate 150hp at the crank, a big number for a twin in an era before all the electronic trickery found on today's top-tier sportbikes.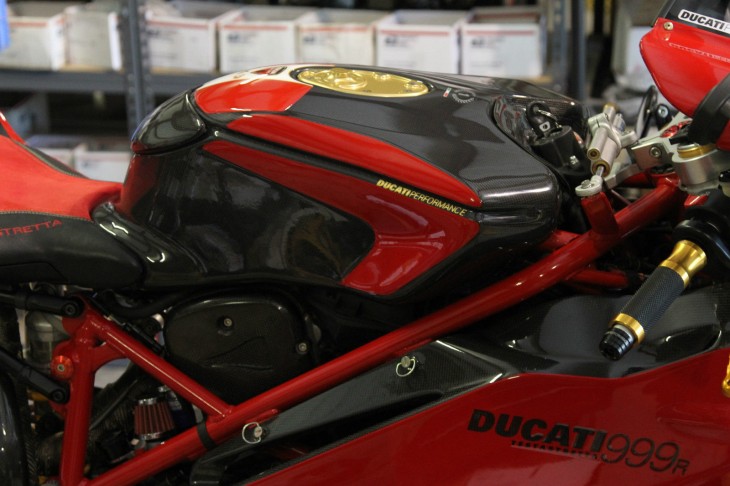 Today's example shows just why it's so great to be bike fan shopping for a used Ducati: extremely low mileage, fastidious care by an enthusiast owner, and only the best quality components thrown at it. And while the price won't be cheap, the 999R is certainly one of the most desirable models of the period.
From the original eBay listing: 2005 Ducati 999R for Sale
VERY RARE Ducati 999R, unlike NO other! sold to me as a trophy bike by eBay seller "lambo19752009" Bought as an investment not to ride. However, as a Ducatista she called me to ride. Current milage is 4758- I will stop before 4999. I have had a 999 before, the 999R is a different world! Research the 999R. Condition is excellent. Minor road wear is now visible. Nothing has happened in my care other than ADULT driven 434 miles so far. Tires tell the story no abuse. Why sell? I have another Duc and need to free up cashflow...my loss your gain. From the photos to reality you will see pegs & kickstand paint wear plus a spot of gold 3M wrinkled on the engine cover. Otherwise drop dead gorgeous. Handle bars just adjusted by Dunbar Ducati, will not go to lock but are perfect alignment. Grips are black not gold as in some photos.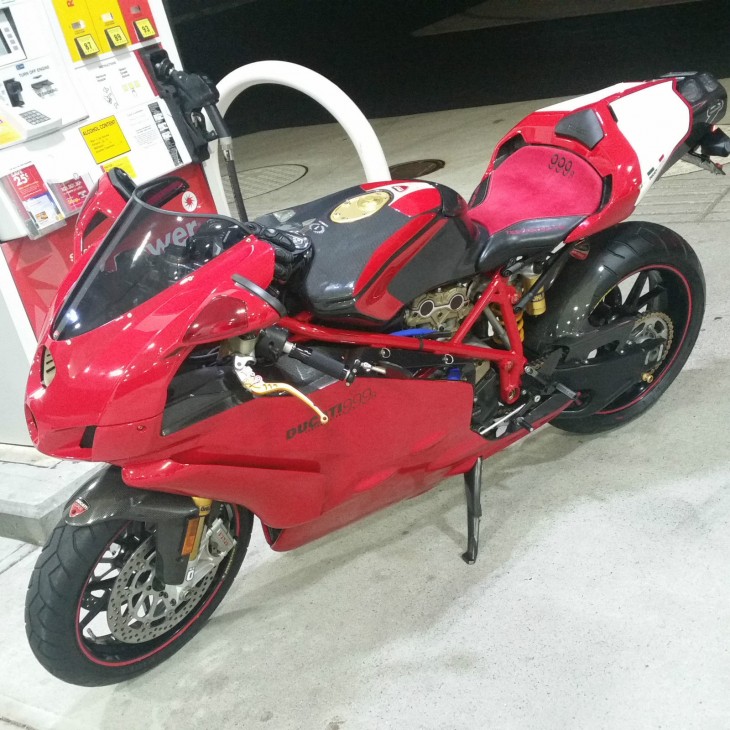 Pop on over to eBay if you want to see the laundry list of bolt-on moto-bling that's been thrown at this bike. Honestly, I'd sell off half of it and get the bike back a little closer to stock-looking: I love Rizoma as much as the next guy, but these things start to look like they've got some gold-anodized skin condition when people throw the whole catalog at them. And apparently, other people are using the term "Rizoma'd" as well. I met a guy over the weekend who was mourning the loss of his 848 Streetfighter that was "all Rizoma'd out."
In any event, this is a very low mileage, apparently pampered bike that'd be easy to get back to stock condition if you prefer. And while some Special Edition Ducatis are just "paint and tape" jobs with some upmarket suspension that offers questionable improvement over the stock setup, the 999R is the real deal: a true homologation special.
-tad