The late designer Sergio Robbiano's upright response to his Bimota DB5, the DB6 Delirio is a motard variant, an urban sportbike based on the Ducati 992 desmodue.  Factory-made but hardly mass-produced, the Delirio has inspired design, innovative solutions and superb components.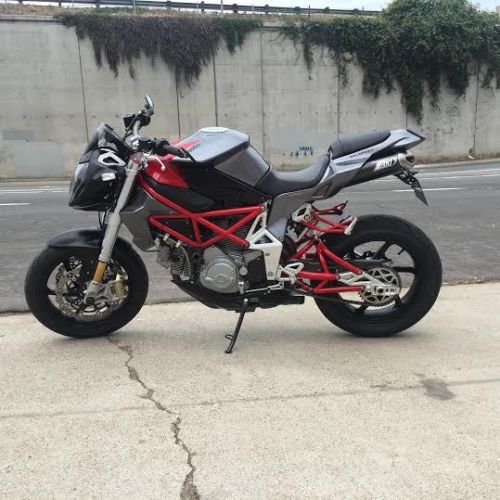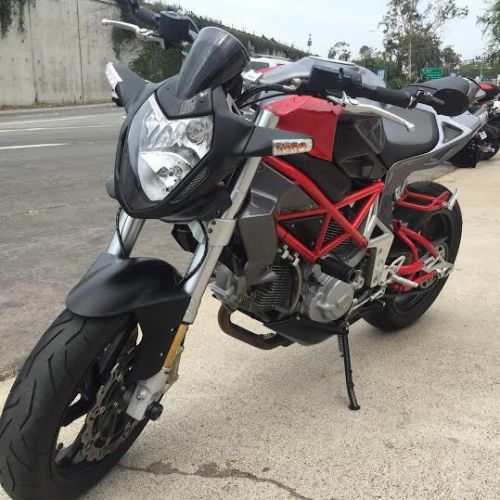 If the trellis frame of the Delirio appears unusually light, Bimota used chrome-moly tubing, showing off some of the thin edges.  The distinctive billet aluminum connectors for the frame and rear wheel complement the red frame.  The body is an angular combination of metal and plastic, complex without being busy.  Just 400 lbs. wet, the Delirio requires just a thought to change direction, the Marzocchi suspension always ready.  Braking by the Brembo 320mm wavy front disks and 4-piston calipers is outstanding.    The alloy Marchesini wheels are light and black to the point of invisibility.  The futuristic headlight fairing integrates the turn signals and has its own billet brackets.
Asking nearly $30,000 when new, the DB6 is a design piece, every detail examined, drawn, tested.  On this one, only the exhaust has been upgraded to a Zard carbon system.  With just break-in miles since 2007, this bike looks perfect but will likely require new fluids, belts, and rubber.  From the eBay auction:
This is a beautiful Bimota DB6 Delirio in excellent condition.  Zard carbon exhaust.  Rare and exotic, incredible workmanship and detailing, just 1,787 original miles, a Ducati at heart, but much more!  Condition: Excellent-Bike shows like brand new.
There are more rare and exotic Bimotas, even special Delirios, as there is an Azzurro model ( think blue ) and a Superlight with full carbon frame, but this "base" model has all the design elements, just about all the performance, and most of the exclusivity.  A dream compared to the wide majority of naked bikes.  Hoping those frame sliders never get used !
-donn