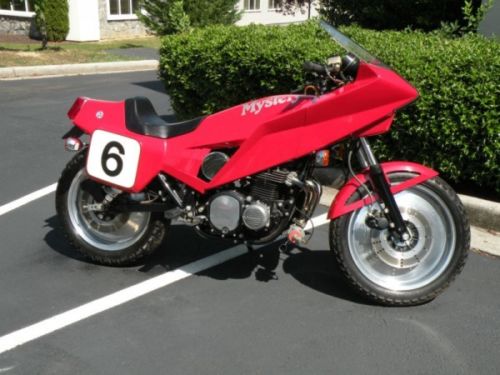 While at first glance this appears to be a customization run amock, it is actually something a bit more than that, a 1980 Mystery Ship.  The Mystery Ship was the brainstorm of Craig Vetter, founder of the aftermarket Windjammer motorcycle fairing company.  After Vetter sold Windjammer in 1978, he embarked on a new effort..a "streetable road racer, with all the right parts."  And what did Vetter decide to use as the basis of his bike?  Just one of the most powerful bikes of the day, a Kawasaki KZ1000 Turbo.
The KZ1000 turbo is by itself already a rare bike; a more expensive illegitimate brother of the standard KZ1000.  Interestingly, the KZ1000 turbo was not actually an official Kawasaki model; it was offered as an "official" bolt-on turbo kit that Kawasaki would install for buyers.   The turbo kit was developed by ATP with input from Kawasaki engineers but was not warrantied by Kawasaki so any engine blow ups were the responsibility of the owner.  And engine blow ups were apparently not unheard of, since the kit offered the ability to quickly adjust the turbo boost from 5-10 psi.
Price for the turbo equipped KZ1000 edition was almost 50% significantly higher than the non-turbo version and the original frame struggled to keep up with the power so its not really surprising that only 1600 were sold during the Turbo's two year life cycle.
Anyone wishing to read more about the KZ1000 turbo can click here.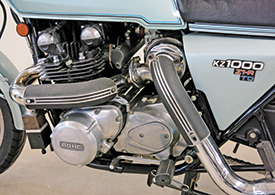 original KZ1000 turbo

mystery ship with the turbo still visible
Vetter launched his new effort with a stated target goal of producing 200 units. The plan was to take the already powerful KZ1000 turbo and upgrade/modify the chassis, add magnesium racing wheels and Yoshimura exhausts and, of course, drastically restyle the bike with a new Vetter designed fairing/bodywork.
So what happened?  1st of all, the asking price for a Vedder was $10,000 USD, which was about three times the price of the unmodified non-turbo KZ1000.   More significantly, this price was still not enough to cover production costs.  The result was only 10 Mystery Ships are recorded as having been actually produced.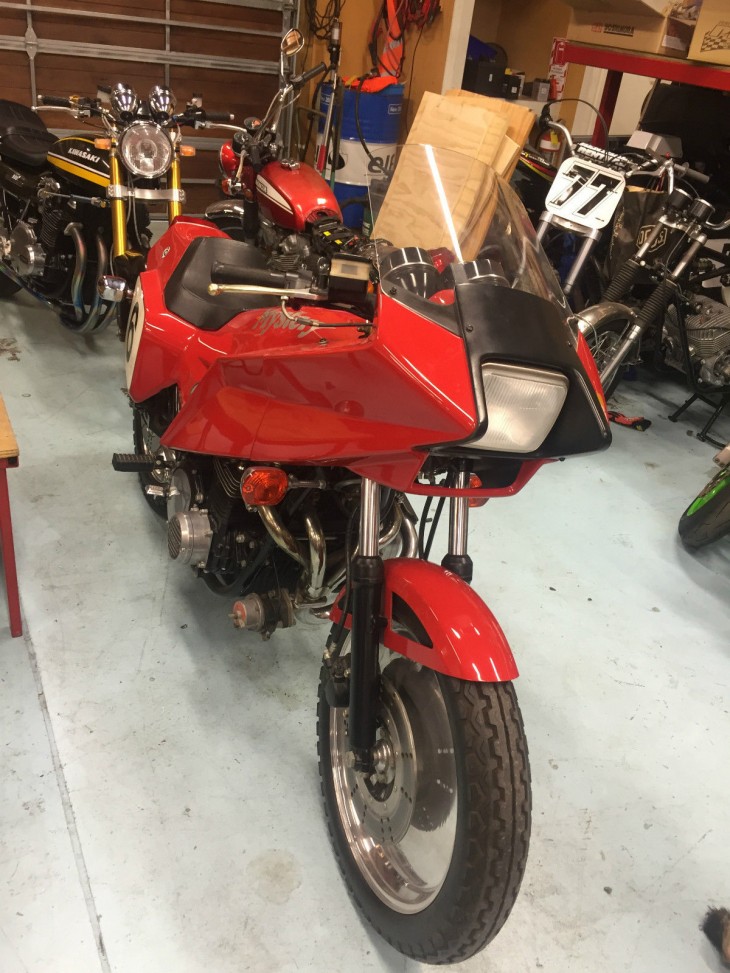 Here is a summary of what the seller has to say:
#6 of 10 Vedder Mystery Ships produced

Has not been ridden since new, only 2 original miles on the clock but 

some slight dis-coloration at the headers

Otherwise condition is exactly as it left the  factory.

Age has added some patina to paint work and switch blocks

Cracked sidewalls of the Tires/TT 100's (probably due to age)
So is this bike worth the $23,500 USD asking price?  Well it meets all 4 major criteria to be considered a rare sport bike; limited production, condition, location and technology but it just doesn't appeal to my collector instinct as anything more that an oddity.  I think it will take a very serious collector or perhaps a curator of a museum like the Solvang or Barber museum for this one to find a new home.
-Marty/Dallaslavowner
Note:  This bike is located in Auckland, New Zealand