The first-generation Aprilia RSV Mille  is a pug-ugly bike. There, I said it. The styling is bulbous and overwrought, with weird, gimmicky details and bits that don't really hang together.
Look, owners and fans can spare me the outraged comments: I really like these, and I'd take one over almost any Japanese sportbike you could name. I'd take "ugly but distinctive" over "pleasing but bland" all week long and twice on Sunday.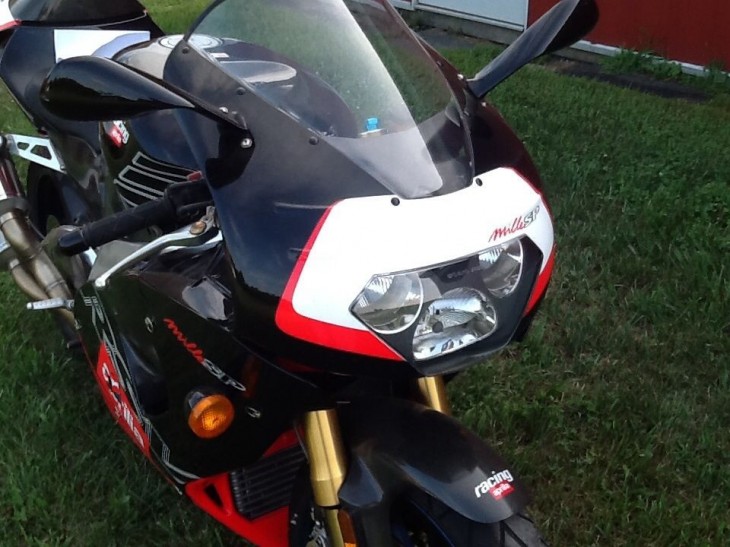 And the disjointed stealth-fighter design is certainly distinctive: there's nothing else like it on the road and, in an era where the easiest way to tell bike brands apart is by what paint jobs they're wearing, a defining corporate style is no small thing. But who cares what it looks like anyway? These things just flat work.
At first glance, it looks very much like Aprilia simply stuffed a big v-twin into their pretty RS250's frame. The bike was designed to compete directly on road and track against Ducati's 916, but Aprilia definitely did its own thing: no perfect primary balance 90° twin here. They went with a very compact 998cc 60° motor from Rotax for packaging, fitted with twin balance shafts to smooth things out.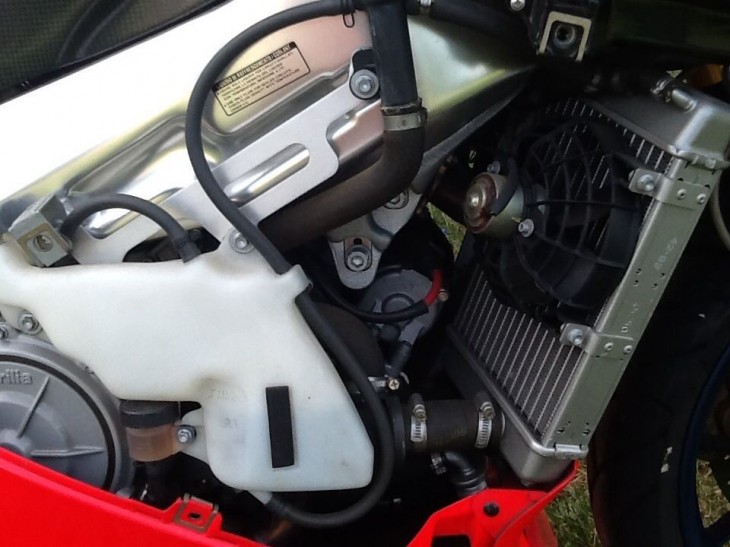 Someday, the styling may be considered classic, but for now the dated looks just mean that prices for these very capable machines are relatively low, considering the performance on tap. This one, however, isn't quite so affordable, and for good reason…
From the original eBay listing: 1999 Aprilia RSV Mille SP
This is a 1999 Aprilia RSV 1000 Mille SP (sport production) number 147 of 150. The Mille SP is one of the rarest Aprilias made, a 1000cc 60 degree V-twin Superbike. Just 150 were built, which was the minimum requirement for Aprilia to enter the Superbike World Championship.  Even fewer made it Stateside.

It's a true homologation bike, not just a body work replica. Nearly every meaningful part is different from the standard Mille. The engine, built with input from Cosworth, has sand cast cases and a different bore and strike. The frame has adjustable engine position, steering head angle and swingarm pivot. Tuning by way of a race chip and not an ECU. The fairing is carbon-fibre. The exhaust is true duels with twin cans. The fuel tank is aluminum and the Öhlins suspension are fully adjustable.   Dry weight is 407lbs (about the same as a Ducati 996R and nearly 70lbs lighter than its sister Mille R.) Horsepower said to be near 150 with a reported top speed of 173.36 mph (versus 167.7 mph for the Mille R and 167.8 for the Ducati 996R).  As far as Aprilia goes, this is the one to have, the first year homologation entry. In 1999, Aprilia finished 6th. (Ducati was 1).

This Aprilia came out of a collection from California and has just 984 original miles. It comes with factory-correct DOT lightweight street wheels (magnesium wheels were not approved by DOT back then). The bike was just serviced by a certified race-proven tech at Eurosports in Coopersburg PA (an Aprilia dealer) and needs nothing.
I love that the SP actually has adjustable engine mounting points. Keep in mind that the SP is not simply a chip-tune and exhaust job. It is in fact a heavily revised, shorter-stroke version with significant input from Cosworth, as mentioned above.
Reliability for the RSV is generally better than equivalent Ducatis and service intervals less frequent. They're also a bit roomier for larger riders, with a slightly more humane riding position. All-in-all, a funky alternative to folks not sold on Ducati hype, or those who believe that appearances are secondary to function.
Or for those who just love bikes with jagged, stealth fighter looks.
-tad