Update 8.27.14: I've been alerted that this bike is now sold. Thanks again for choosing a Featured Listing Ted! -dc
Introduced in 2008, Ducati's Desmosedici RR is perhaps the most collectable of modern Ducatis. Much more than just another WSB homologation-special or a tape-and-paint Repsol Honda, it's a true race-replica sporting a genuine Moto GP V4, detuned slightly for road use.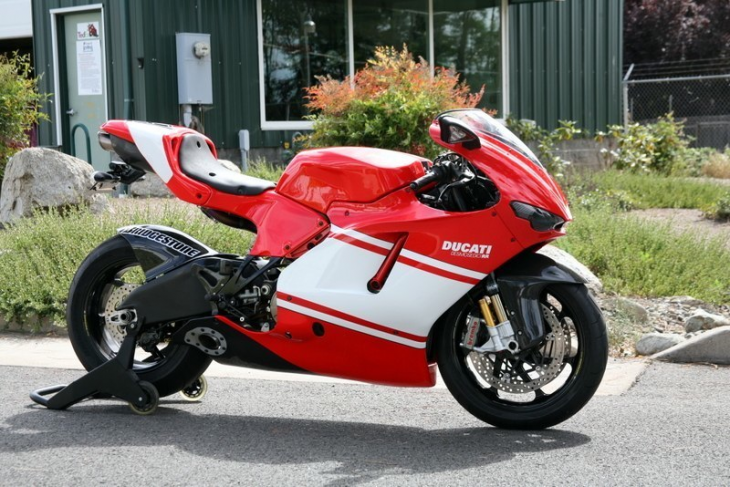 The Desmosedici [literally "Desmodromic Sixteen"] Racing Replica was based on Ducati's moribund GP6 race bike and powered by a 989cc V4 making almost 200hp. Only 1500 were made and considering the price, it's likely many of these have been cocooned in heated garages, displayed in living rooms, or packed away in unopened crates. Which is a real shame with top-shelf suspension, front and rear and a 200-section rear tire, this thing is the closest all but the very elite will ever get to riding a Moto GP motorcycle. A bike where you are the limiting factor.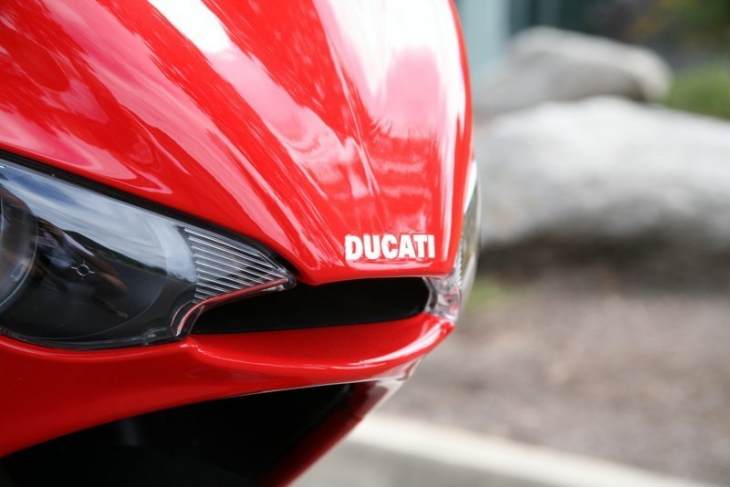 With a funky, catfish-like gaping air intake and bulbous fairings, it may not be the prettiest bike, but while Ducati could have designed a better-looking bike, that would be defeating the whole purpose of the exercise: a true replica of their GP machine, with some detuning for longevity and lights for road use. It was even fitted with an authentic 16.5" rear wheel. Make sure you budget for tires to fit that…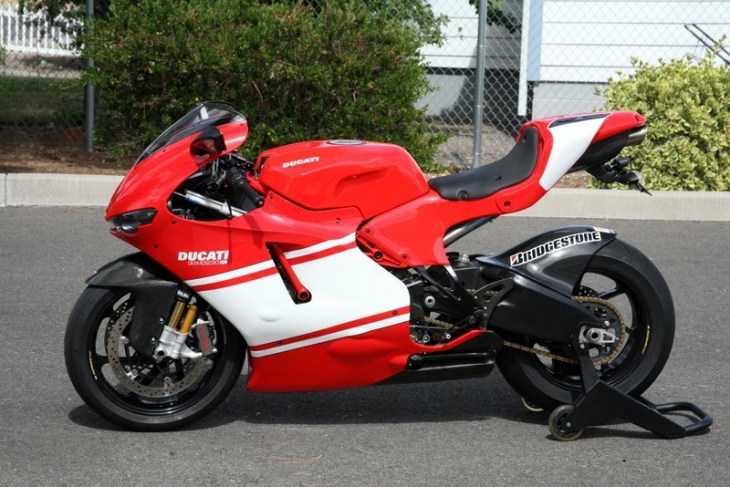 It does look purposeful, like nothing else on the road, and the thundering howl these make, especially with the new exhaust featured on this bike, will quickly erase any doubt about which bike just flashed past you down the main straight of whatever track you're riding.
From the original listing on AutoMania: 2008 Ducati Desmosedici RR for Sale
The motorcycle was purchased new from Moto Corsa in Portland, Oregon by Michael Czysz of MotoCzysz fame. He returned the bike to MC when it had just over 1.600 miles and a local buyer brought it home. 300 miles later, moving has cost him the use of garage space and the bike has to be sold. While in his tenure, the accessory full on Race Exhaust System was installed, requiring the accessory Carbon Fiber Body work, for a mere extra $7,500. New tires were installed and an oil change completed. The $1000 rear stand, cover and books all come with the bike along with the stock exhaust system and body work.
These were originally $70k, with people paying more than that speculating on increasing prices. But this hasn't happened yet, and may not for some time. These seem to trade in the upper $40k's right where this is priced, and that exhaust and bodywork make it that much tastier: the original exhaust exited through the top of the tail section, which is just plain weird. It also makes me wonder how Jason Statham's girlfriend rode on the back during filming of The Expendables…
Fairly priced with less than two-thousand miles on the clock and desirable upgrades. If you've been looking to jump into the Desmo market, this may be your chance.
-tad