Location: Alameda, California
Mileage: 16,460
Price: Auction, BIN $3,499
How about a liter bike that weighs and handles like a 600? Hasn't the goal with the sportbike always been to create the lightest and most powerful package you can? Power to weight. That's where all the secrets lie. Well, the CBR 900RR was Honda's effort to get to that very difficult goal. A complete departure from the CBR 1000, the 900 was a laser-focused race bike that would set a new standard in the sportbike world. It weighed 408 lbs, but packed 122 bhp. It was no heavier than the CBR 600 at the time. Other companies would take years to catch up.
It's also one good looking bike. Check the pics (many more in the auction)-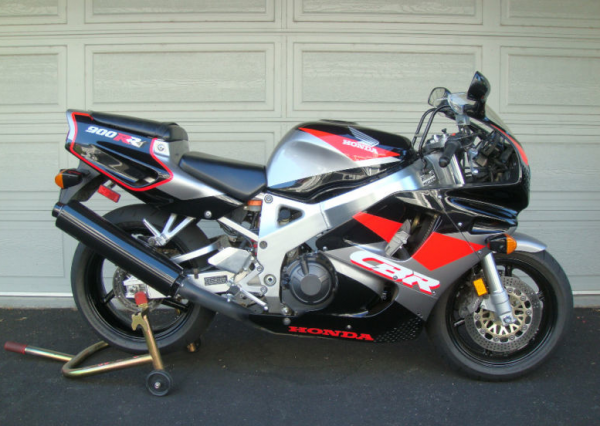 Here's the description from the seller-
Super clean 1993 CBR 900RR. This was a one owner bike originally purchased in Florida (49 state bike) and was recently sold to a shop in Las Vegas. They went through the bike and did a complete service, and also installed new tires. The only thing I did was to put a brand new RK chain on it, just for safety ($165! ). The bike runs great, I've put several hundred miles on it and it performs well, still pulls hard & handles well for a 19 year old bike. All stock right down to the exhaust! This bike carries a clean Florida Title, and I have the bill of sale from the shop in Las Vegas. I'm only selling it to finance a custom build, time to thin the herd! The bike is in excellent original condition, but keep in mind it is 19 years old. Always kept indoors, paint shines like new. There is one minor flaw in the tail, it has a small imperfection about 1″ wide – see pics. Other than that,please look closely at all the pics, that should tell the story. Selling as-is, please be serious & do your homework before you bid! Mileage may go up slightly, as I still ride this about once a week.

Notes: Rear stand in pics is not included. I don't handle shipping, but will gladly work with your shipping company – can be picked up at the local motorcycle shop, which makes it easier for the trucks. Also, bike has not been to a California DMV, should be able to register – it has over the 7500 mile requirement – but buyers are responsible for checking with their DMV BEFORE BIDDING! 
This bike looks to be a bone stock factory version, except the chain and tires. Rare for sure for a bike like this that's 19 years old. The seller also highlights a minor cosmetic flaw as seen in the photos. And while this may not be at the top of everyone's collector's list, I think it has the possibility to hold or increase in value as the year's go on.
This is a clean version of a important bike in the Honda line up and in the history of sportbikes in general. I also think it's a lot of bike for $3500 bucks.
If you agree, make the jump!
-RN