Looking For A Winter Project?  How About A 1987 Suzuki RG250 Gamma?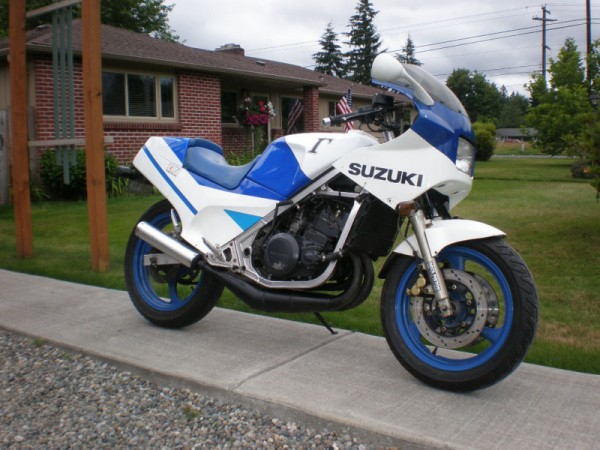 It is not the latest and greatest and it isn't a "10" but it does have the makings of a nice winter  project (aka wife evader).  It is in decent shape, it is mostly stock and complete, it does have a title and there is no reserve.  Read on if intrigued.
They were parallel twins before the V's came along.  Pictures don't tell the whole story but they are a good start.  I'm not noticing a lot of major corrosion but there will be some for sure on various bolts, brackets etc.  Rubber that old tends to be cracked or brittle as well.  Factor in all those little parts you know you will need when making a bid.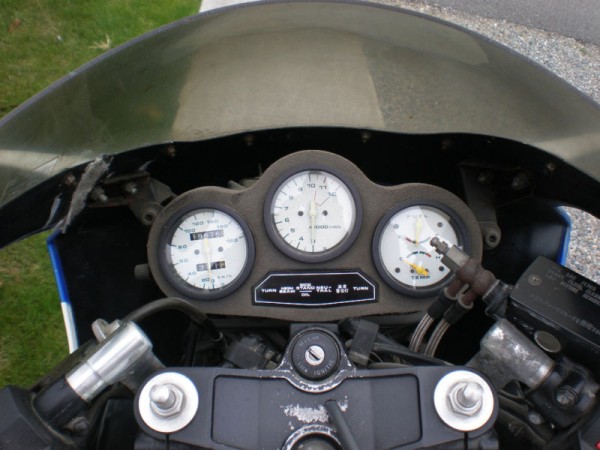 Not showroom quality obviously but not abused either.  If you are curious about parts, there is a decent supply of RG250 parts to be had.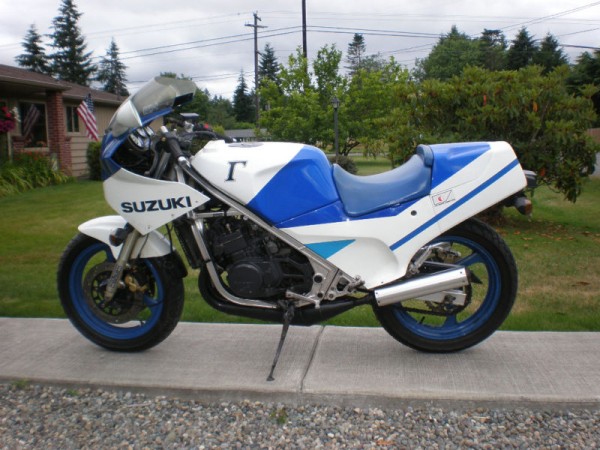 If you do some research I think you will be surprised how many color schemes these things came in.  They included several Walter Wolf versions and my favorite, the HB Suzuki yellow and white.  There were not any major design changes from the RG's inception in 1983 to the last version in 1987.
The RG's details:
This is a rare Suzuki 250 Gamma. It is titled in Washington State as a 1984 but the VIN and the color and the specs indicate it is really a 1987 ( MK4.)
( You may wish to do the research)
I have owned the bike for 12 years. It is a Japanese import which I bought for my son on his 18th birthday. He only rode it for a summer then went to college and after that went overseas.
This is a great little bike. I start it up periodically and it is garaged but I don't ride it often. It runs and sounds great!  The condition is good but it does have some blemishes-it has a scrape on the engine case, ( pictured) a scrape on the exhaust pipe tips, and the lower fairing is missing ( almost impossible to find one)   The upper firing has some cracks and has been repaired. There is an oil leak from the exhaust pipe where it enters the engine but it is small. It only has the single seat. 19,875 kms not miles.
This bike would suit a two stroke enthusiast . It is fun to ride, runs well, and best of all is street legal. Everything works.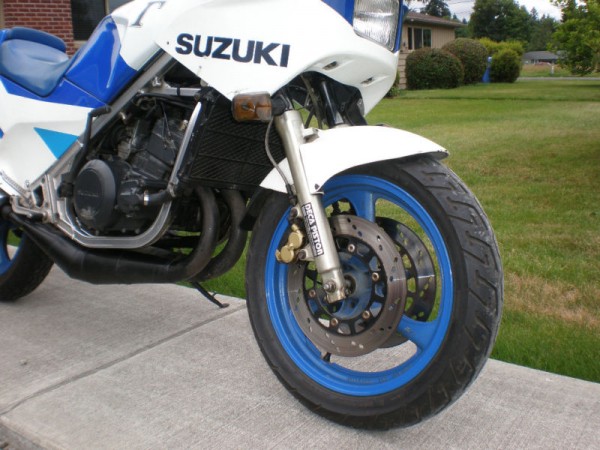 Obviously, if you were interested in this as a project it would all hinge on the price.  It isn't a basket case but if you are doing a full restore you'd have engine work, paint, worn parts and all those pesky clips, brackets, screws and hoses that would need to be replaced.  I'd ask about the missing fairing pieces as well.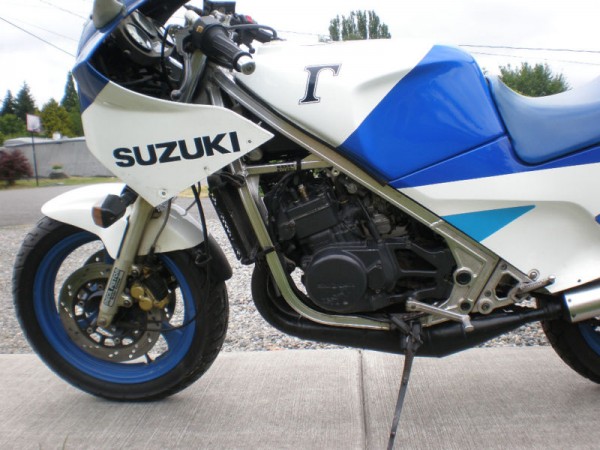 I've never paid too much attention to the older RG250's but I've seen a couple restored recently and they impressed the hell out of me.  If you can stay out of a bidding war on it I think you'd have a diamond in the rough.  Here she is.
Ian