Location: Adell, Wisconsin
Mileage: 28,500
Price: Auction, BIN $2,650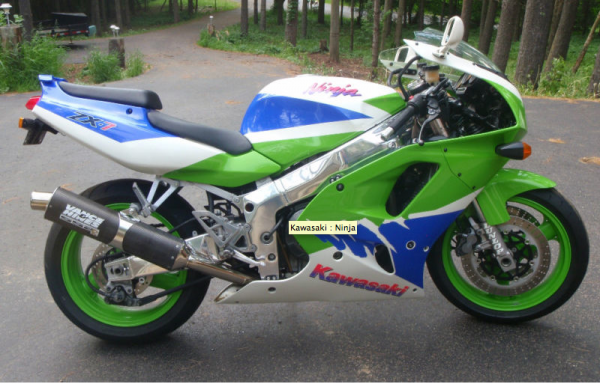 Nope, this isn't the famed ZX-7R (posted earlier this week on RSBFS by Andrew) for sale in this auction. This is the factory non-homolgated ZX-7 that Kawasaki produced in 1993. So why is it being posted on RSBFS? Well, while the ZX-7R is a special machine, they are also not the easiest street bike to own and command significantly more money than this. With this bike you get the great paint/graphics and a bike that will still be fun to ride (107 bhp at 10,500 rpm and 453 lbs. curb weight) for a great price. This bike was big news when it was introduced in '89 and clean versions aren't exactly flooding the streets these days either.
Check out these pics-
Here's a rundown from the seller on this bike-
This well maintained and great condition 1993 Kawasaki ZX-7 has provided me with awesome riding since I purchased it used in the summer of 1999.I am reluctantly selling this great cycle because I have reached an age that the aggressive sport/racing oriented geometry & riding position is no longer comfortable. I will be sad to see it go but I need to sell it to get a new "old fart" cycle.

Upgrades & Modifications
1. Polished frame & swingarm
2. Full Vance & Hince SSR2 exhaust with carbon fiber canister
3. Factory Pro Stage 1 jet kit
4. K&N air filter
5. Accel super coils & plug wires
6. Targa light green windscreen
7. Polished aluminum bars ends
8. Carbon fiber fork crown cover
9. Carbon fiber instrument cluster surround
10. Braided stainless steel clutch cable
11. Rear fender removed & small turn signals installed

Maintenance
1. New Dunlop Sportmax Q2 front tire — Fall 2010
2. New Dunlop Sportmax Q2 rear tire — Fall 2009
3. New EBC front brake pads — Fall 2010
4. Refurbished front rotors — Fall 2010
5. Carburetor rebuild except diaphragms (they were still in good condition) — Fall 2010
6. New chain — Fall 2009
7. New front sprocket — Fall 2009
8. Front & rear brake lines completely flushed — Fall 2010
9. Clutch line completely flushed — Fall 2010
10. Coolant completely flushed — Fall 2010
11. Oil changed at least twice a season with Amsoil Synthetic Motorcycle oil 10w-40
12. Air filter cleaned & oiled at least once a season

Extras
1. Original owners manual
2. Clymer service manual
3. New 15 tooth front sprocket
4. Remaining parts of Factory Pro jet kit
Cosmetic Defects – Please Refer to Pictures for Details
1. Rear seat as 2mm crack
2. Rear wing/handle as some paint rubbed off from bungee cords
3. Windscreen is crack on right side by first mounting bolt
4. Several other nicks and scratches
The seller does nice job of highlighting the mods to the bike above and also the small cosmetic issues. This bike probably won't ever command the kind of value the R model does for collectors but at the same time could continue to increase in value, so modifications should be taken into account. The mileage on the bike is getting up there too. Making sure it runs strong is important although the maintenance on the bike looks to be solid.
Again, I view this bike as an opportunity to get into something that looks great and still represents a great era for the sportbike for relatively little cost. If the bike speaks to you as well, make the jump!
-RN