Warning!
This post is in our archives. Links in this post have been updated to point to similar bikes available to bid on eBay.
Every post will be sent right to your inbox every morning when new posts are made. We will never sell our list or spam you. Plus you can click links to bid or buy right from the email and skip the site entirely. Subscribe to Rare SportBikes For Sale today!
The water-cooled Monster S4RS was a great engine in search of a bike. It was spawned from the original Monster that was itself the proverbial Franken-bike: frame from an 888, suspension and wheels from the 900SS-CR, and a dash that looks like someone ripped the idiot light cluster straight out of a Fiat. They've got very poor steering lock, thanks to that superbike frame, they're terrible for highway riding, and only seem to fit you if you're  5'8″… But they were an affordable, almost practical way into Ducati ownership, and were originally powered by the classic air-cooled L-twin engine that had all the performance most riders would ever need.
So when they sold like the proverbial hotcakes, Ducati of course had to up their game, adding carbon bits and adjustable suspension for the "S" model and number of limited editions. Eventually, they gave the fans what they'd been clamoring for by sticking the water-cooled four-valve engine into the bike to keep it competitive compared to more modern alternatives from Triumph and KTM.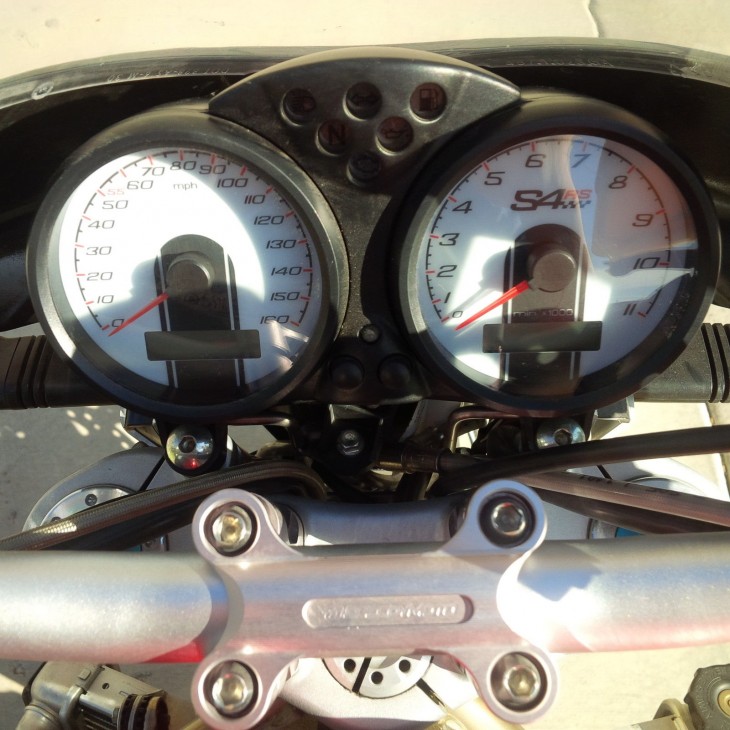 But to me, that's when the bike really jumped the shark. Obviously, a water-cooled engine needs a radiator, and then the RS version added a very trick, but still sort of tacked-on-looking oil cooler below the not-so-trick-looking radiator. And all those extra bits and associated plumbing looked like the afterthoughts they were, cluttering up what was originally a pretty clean design.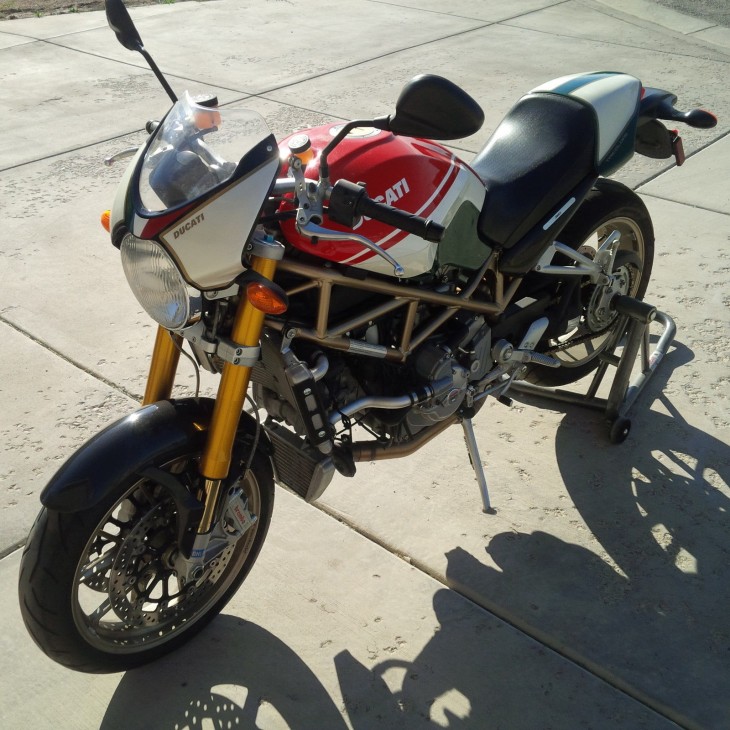 And then there's the handling. While other bikes got the sport naked package right, the Monster RS didn't quite live up to the hype, in spite of top-flight Öhlins front and rear and superbike brakes. Basically, the 130hp 998cc Testastretta engine overwhelmed the chassis, making riding the bike less of a dance and more a back-alley street fight. And I mean, what's really the point of a 150mph naked bike? Aside from bragging rights?
From the original eBay listing: 2008 Ducati Monster S4RS for Sale
This is a 2008 Ducati, S4R Tricolore Testastretta.  This is a very rare bike, and to my knowledge is the only model in Utah or surrounding states. There were only 400 of these motorcycles produced in 2008.  This bike is number 52, as verified by the tag over the alternator cover.

This is a 999S, fully liquid cooled engine, Brembo brakes.  Mileage is a little over 18K.  Tires have approximately 85 miles on them.  They are Pirelli Diablo Rosso II's.  Pipe for Termignoni black carbon fiber pipes.  Chain is new and tight zero rust.  

This bike has never seen rain.  Stored inside and covered during winter months.  No damage, never been in an accident, layed down or tipped over.  All scheduled maintenance performed on or before schedule date by authorized Ducati mechanic.  

Includes bike storage stand

THIS IS A GREAT BIKE.
The parts that went into the S4 didn't quite gel into a complete motorcycle and, unless posing and wheelies are your game, the water-cooled Monsters might prove a bit of a disappointment. Fine, if that's what you're into, since the S4RS is very good at both activities. But there are better choices out there if you want a fast, naked twin.
That being said, the Tricolore S4RS is really the best-looking of the water-cooled Monsters, and this one looks like it's in extremely nice condition. It comes with a pair of shotgun Termignoni pipes already on the bike which, to my ear, sound much better than the Arrows often fitted. It otherwise appears to be completely stock, and that factory rear fender has my right hand itching to grab a hacksaw… The miles aren't the lowest, but Ducati engines can last a long time when well-maintained.
Unfortunately, there's been zero interest in the bike so far, with just about a day left on the auction and no takers yet at a $7,850.00 starting bid. I think these will one day have some real value but right now, prices of the early Monsters have bottomed out, possibly dragging these down with them.
-tad