Update 6.2.2013: SOLD!
Update 3.24.2013: This stunning DB5 R is being relisted for consideration after previously being listed last March. Owner has included a more thorough description and is selling directly. Good luck with the sale Chris!
Chris emailed to alert us that his gorgeous DB5 R is now available from his private collection. Only the R models got the tri-color paint scheme and under that paint scheme is a carbon fiber fairing also exclusive the R. The lightweight OZ wheels are also part of that package.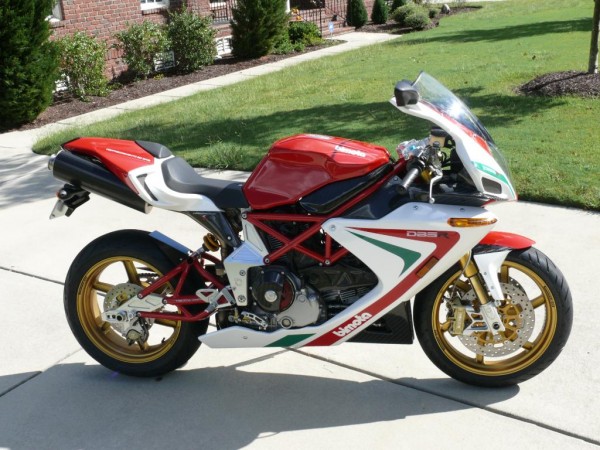 We've posted a handful of DB5 R's previously and the $19,995 asking price is in line with what we've seen historically. And in keeping with the usual Bimota theme on RSBFS, this bike sports a mere 2900 miles.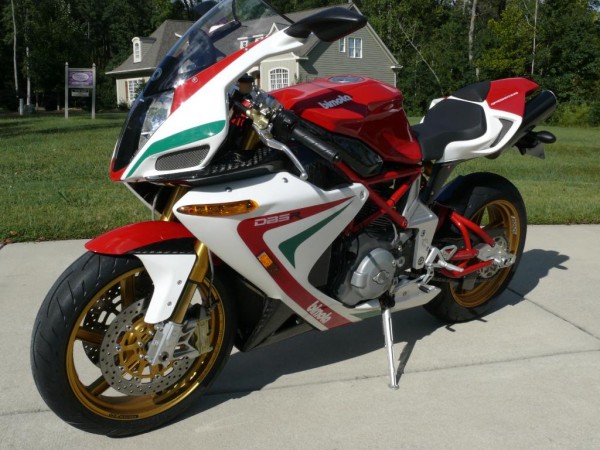 The seller's quote:
2006 Bimota DB5-R

Like new original condition in pearl white, red and green Tri-color. Bone stock with no modifications or enhancements. Bimota registry number 77

All original paint in spotless condition without a mark or scratch anywhere. Laser cut 3M protective film covers most of the bike and can be easy removed if desired. Brand new Metzeler Sportec M5 Tires. Always garaged and covered on a battery tender and exercised every 6 weeks.

I have all the books, documentation, certificate of origin and extra un-used key as well as the original silk Bimota factory cover.

I am a long term multiple Bimota owner and collector. This is a very rare piece and will not be easy to find in this condition. I have taken very good care of this bike for about 3 years

We have many more detailed photos that we will be happy to send or provide any specific photos that you may be looking for.

Miles: 2,663
Cliff notes on the DB5 R:
– utilizes the 1000DS V-Twin from Ducati, which is good for about 90hp. Not a lot but only weights 370lbs!
– designed by Roberto Commini who also penned the V Due.
– adjustable Ohlins suspension.
– nearly $40k new.
Good luck with the sale Chris!
dc