Yamaha continued developing and racing the YZF750 after the hallowed OW-01 with good results, even though the -SP homologation special never made it here with a motor vehicle title, they showed up as race machines on a bill of sale.  This street registered Canadian example has around 25,000 miles but a newly rebuilt engine.
With revised cams and 39mm flat slide carburetors, Yamaha's 749cc Genesis engine delivered 125 hp, great for the era.  The alloy chassis sports a monoposto alloy seat console, and fully adjustable suspension.  320mm brakes came with 6-piston calipers and reviewed as magical.  "Torn paper" graphics were all the rage and look complete despite a note in the listing.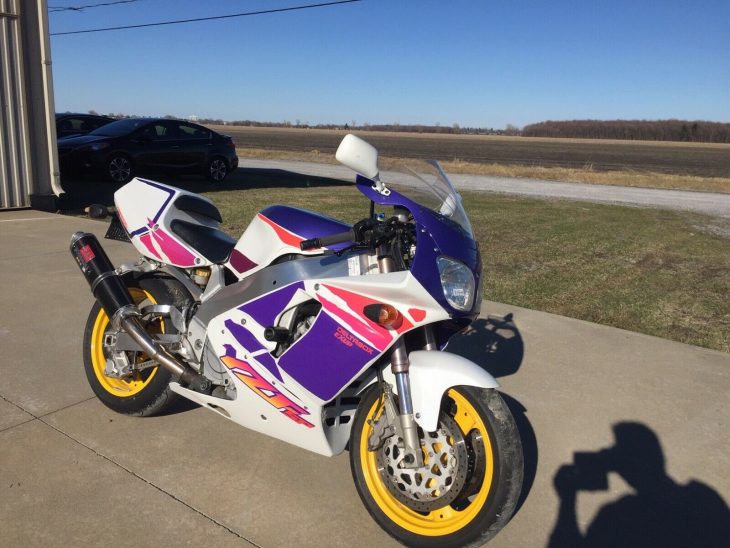 Just a few pictures will require investigation, but it does look worthy of the time.  With Canadian registry, the owner had the engine done in suburban Montreal, but maybe the Vermont location suggests free delivery to our northern border.  Normally an owner would be advised against refreshing and engine just before a sale, but that makes it intriguing.  Comments from the eBay auction:
Yamaha YZF750sp 1994.

This is the only ONE registered in Canada.

Engine refreshed by Luc Lapièrre from Moto RL in Saint-Jude Quebec.

The motor has less than 1,000 km on it. (600 miles)

The bike has 40,000km and it is all ORIGINAL. (25,000 miles)
Testers gigged the SP for a balky powerband and turn-in that needed a firm hand.  Remembering that this bike was intended for private race teams to acquire and modify to the limits of the rules, it makes more sense.  Engines would be blueprinted to accommodate what the carbs were feeding, and race-tuning the suspension and slick tires made it handle as intended.  But carefully set up for the road ( and with evident engine work ) this one might be all you could ask in a mid-size superbike.
-donn