Warning!
This post is in our archives. Links in this post have been updated to point to similar bikes available to bid on eBay.

Location: Greenwood Village, Colorado

Mileage: 9 (Nine)

Price: Currently $25,200 with Reserve in place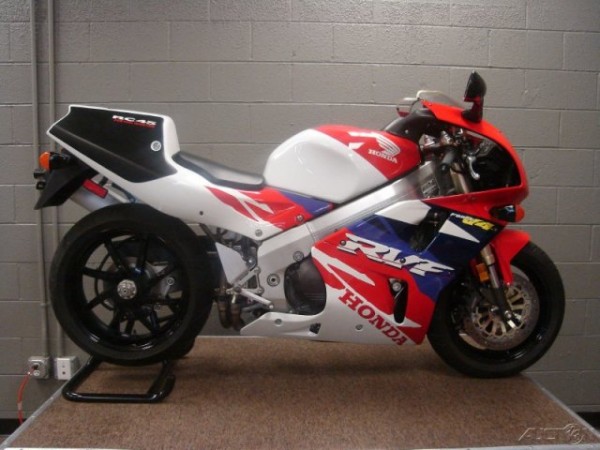 Are you looking for a serious collector's bike? Then look no further than this RC45 currently up for grabs. First let's get into a little background for those not so familiar with the RVF750R, so bear with me. In 1994, the beloved RC30 was near the end of its prime against other superbikes and Honda needed an answer quick. Since the World Endurance and IOM TT series were being held to Superbike rules, Honda's RVF750 race bikes needed homologating in order for it to continue racing. It was out of this that the RC45 was spawned. In 1994, 200 RVF750Rs were produced world wide with only 50 making their way to the States and some 20 or so bikes being immediately delivered to private race teams. You do the math on that one. Limited number of bikes + 18 years – wrecked bikes = rare. RC45 guys definitely have the edge over the RC30 guys in the production numbers argument.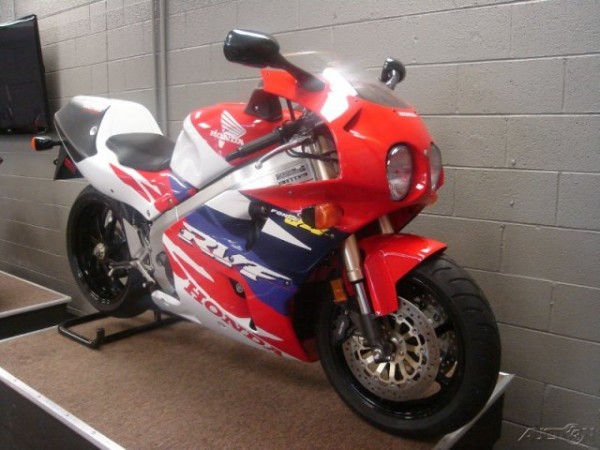 In standard US trim, the RC45 was cranking out 101hp where as the Euro version was making 118. However, since the RVF had adopted a more modern and race friendly fuel injection, a reprogramming to the bikes FI system allowed the US model to reach its Euro counterpart's numbers. Honda also dropped full-blown race kits for the RC45 at the time of its release. With most homologations, its street prowess meant nothing to Honda as it was intended to win races, not negotiate potholes. On the street, the RC45 wasn't much better than the RC30. But on the track it had way more potential with its modern parts. However, the RC45 never achieved the level of racing success as the RC30 did in its time.
It's hard to say much about the particular bike for sale in terms of its originality and cleanliness. It has 9 miles on it and looks to be as brand new as them come. Only having Zero miles on the odometer would make it "cooler" if you will. Also, the bike appears to be #9 off the production line as indicated by its VIN plate.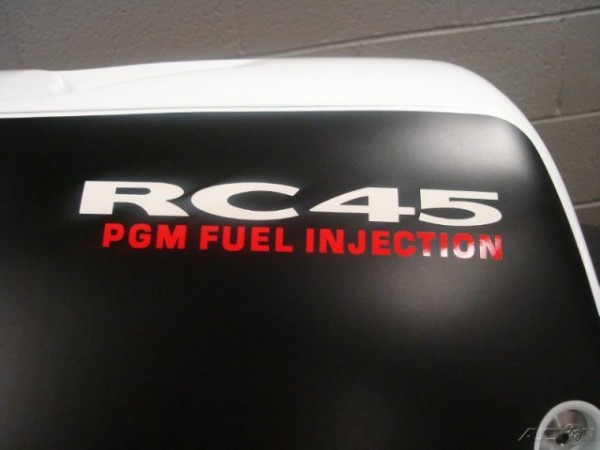 There you have it; a super-rare homologated production bike with almost non-existent mileage and a low production number. The opening bid is $25k with the Reserve still firmly in place. Nearly two years ago, we posted a Zero mile RC45 for sale in the UK that had an asking price of $39k. You can bet that this bike won't be given away, because someone had the discipline to hold onto it for nearly 20 years and put only 9 miles on it. My only gripe is that more and higher-resolution pictures are a must, not only for a potential buyer, but for the rest of us who like to drool. Check out the auction here and make it yours today!