We just had a nice RC45 here on RSBFS last week and given the rarity of these it's a bit of a surprise that another one has popped up for sale so soon.  While the previous bike was a gray import bike offered by a dealer in Florida, this one looks to be a US bike currently owned by a collector.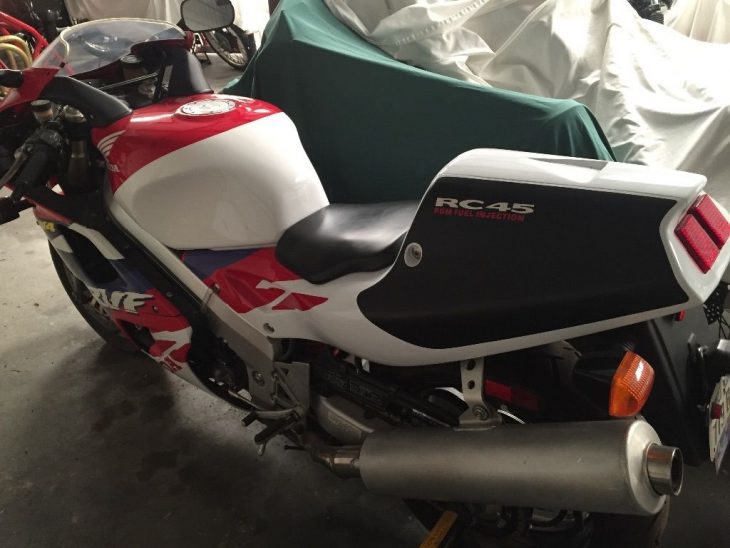 As noted in the post from last week, the RVF750R (also known as the RC45) was introduced in 1994 as the successor to the epic RC30 and was a true homologation bike.  The RC45 came with a 749cc V4 engine containing titanium rods, ceramic-lined cylinder walls and gear driven cams, as well as a new fuel injection system and a race-ready single-sided rear swingarm.
The RC45 was a good bike on the track, being ridden to championships in 1997 and 1998.  But reviewers/riders found the bike a bit of a letdown on the street, mostly due to it being tuned to only produce around 110bhp for the U.S. version and the race gearbox having a very tall 1st gear. Consider the following review from motorcyclenews:
"Like the race version, Honda's road-going RC45 doesn't quite hit the spot, but it's still an impressive piece of exquisite engineering. As the ultimate '90s Superbike, the Honda RC45 lacks the pure focus of a Yamaha R1, the visceral punch of a Ducati 916 or the exotic edginess of a Bimota SB6R. Also, people might think your Honda RC45 is a Honda RVF400 NC35 from a distance…"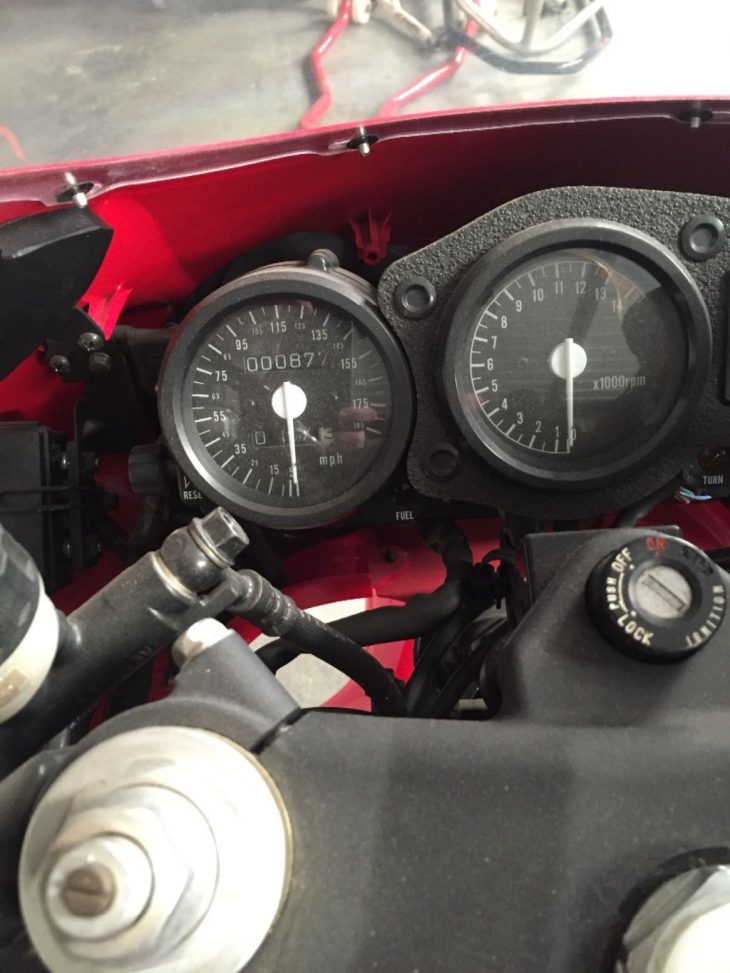 Mileage on this one is a low 877 according to the seller.  Unfortunately no other maintenance info is provided.  Based on the dust and color of the clutch reservoir fluid, I would bet that the bike has been standing for quite a few years and would require a thorough refresh including tires.
By the pics provided the bike looks to have been part of a serious collection.  Initial bid price is $40,000 USD with reserve not met. That price seems to be inline with what we have seen these go for in the past, even with the expected additional cost of a freshening.  Also given the rarity of these bikes, I wouldn't expect the price to drop below the opening bid.
It seems like the RC45 doesn't ring the emotional bells for a lot of collectors in the same way the RC30 did.  This one is certainly in excellent condition and is probably a good investment for a serious collector, but I wish there were a few more pics and comments by the seller.
-Marty/Dallaslavowner