Located in San Francisco, California is a titled and registered 1994 Honda RVF400R.  It looks to be in very good condition, it has gone down in the past but has been professionally repaired.  This RVF has 16,500km (10,252mi).  See sellers listing below:
Excellent Condition

Red/White/Blue
16.5K Kilometers (10k miles)
Stock
Valve adjusted (11/11/2009)
Carb cleaned (11/11)
New spark plugs (11/11)
New Petcock (11/11)
New Battery (06/12)
New Rectifier (08/05)
Oil changed (11/05)
New Fairings
Traxton front and rear suspension

Extras:

Rashed RVF aftermarket race fairings
dented, but funtional; gas tank
Pit-Bull stand
8 new spark plugs
Spare Petcock
Spare rectifier
New air filter kit
Extra seat
Hanes RVF Manuel
And some quick history of this particular bike:
I purchased this bike in May 2009. I rode it 5 times before letting it sit in my garage for 6 months.

I recently brought my RVF to BRG Racing in Concord, Ca for service (11/11), being that it was stored for 6 months. The owner KC and mechanics cleaned the carbs, adjusted the valves and put in new spark plugs. The RVF ran better than when I first purchased it.

I have logged a total of 350 miles since my 04/09 purchase. My work consumes me, so I really have no time to ride.

History emailed by previous owner:

It went down at Laguna Seca 5 years ago. Computrak measured and
Straightened(Front forks only…No frame damage) it so it is as good as new (have the receipt from them).
Bodywork is brand new. Tank was replaced after the crash (dented tank
Included along with the track plastic) but over the last 5 years has a few
Marks on it and one small paint chip (which my wife touched up with Subaru
Touch-up paint). The plastic is immaculate (it was all replaced after the
Crash). For a 15 yr old bike I think it's in fantastic shape.
The asking price is $5,700.  So, the bike has some history, but it does look to get in great condition now.  How does it's history change it's current value?  See the bike on Bay Area Riders Forum here.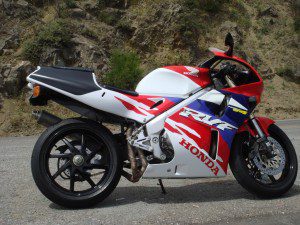 AG