Warning!
This post is in our archives. Links in this post have been updated to point to similar bikes available to bid on eBay.

Update 2.17.2017: Last posted in August of last year, this bike reached $34,101 reserve not met. Back on eBay and closes on Sunday. Links updated. -dc
Prior to the RG500, two-strokes were found only in the smaller racing classes, and Suzuki was breaking new ground with this bike: no one had ever really built a two-stroke to challenge bikes in the premier class. Launched in 1974, Suzuki's RG500 racing machine was impressively successful: with a Manufacturer's Title in 1976, the bike dominated Grand Prix racing for the next decade. That success drove the move to two-strokes for any manufacturer who wanted to remain relevant in Grand Prix racing, and two-strokes were the only game in town until rules changes for the 2002 season made four-strokes competitive again.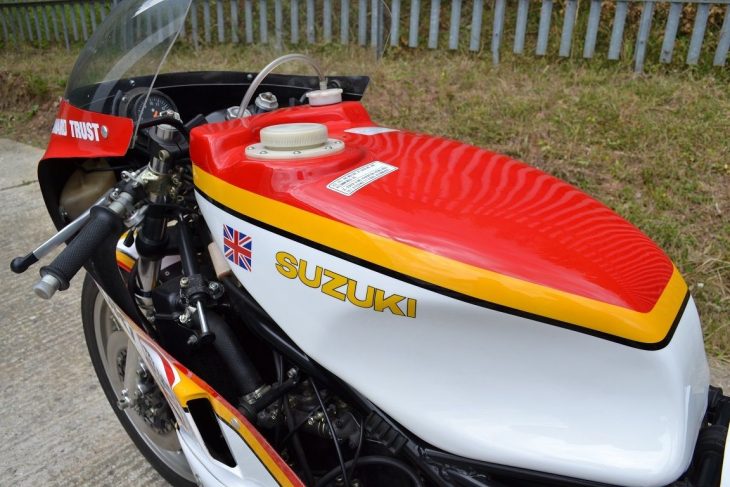 Power was no problem for the new, liquid-cooled engine, and the same lessons learned racing smaller bikes were scaled up for the square-four. But while four-strokes generally deliver their power in a smooth, progressive manner, two-strokes are notoriously on/off devices: a stumbling mess when "off the pipe" with an abrupt powerband like a jagged, lethal spike, characteristics only exacerbated by the dramatic displacement increase: early bikes ate chains, tires, and other consumables at an alarming rate, although development eventually cured these problems.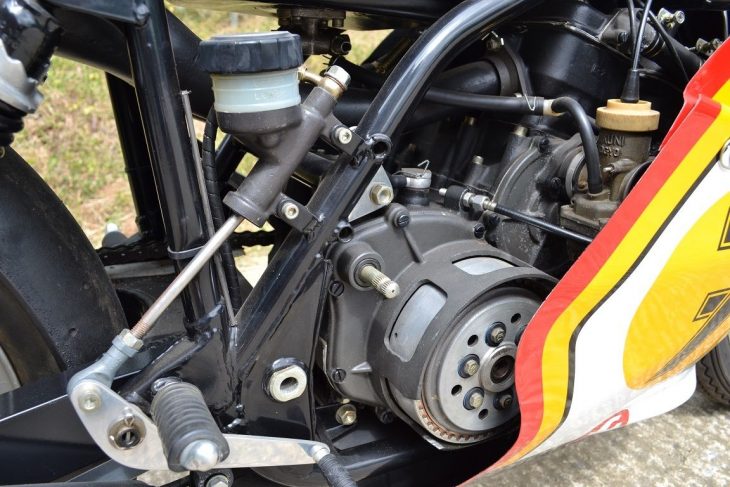 Early motors produced 110hp and used front and rear banks of cylinders that were the same height, but the later bikes saw the front bank a bit lower than the rear for the "stepped" motor that gave 124 hp for the 238lb machine. This 1977 machine is probably of the earlier type, although it's hard to tell for sure with the fairings in place. Either way, this is a very light, very fast motorcycle. And that's really always been the appeal of the two-stroke: simplicity, extreme light weight, and massive power for a given displacement.
With the introduction of the new Suter MMX500, two-strokes have been heavily featured in the motorcycle press recently, and it's been interesting to read how many mechanics and riders loved preferred them to four-stroke machines: riders loved them for their light weight and challenging nature, mechanics for their simplicity and tunability.
From the original eBay listing: 1977 Suzuki RG500 Race Bike for Sale
Suzuki RG500 GP MK2 ex-Newbold, model year 1977, VIN 110077

An ICONIC RG500 version 1977 in the best paintwork scheme ever. It is an ex-John Newbold bike with all the correct standard original bits plus some works parts (tank etc). The bike was campaigned by Newbold in the Shell Sport 500 TT races beetween 1979/1981 and North West 200. It was completely restored by John Mossey who bought it in 1995 from a gentleman in Cardiff and sold then in 1997. It was just kept as showbike in collection since.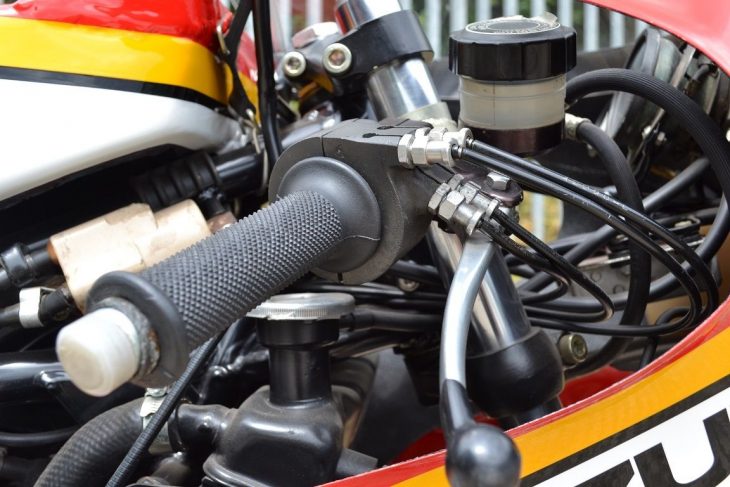 Bidding on the last couple of RG500 race bikes got up to between $26,000 and $44,000 although those were later bikes, and an individual bike's race history can make a huge difference in terms of value. Bidding for this one is up north of $22,000 with plenty of interest, but very little time left on the listing. Sitting in a collection means it's in amazing physical condition, although it will probably need extensive work if you plan to use it in anger…
-tad