Although small-displacement two-stroke sportbikes like this Honda NSR250R have been finding their way over to the US in shipping containers and across the border from Canada for a while now, they're still relatively rare here and can be difficult to register for road use. This one is titled in Washington State, so that should help ease the transition to wherever you happen to be, but buyers in states where the DMV has no sense of humor should obviously tread carefully. Unless you "know a guy…"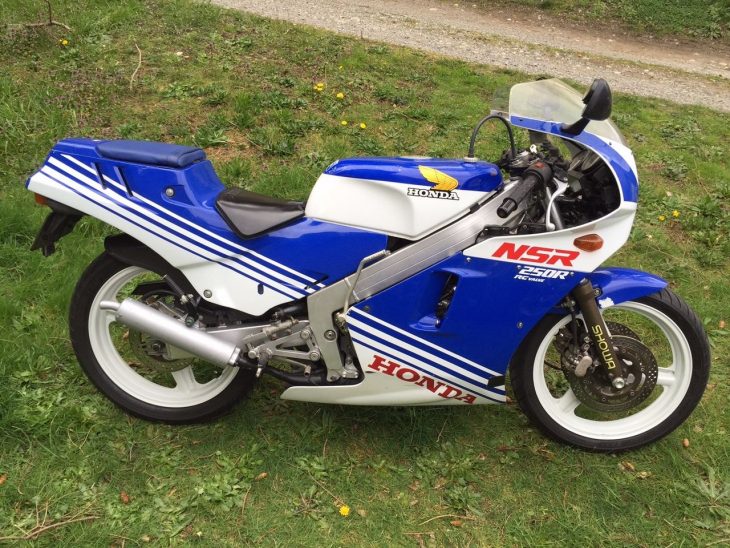 The NSR250R used a 54mm x 54.5mm two-stroke v-twin with liquid-cooling and Honda's Automatic Torque Amplification Chamber that varied exhaust system volume to increase low-end torque, a major benefit for a small-displacement two-stroke intended for use on the street. The bike also featured a trick cassette-style six-speed gearbox for quick changes at the track. Obviously not of much use on the street unless you're really hard on the machinery, but still cool when bragging to your friends.
The cast aluminum frame and aluminum swingarm were designed to keep weight low and the bike weighs in at under 300lbs dry, which means that, although power is modest, performance really isn't, and well-ridden NSRs can hang with much bigger machines in the canyons and on tracks that stress handling over straight-line speed.
From the original eBay listing: 1986 Honda NSR250R for Sale
Legally imported from Canada with valid Washington State title in hand.  This bike has always been stored inside and does NOT show normal sun damage like other vehicles of this age.  The engine was completely rebuilt about 1000 miles ago after sitting in storage for about 15 years.  I have close to $1000 in receipts from the rebuild and the engine looks and runs like new.  The rebuild included all new gaskets, soda blasting of all cast parts, boiled out and re-painted radiator, new set of silicon coolant hoses, rebuilt carb., etc.  the bike has newer Avon tires that were installed after the rebuild and are still nice and soft with lots of tread.  The only issues with the bike are more or less isolated to the fuel tank and can be seen in the photos, I am not sure how the damage occurred, it was like that when I bought the bike.  There is also a small area of missing color on the right side of the front fender and can also be seen in the photos.  This bike is super fun to ride and will always put a smile on your face. 
Bidding is active and up to just $2,775 with very little time left on the auction. I was under the impression that the first NSR250R MC16 was released as a 1987 model-year bike, although it's possible that this is from the first run of bikes that were sold in late 1986. Cosmetically, the bike does have some scuffs and dings, but nothing that you wouldn't expect from a bike that's thirty years old, and that set of brilliant blue Samco silicone hoses suggest that at least you won't have to worry about coolant leaking out of your little sportbike!
-tad