I was originally going to title this post "what are you smoking?" for one very good reason: The BIN on this bike is $10,450. Yes, you read that right. Nearly ten-five for a RZ350 seems a bit excessive on the face of it (not quite as excessive as the RZ with only 5 miles offered for $20k), but this seller has done a very good job laying out the details of the ride. And with the RZ market getting hotter by the day, perhaps the only thing being smoked here is castor oil – by the bike.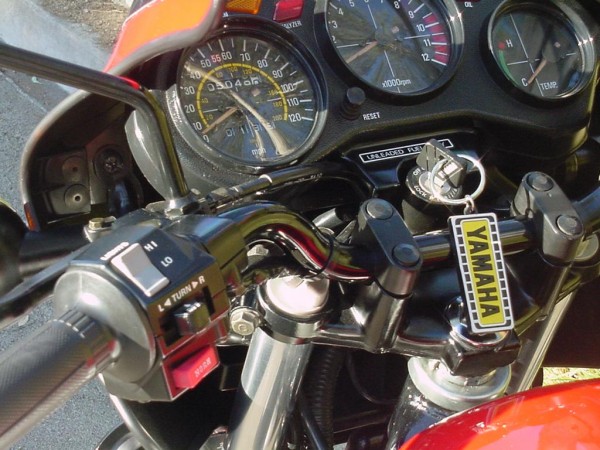 From the seller:
My long time customer has decided to sell his 2-stroke collection. He is a collector of museum quality bikes. He has ridden this bike less than 200 miles since he bought it in 2010. This bike rides like a dream with the upgrades it has. This is not your run of the mill RZ350 that is out there which quite often is in need of much neglected service. This on the other hand is an absolute pleasure to ride. It is like riding a brand new RZ350 only better because it has suspension now that works and it has a well tuned motor with expansion chambers.

Now is your chance to own a show quality RZ350. They simply are impossible to find in this condition outside of being in a crate. Speaking of crated RZ350's, the last one sold for $18K on ebay in November of 2012. Obviously at that price it is for show only. I have all the details on that one if you want more information on that auction. This RZ350 on the other hand is ready to ride.

Trust me when I say I have seen a lot of RZ350's. I have inspected every detail of this RZ350. For as long I've been in business I've only seen three other RZ350's that even come close to being as immaculate as this bike is. Especially when you are talking about being for the most part all original. Bare in mind this is no ground up restoration but rather a flawless original which is way more difficult to find and nearly impossible to duplicate.

Attached is the information on the bike that I put together when It was originally sold three years ago. It's virtually in the same condition as it was when I sold it to him except that he has added new tires, a battery and recently had the carburetors cleaned.

The bike has in excess of $4K in upgrades alone. The front forks, exhaust, rear shock and other improvements are listed below. I do have the invoice for all of the work and will send it to interested parties. All of the modifications are tastefully done and do not negatively affect the look. The bike looks like it rolled off the showroom floor the way it is. So you have a bike that has been vastly improved but done to look as if it was made this way by Yamaha.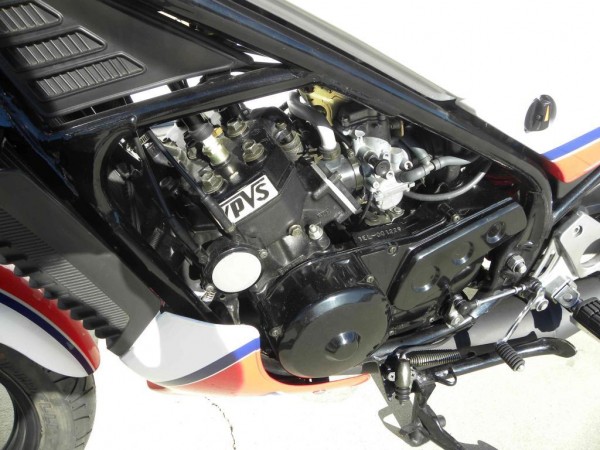 More from the seller:
Bike History:
I know the original owner in Northern California who had it for 20 years with less than 2 miles. All he would do was start it occasionally and ride it up and down his street to keep it in good shape. It was covered and stored indoors all of the time. He finally sold it to a guy who wanted a NEW 84 red, white and blue paint scheme RZ350 but could not find one. Once he got the bike he bought the tank and every body panel except the front fender brand new in the 84 red, white and blue paint scheme. The wheels are powder coated black.

It looks so good with the black frame that I think Yamaha should have offered it this way for the USA market as they did indeed for other world markets. The bike is clean enough to show at any venue and win easily. It has never been crashed or dropped. I would say the bike is a solid 9.9. It starts up easily and runs fantastic. A RZ350 in this condition is next to impossible to find. It is truly a collectors dream bike considering how flawless it is and how well it rides with all of the upgrades.

Service History:

The front & rear brakes have been rebuilt and bleed using the stock lines and EBC brake pads.

Avon Super Venom tires size 120/80 and 100/90 installed.

Our High Performance Fork Upgrade including Race Tech Emulators and Eibach straight-rate springs was performed.

One of the last New Fox shocks ever made with ride height adjustment was installed.
The suspension is setup for a 200 – 240 pound rider weight.

All fuel and oil hoses have been replaced with OEM Yamaha parts.

The steering bearings have been upgraded with tapered bearings and the steering stops have been modified. They are now adjustable which prevents the handlebar controls from coming dangerously too close to the fuel tank. This is a very common problem with all RZ350s.

Famous John Lassak Chambers built from the original jig by Tommy Crawford and customized to fit the frame better. Notice the amount of space between the lower fairing and the pipes. This will help preserve the lower fairing and protect it from the heat normally associated with other chambers which come much closer to the fairing. This pair is one of the last he ever built. He is now retired from pipe building so these are quite collectable.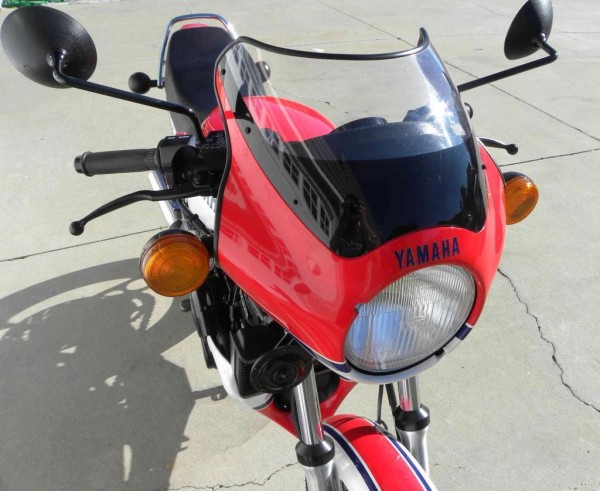 So we have a nicely updated, basically gorgeous RZ350. These were certainly not expensive in the day, but prices on these collectable two strokes is on the rise. What is interesting is that this was originally a black/yellow bike, and the previous owner spend considerable time and dollars to convert it to the red/white livery. While it does look good, I'm not sure most buyers would want to foot the bill for that. The rest of the modifications look to be worthwhile, unless you are looking for a stock bike to collect.
I'll let the RSBFS readers decide if the upgrades on this bike make it worthy of the premium being asked. RZs are still common enough where any internet search will provide more than a few bikes, in various states of modifications and conditions. It is a given that a used bike in good condition will always bring in more money than a basket case – and this bike does look good. Check out all of the pictures and details here, and then let us know your thoughts. Is $10,450 the new asking price for a clean RZ350?
MI