Location: Dover, Delaware
Mileage: 10,624
Price: Auction, currently $2,629
Seller: Another fine offering from RSBFS sponsor, SpeedWerks!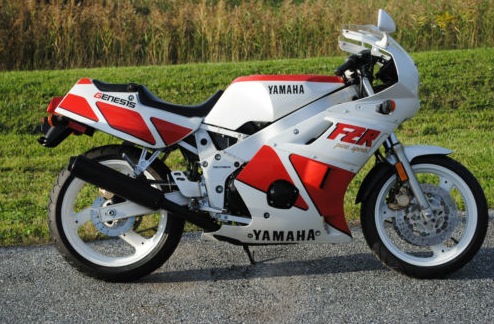 We love bone stock bikes from the eighties. To have survived this long without being modified or dropped or just plain totaled is something to see. It's even better for bikes that didn't come to the US for all that many years, like this FZR400 (imported '89-90). A great ride any way you look at it, this bike still wasn't a big hit in the U.S., a country that likes its displacement. But for those in the know, the FZR400 was, and remains, a capable and fun bike.
Here's the seller's info on the bike-
This is a VERY rare find, an unmolested,never raced, lovingly cared for,garaged, 2 owner, bone stock Yamaha FZR400. 

How this one never made it to the track still bewilders us, we have built and raced these bikes since the late 80's and have a vast amount of spares along with of wealth of info and support to go along with the purchase.

*Full history and All documentation comes with bike*, Purchased new in 1991 for $4300 by an older gent, he started a binder of info and service records that are pictured. Including the original invoice and setup sheet. He sold the bike in the early 2000 to a hot Asian Med. student in Md.

She used the bike to learn how to ride and commute to Med school in Baltimore. In learning how to ride it has fallen over and shows minor scratches on the air intake of the lower fairing. Not crashed or thrown down the road,,,IT FELL OVER. The mileage is accurate and low because she lived in the city close to school.

Now a famous (still hot) Doctor she has no time ride or risk messing up her pretty little surgeon hands.

So thats how we ended up with the bike. There are no stories here it's all documented and 100%.

It had been sitting for a while so we took care of a Full Service and safety ck, inc. 

New Bridgestone tires,EBC brakes,EK chain,plugs,all fluids changed. Carbs were cleaned and rebuilt and a new battery installed. It runs as it should and needs nothing. Except a new owner.

Sold only to a good home! please no kids who are gonna try to put a 190 tire on the back or wack some flush mounts on it.

This is a collector quality piece and will make a great scoot for you or your significant other.

High Resolution images avail. at;

picasaweb.google.com/116165546705552642509/1989FZR400 (copy and go/ebay jacks any links)

please call or email with any questions 302-672-RACE  steve at speedwerks dot com.

East coast delivery avail. enclosed for .50 cent per mile round trip plus service chg and tolls.
And the pics-
This bike appears 100% stock and clean, remarkable for its age. The seller includes documentation with the bike, which is always a bonus to people like me. Mileage isn't bad and if the bike has been well cared for, which seems to be the case, should be good for years to come. Significant maintenance has also been performed and the bike is described as ready to ride. The seller mentions the bike fell over and certainly no major damage is evident in the photos but you may want more detail on that.
The FZR400 is a great bike that should have got more love here in the U.S. This one has survived over the years and if you've been looking, this one deserves your consideration. So, go gather up your cash, then check this bike out!
-RN