Warning!
This post is in our archives. Links in this post have been updated to point to similar bikes available to bid on eBay.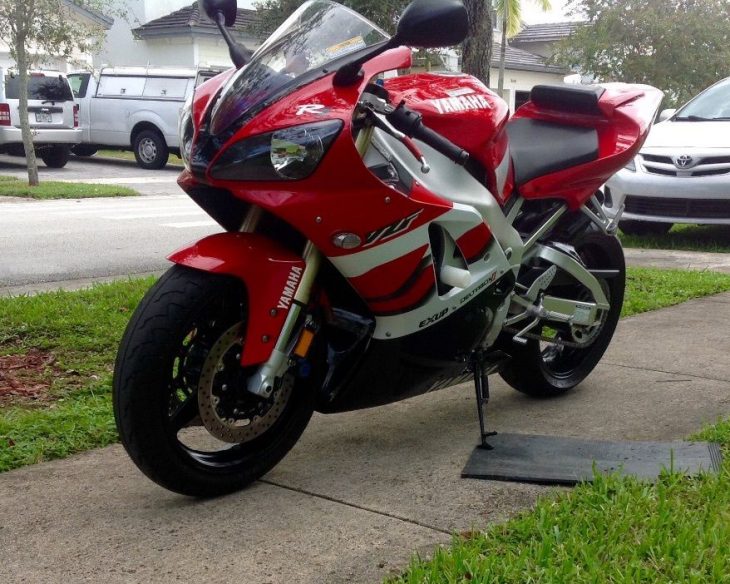 Obviously, the first-generation Yamaha R1 isn't particularly rare in terms of production numbers: this revolutionary sportbike turned the category on it's ear, offering big power in a middleweight package, and it sold well as a result. I'm posting this one up because, unlike most of the R1s you'll find on eBay and Craigslist, this one is almost completely stock, is pretty much perfect, and is barely broken-in, with a mere 1,138 miles on the odometer. Collectors take note: this thing is so clean you could basically eat off of it, and the chain still has the white grease on it that came from the factory!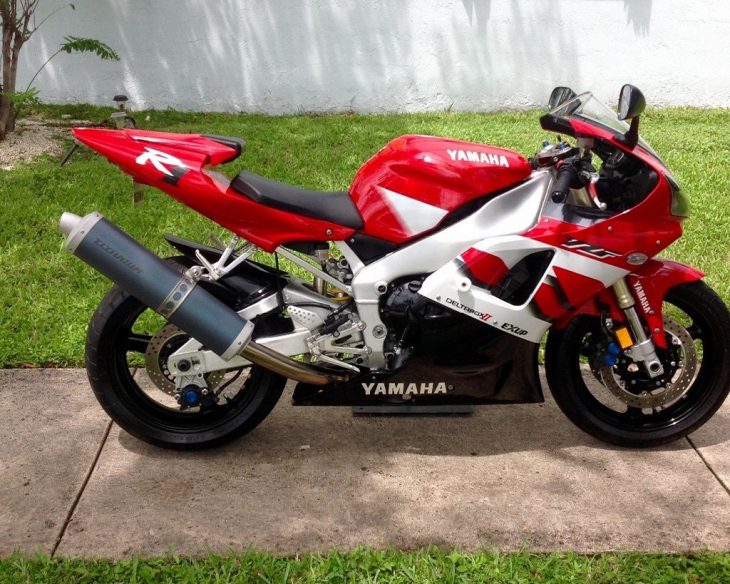 It wasn't the first time a manufacturer had done something revolutionary in the sportbike world, but Yamaha definitely shook up the establishment with their follow up to the fast, but relatively heavy YZF1000 Thunderace when they dropped their YZF-R1 on an unsuspecting world. Introduced in 1998 and built through 2001, the R1 caught the other major manufacturers completely by surprise. It used an evolution of Yamaha's famous "Deltabox" aluminum frame and their five-valve "Genesis" inline four, now backed a six-speed gearbox with stacked shafts to keep the wheelbase short and maximize swingarm length, instead of the five-speed fitted to its ancestor.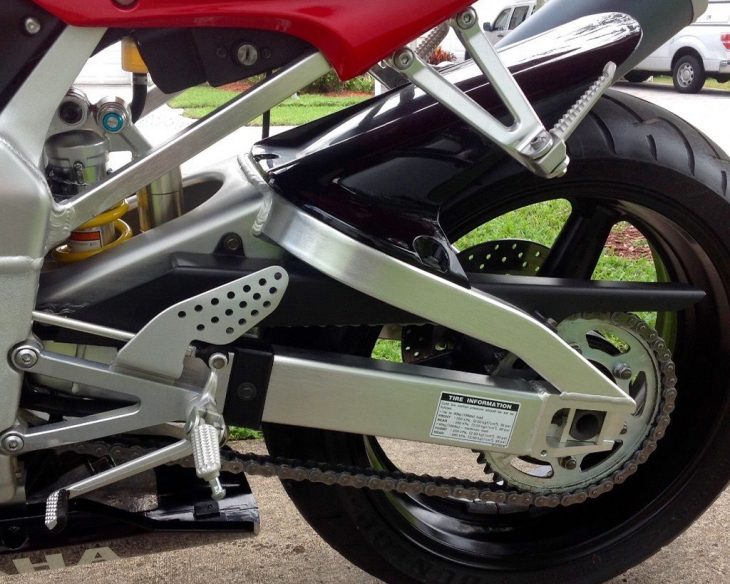 With 150hp and weighing in at 419lbs dry, the bike featured the expected literbike power in a package as light as 600cc supersports at the time and it's still a compelling performer today, missing just twenty or so horses and the electronic aids required to manage it. Braking and handling were excellent, although the lack of a steering damper was a bit of an oversight, considering the power and handling available. Maintenance was a bit of a nightmare however: all that compact packaging meant plug changes and carb rejetting took more time on the R1 than they had on previous bikes. A small price to pay for such near perfection.
This particular bike has been lightly modified, but has just 1,138 miles on it. And it hasn't just been sitting in a corner, collecting dust on flat tires: it appears to have been lovingly maintained and is a very nice example in classic red-and-white "speedblock" Yamaha colors, although the R1 also came in a very striking blue.
From the original eBay listing: 2000 Yamaha YZF-R1 for Sale
Up for sale my all stock, unmolested, absolutely 1138 actual miles R1. If you're looking for a first generation show collector R1 this is the real deal… You're not going to hear what the bad things are because there are no bad things: it's stunning in every way. It's new really like off the showroom floor. It's been in a climate controlled environment with humidity controlled at around 35% at all times. It still has that new bike smell when it's running if you know what I mean.

Still has the stock tires on it (Dunlop Sportmax 207's) which are in perfect shape with no dry rot. Stock chain still has the white grease on it as shown in pics. Only thing not stock is undertail and turn signals done in 2001. If you look at pics you can clearly see the nuts and bolts are still in new condition to match the authenticity of what condition the bike is. Inside of fairings and underneath also matches authenticity. It runs flawless with no hesitation at all. It has been kept up with oil changes every year just for show/collector status and preventative maint. Same for gas only non ethanol every 6 months with 2oz. of sea foam added at every fill. Bike is truly I think probably the nicest you will find in the US.Maybe the world. No dents dings, no fairings are cracked no broken tabs nothing at all. I mean just looking at the key ignition area you can tell. Fires to life after first push of sta rter button every time. Charging system perfect. It's a new bike really just kept in a time machine literally. That's really all I can say about the bike it's the real deal folks. The bike still to this day people ask new bike and I say no it's a 2000, they're shocked.

My feedback should speak for itself so no worries. If it's not what you expected I will give your money back I'm that honest in my description. Shipping is at your cost not mine but I will help out anyway I can to accommodate your needs. You're more than welcome to come look before you buy as matter fact I encourage you to if you're local. You will be so glad you got it and very proud. Just hope someone takes good care of it. That's it really nothing else to say. Ask any questions you want I will answer. More pics just ask.
The seller doesn't mention the frame sliders, but a little protection is no bad thing, and those turn signals aren't original, but I'd expect they are easy to source and put back to stock. It's hard to get my brain around the fact that someone would buy such a competent, easy-to-use motorcycle and then just basically maintain it, but for those of us who missed out on these soon-to-be collectible motorcycles, this offers up the chance to basically buy one new, only 17 years later…
-tad